2018-19 SP Game Used Hockey Checklist, Team Set Lists and Details
What can you expect from 2018-19 SP Game Used Hockey? A big part of it is right there in the name. Memorabilia plays a big role throughout much of the high-end checklist. And within those are pieces from specific marquee events on the NHL calendar.
Autographs and a tough base set also return.
Six card boxes have at least four hits. Of those, one is guaranteed to be either an autograph or a premium memorabilia card.
2018-19 SP Game Used Hockey Base Set
SP Game Used has one of the more distinct base sets in the hobby. It's not so much in the cards themselves. They're actually on the standard side. Rather, it's in their quantities. All base cards are limited to the player's jersey number. That means all are under 100 copies with some having much less.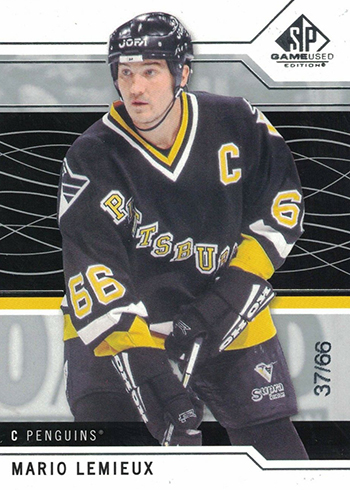 The checklist has a total of 200 cards. Half are veterans, half fall under the Authentic Rookies banner.
2017-18 SP Game Used Hockey is a rare instance where the parallels end up being more plentiful than the basic versions. They're also a mix of colors, memorabilia and autographs. And while the parallel tiers are similar between veterans and rookies, quantities and how they get there vary for some.
For veterans, Orange Rainbow print runs are determined by taking the player's career high in points and adding 100 that number. The only other non-hit vet parallels are one-of-one Green Snow Storm. Memorabilia and signature parallels come in Gold Jersey (1:5 packs), Blue Autograph (1:7), Red Autograph Jersey (1:20), Gold Spectrum Patch (varying quantities), and Red Spectrum Autograph Premium Material (varying quantities).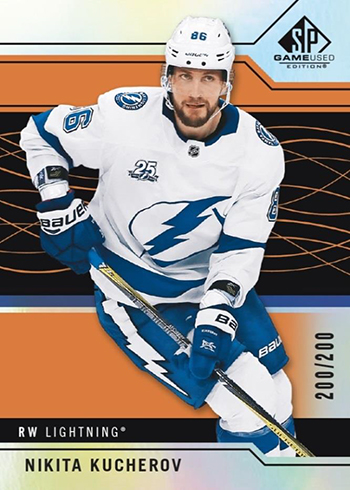 The most common rookie parallels are Rainbow, which add 200 to their birth year. Orange Rainbow are 100 plus the year they were drafted. Other rookie versions include Gold Jersey (/499), Gold Spectrum Patch (/49), Blue (1:5), Autograph Jersey (1:12), Red Spectrum Autograph Patch (/15) and Green Snow Storm (1/1).
As per tradition, the final base card for select players (ie card 97/97 for Connor McDavid, if he's included), comes with an autograph.
In Case You Like to Know What Game Game-Used Memorabilia Comes From
As SP Game Used continues to evolve, one of its distinguishing features has become that it's home to special memorabilia from some of the NHL's marquee events. 2018-19 SP Game Used Hockey has pieces from the Stanley Cup Final, All-Star festivities and several special outdoor games like the Winter Classic and Stadium Series.
Game Used Puck cards come in a handful of themes depending on where they're from: Stanley Cup Final, NHL 100 Classic, Winter Classic, Stadium Series and the All-Star Game. Each theme is 1:720 packs.
Net Cord cards (/35) have come from three outdoor games.
Banner Year is back. These aren't traditional game-used cards. Instead of jerseys or sticks, players are paired with pieces of decorative banners from the following events: NHL Draft (1:10), 2018 All-Star festivities (1:12), 2018 Winter Classic (1:16) and the NHL Awards (1:26). Autograph versions are also randomly inserted.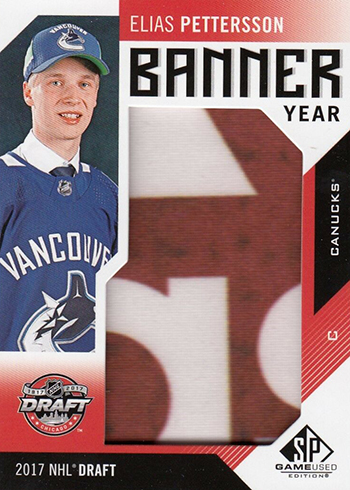 For those looking for jerseys from special events, 2018-19 SP Game Used Hockey has those, too. These are part of a long list of Fabrics inserts. Both the All-Star Skills and Stadium Series have jersey versions with anywhere from one to four swatches. Parallels include patches and tags.
Game Gear cards from the 2018 Stadium Series and All-Star Skills. They're tough, though, with just six copies per card.
The All-Star Skills competition gets more attention with a set of Relic Blend cards (/125).
More Autographs and Memorabilia
2018-19 SP Game Used Hockey has several other spins in the signature and relic realms.
Supreme is back with more jumbo patches, sticks, pads, skates and gloves. No matter the types, these have 15 copies each.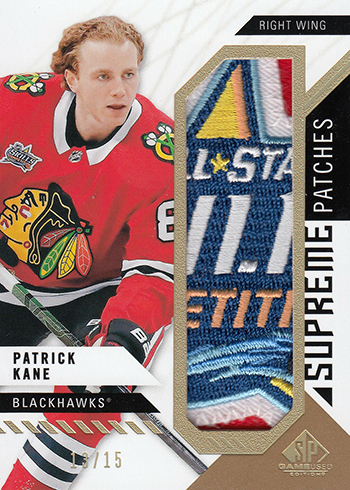 Net cord cards return in a couple of other forms. Day with the Cup Materials Net Cords (/35) highlight players who have won a Stanley Cup. Battle Lines Net Cords (/35) are all about rivals.
Inked Sweaters (/99) offer up some autographed memorabilia. These also have Patch parallels with 15 copies each. Following similar lines are Inked Rookie Sweaters Patch (/49) and their Tag (/2) counterparts.
Another SPGU Hockey staple are Draft Day Marks, which use manufactured letter patches as a way to display autographs. Rookies have 35 cards per letter while veterans are numbered to 10. There's also similar Signing Day Marks (/35 for each letter). The challenge with these is putting together the player's name.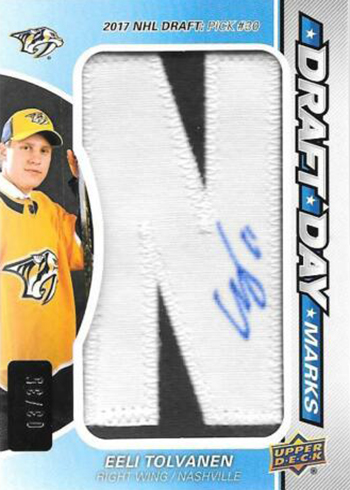 Other memorabilia themes found in 2018-19 SP Game Used Hockey are: Locker Essentials (1:6, Patch parallels /5), Frameworks (1:12), Rookie Sweaters (/199), Draft Swag, and A Piece of History (/99).
2018-19 SP Game Used Hockey at a glance:
Cards per pack: 6
Packs per box: 1
Boxes per case: 10
Set size: 200 cards
Release date: January 30, 2019
What to expect in a hobby box:
Autographs or Premium Memorabilia Cards – 1 Total
Additional Autographs or Memorabilia Cards – 3
2018-19 SP Game Used Hockey Checklist
Base
Parallels
Autographs
Memorabilia
Team Sets