Satire Sequel: 2019 Topps Garbage Pail Kids Revenge of Oh, the Horror-ible
Monster movies almost always have sequels. Actually, several sequels is the norm more often than not. 2019 Topps Garbage Pail Kids Revenge of Oh, the Horror-ible trading cards follow in that tradition, offering a second helping of monster spoofs and more.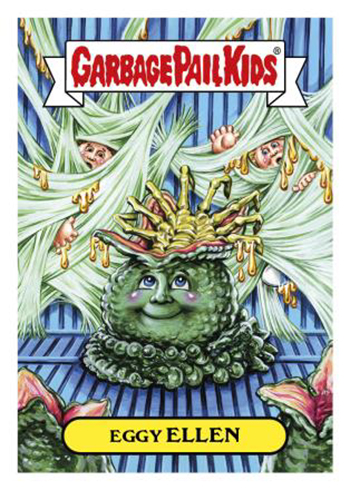 Display box and hobby collector versions both return, each with their own exclusive cards and elements. For hobby collector boxes, it also means the introduction of some added swag that fits right in with the horror theme.
2019 Topps Garbage Pail Kids Revenge of Oh, the Horror-ible Base Set Basics
The main set is a big one. It totals 200 cards with 100 different A/B name combinations. Horror characters, personalities and anything that might make you jump or go bump in the night are fair game.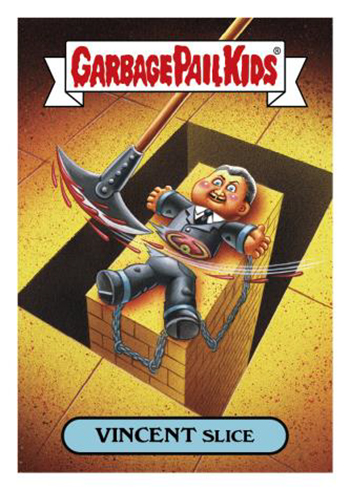 Parallels come in several colors, although getting a full run requires attention to a variety of pack formats. Display boxes, which are the standard hobby and retail version, have a Blood Splatter Green card in every pack. Blood Splatter Yellow are 1:4 packs.
Moving over to hobby collector, each pack has a Black Light card. Other hobby collector-exclusive parallels include Blood Splatter Blue (/99) and Blood Splatter Red (/75).
Blood Splatter Purple cards are the lone exclusive in retail fat packs. Each 20-card pack has one.
Rounding out the base set parallels are Artist Autographs, Blood Splatter Gold (/50) and Printing Plates (1/1).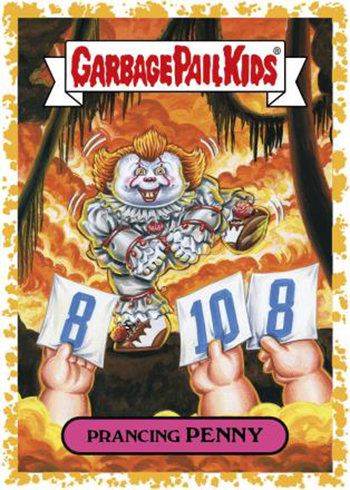 Inserts
Tricks or Treats cards use GPK characters for some Halloween candy inspiration. These are only in display boxes.
Horror Film Parody Posters infuse some Wacky Packages-style artwork into the product. Exclusive to hobby collector packs, these poke fun at famous genre movie posters.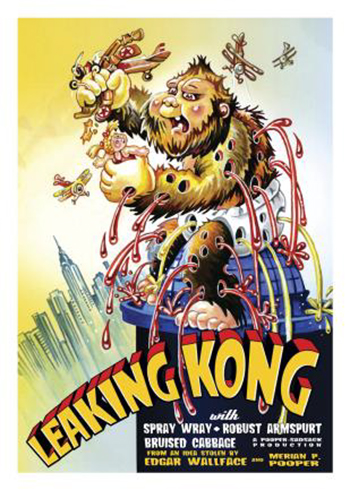 GPK Horror Victims are three per retail value box. These bring death to some of the Garbage Pail Kids family.
Sticking with many recent Garbage Pail Kids sets, sketch cards play a prominent role as far as chase elements go. However, different pack types have different types of cards. Traditional sketch cards are found in display boxes. Hobby collector is where you'll find Shaped and Triptych sketches. Double-sized Panoramic Sketch Cards are exclusive to retail fat packs while value boxes are the only place to get Loaded Puzzle Sketch Cards.
Tombstone Figurines
Every hobby collector box comes with something more than cards — a Tombstone Figurine. Measuring 1 7/8 by 3 inches, there are a dozen in the set. Each box has one, packaged in its own blind box.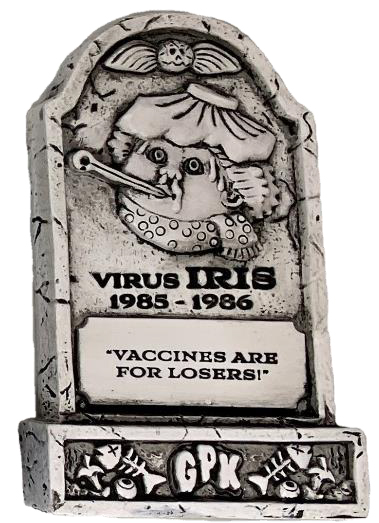 The original GPK Oh, the Horror-ible set came out in 2018.
2019 Topps Garbage Pail Kids Revenge of Oh, the Horror-ible at a glance:
Cards per pack: Display – 8, Hobby Collector – 8, Retail Value Boxes – 8, Retail Fat Packs – 20
Packs per box: Display – 24, Hobby Collector – 24, Retail Value Boxes – 5
Boxes per case: Display – 8, Hobby Collector – 8, Retail Value Boxes – 40
Set size: 200 cards
Release date: September 25, 2019
What to expect in a display box:
Blood Splatter Green Parallels – 24
Blood Splatter Yellow Parallels – 6
What to expect in a hobby collector box:
Black Light Parallels – 24
Tombstone Figurines – 1
Sketch Cards, Autographs or Printing Plates – 1