2019 Topps Chrome Baseball Image Variations Gallery and Guide
The 2019 Topps Chrome Baseball Image Variations are taking a familiar route. Rather than offering up strictly short-printed versions of base cards, they're Refractors. Of course, the photos are different as well.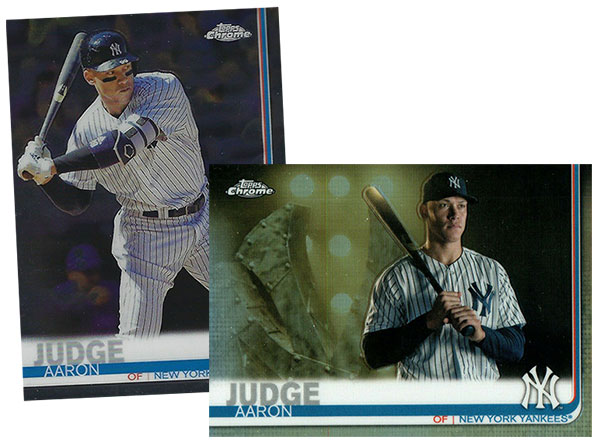 The checklist has a total of 25 players. It's a mix of stars and some of the top rookies heading into the season.
Similar to recent years, the variations also have additional color-based parallels. These also come with serial numbers. We should have full details on the rainbow shortly.
Topps Chrome Factory Set Variations
While there are several rookies with variations lurking in 2019 Topps Chrome Baseball packs, some of the year's biggest aren't among them. This includes Pete Alonso, Vladimir Guerrero Jr. and Fernando Tatis Jr.
However, they do have special variations under the Topps Chrome banner. These are exclusive to a specially marked 2019 Topps Baseball factory set. They're actually Chrome versions with different photos of their respective flagship cards. That means the cards numbers match their respective 2019 Topps Series 2 cards, not Topps Chrome.

Players with factory set variations are:
410 Fernando Tatis Jr., San Diego Padres
475 Pete Alonso, New York Mets
632 Yusei Kikuchi, Seattle Mariners
670 Eloy Jimenez, Chicago White Sox
700 Vladimir Guerrero Jr., Toronto Blue Jays
Of these, only Kikuchi has a variation in 2019 Topps Chrome Baseball (#73).
2019 Topps Chrome Baseball Variations Codes
You can use the card backs to confirm whether you have one of the 2019 Topps Chrome Baseball variations. It's not obvious at first glance, but if you scan through the fine print at the bottom, there's a code at the end. These are used as part of the production to identify different types of cards — like base versus variations.
When it comes to variations in this set, these are the code endings you need to know:
Base – 4369
Variations – 4409
Basically, if you have a card with a CMP code that ends in 4409, you've got an Image Variation.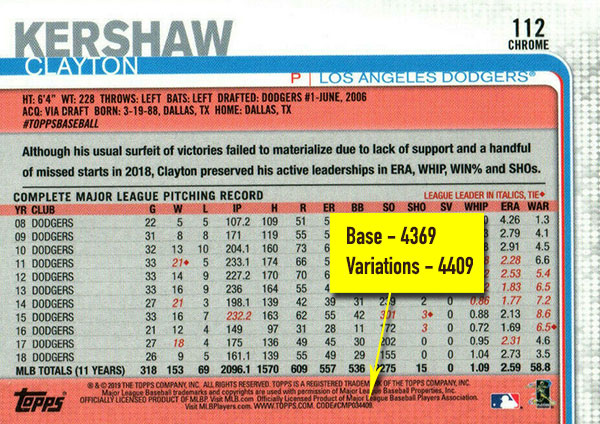 2019 Topps Chrome Baseball Image Variations Checklist
Here's the full 2019 Topps Chrome Baseball variations checklist for quick scanning. If you're looking for a specific card, click on the link to see what's currently available on eBay.
1 Shohei Ohtani
2 Rowdy Tellez
16 Christian Yelich
17 Michael Kopech
25 Kris Bryant
31 Joey Votto
39 Kyle Tucker
48 Javier Baez
50 Mookie Betts
57 Ozzie Albies
59 Jacob deGrom
64 Carlos Correa
69 Christin Stewart
71 Jake Bauers
73 Yusei Kikuchi
100 Aaron Judge
110 Justus Sheffield
112 Clayton Kershaw
117 Ronald Acuña Jr.
124 Nolan Arenado
141 Luis Urias
155 Juan Soto
195 Rhys Hoskins
197 Touki Toussaint
200 Mike Trout
2019 Topps Chrome Baseball Image Variations Gallery
We're working to filling in all of the gaps as images become available.
1 Shohei Ohtani, Los Angeles Angels
2 Rowdy Tellez, Toronto Blue Jays
16 Christian Yelich, Milwaukee Brewers
17 Michael Kopech, Chicago White Sox
25 Kris Bryant, Chicago Cubs
31 Joey Votto, Cincinnati Reds
39 Kyle Tucker, Houston Astros
48 Javier Baez, Chicago Cubs
50 Mookie Betts, Boston Red Sox
57 Ozzie Albies, Atlanta Braves
59 Jacob deGrom, New York Mets
64 Carlos Correa, Houston Astros
69 Christin Stewart, Detroit Tigers
71 Jake Bauers, Cleveland Indians
73 Yusei Kikuchi, Seattle Mariners
100 Aaron Judge, New York Yankees
110 Justus Sheffield, Seattle Mariners
112 Clayton Kershaw, Los Angeles Dodgers
117 Ronald Acuña Jr., Atlanta Braves
124 Nolan Arenado, Colorado Rockies
141 Luis Urias, San Diego Padres
155 Juan Soto, Washington Nationals
195 Rhys Hoskins, Philadelphia Phillies
197 Touki Toussaint, Atlanta Braves
200 Mike Trout, Los Angeles Angels