Here Are the Cards That Come with the 2019 National Convention VIP Package
Several reasons exist for collectors opt for VIP ticket packages at The National. There's the autographs. There's the parking that comes with some levels. And, of course, there's the bag of goodies that awaits at registration. And in that bag, naturally, are cards. 2019 National Convention VIP Package card sets come from Upper Deck, Topps, Panini and Leaf.
Each has their own type of spin, but together they cover a lot of the major sports.
Topps is all-baseball. It's also all-Chicago. Their five cards are all notable players from the Cubs and White Sox. These cards are based on the 1984 Topps Baseball design.
Panini has the largest collection of 2019 National Convention VIP cards with ten. However, these aren't included in the gift bag. Instead, collectors will find a coupon they can redeem for the rookie-focused multi-sport set at the Panini booth. Zion Williamson is the mystery card that wasn't announced until the show began.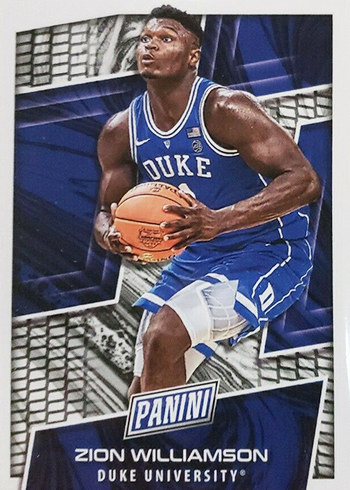 Upper Deck returns with a new batch of Prominent Cuts cards. Their five cards draws primarily from their roster of spokespersons including Ben Simmons, Wayne Gretzky, Serena Williams and Tiger Woods. Deandre Ayton is also on the checklist.
Finally, Leaf has four cards of their own covering a variety of areas of sports and entertainment. Stephen Curry, Wander Franco, Kyler Murray and Harrison Ford are all part of their offering.
For those not attending The National in Chicago, VIP package cards can be found on the secondary market relatively easily on places like eBay.
2019 National Convention VIP Checklist
Leaf
Stephen Curry
Harrison Ford
Wander Franco
Kyler Murray
Panini
R.J. Barrett, Duke
Luka Doncic, Dallas Mavericks
Vladimir Guerrero Jr., Toronto Blue Jays
Dwayne Haskins, Washington Redskins
Eloy Jimenez, Chicago White Sox
Daniel Jones, New York Giants
Kyler Murray, Arizona Cardinals
Fernando Tatis Jr., San Diego Padres
Zion Williamson, Duke
Trae Young, Atlanta Hawks
Topps
84VIP-1 Ernie Banks, Chicago Cubs
84VIP-2 Kris Bryant, Chicago Cubs
84VIP-3 Ryne Sandberg, Chicago Cubs
84VIP-4 Carlton Fisk, Chicago White Sox
84VIP-5 Frank Thomas, Chicago White Sox
Upper Deck
Prominent Cuts VIP
VIP-1 Tiger Woods
VIP-2 Wayne Gretzky, Edmonton Oilers
VIP-3 Serena Williams
VIP-4 Ben Simmons
VIP-5 Deandre Ayton