2019 Topps Art of TMNT bring the Teenage Mutant Ninja Turtles full circle in a couple of ways. Most noticeably, it's a set largely dedicated to the original comics. No movies or Archie interpretations here. It also brings the sewer-dwelling crew back to Topps, the company that made the first TMNT trading cards three decades earlier.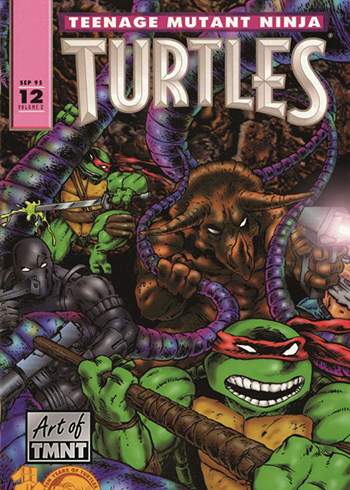 Things have changed in the last 30 years. The gum is gone. And instead of traditional packs, 2019 Topps Art of TMNT trading cards are going with what appears to be more of a premium factory set route.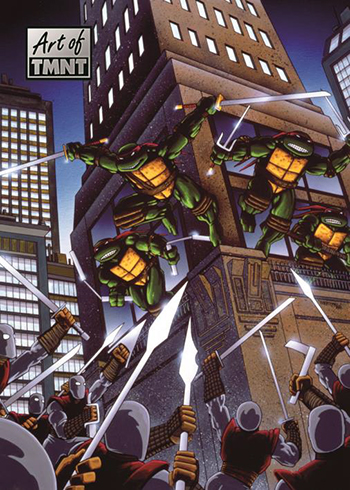 The main set has 100 cards. A total of 73 of these are classic comic covers. The balance of the checklist takes an approach similar to Topps' Star Wars Galaxy line with original art. Kevin Eastman, Jim Lawson, Steve Lavigne and Michael Dooney are among the franchise legends contributing pieces for the set. These are printed on thick 96pt card stock.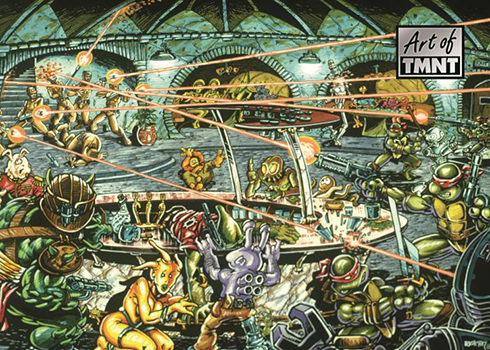 Base cards have five levels of parallels: Green (/99), Purple (/50), Orange (/25), Blue (/10) and Red (1/1).
Each factory set has all 100 cards. However, four of these are parallels. So while there's a full set, it's not a standard base version of every card.
Sketch cards and autographs are both one per box. On the sketch front, these all have original art done one them. While there's a variety of artists contributing, some of them include artists from the original Teenage Mutant Ninja Turtles comics.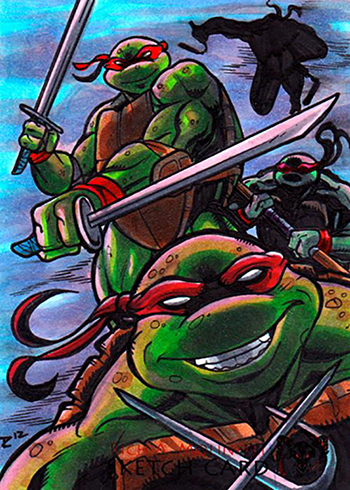 Besides regular sketch cards, Shaped and over-sized Panoramic Sketch Cards are also available.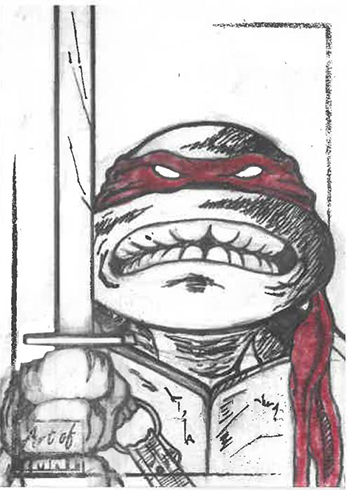 Autographs are all signed on-card. They may not immediately jump out, though. Based on the set's initial information released by Topps, autographs have the signature on the back. Autograph parallels are available in Green (/99), Purple (/50), Orange (/25), Blue (/10) and Red (1/1).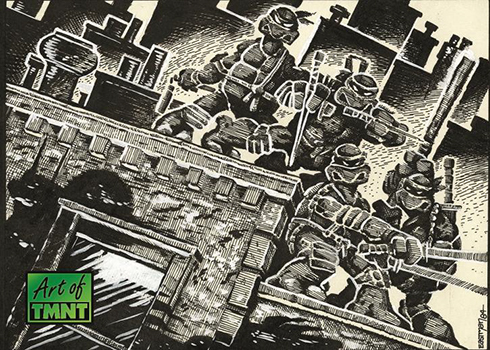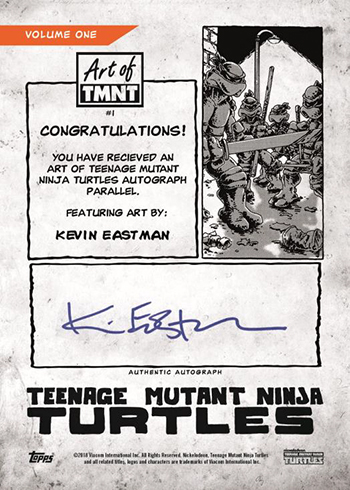 2019 Topps Art of TMNT trading cards at a glance:
Cards per box: 102
Boxes per case: 8
Set size: 100 cards
Release date: October 30, 2019
What to expect in a hobby box:
Sketch Cards – 1
Autographs – 1
Parallels – 4 (count towards the complete set and replace regular base cards)