2016 Topps Garbage Pail Kids Series 2 Prime Slime Trashy TV Checklist and Details
It's a good time to be a fan of TV right now. Not only are a lot of the shows among the best ever produced, but we can watch them almost anytime we want thanks to the miracle of technology. Another sign the television landscape is good? It's getting spoofed. 2016 Topps Garbage Pail Kids Series 2, which comes with the sub name Prime Slime Trashy TV, takes on the best and worst of the small screen.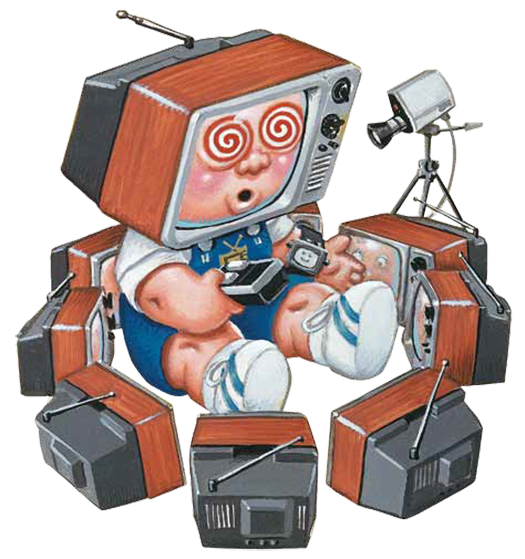 2016 Topps Garbage Pail Kids Series 2 comes with a few different configurations. At the hobby level, there's both hobby and hobby collector edition. The first offers more cards per box while the latter is more about inserts, exclusives and hits.
The base set has 110 new pieces of art. Factor in the traditional A and B names for each and you've got a 220-card set. That said, each subset is numbered individually so it's not quite as straightforward as other releases.
Bruised parallels are only in hobby collector packs. That said, they're not overly tough, landing one per. Spit (/99) parallels are only in hobby and hobby collector. Fool's Gold (/50) and Printing Plates are among the product's other parallels.
Jumping down the trading card spoof rabbit hole are Garbage Pail Kids Wacky Packages inserts. These poke fun at the GPK line as though they were Wacky Packages. It's like the Circle of Life: Hobby Edition as Garbage Pail Kids were born out of a planned Wacky gag. These inserts are exclusive to both types of hobby packs.
Premium inserts fall in line with what has been included in other recent releases for the brand. These include Artist Autographs and hobby- and hobby collector-exclusive Shaped Sketch Cards. Hobby collector packs are the only place to find Double Artist Panoramic Sketch Cards, Parody Patch and Artist Relic Cards.
2016 Topps Garbage Pail Kids Series 2 Prime Slime Trashy TV at a glance:
Packs per box: 24
Cards per pack: 10 (hobby), 6 (hobby collector)
Boxes per case: 8
Set size: 220 cards
Release date: October 5, 2016
What to expect in a hobby collector box:
• Autographs, Sketch Cards, Relics – 1 Total
• Bruised Parallels – 24
2016 Topps Garbage Pail Kids Series 2 Prime Slime Trashy TV Checklist
Jump directly to:
Base Set
220 cards.
Parallels:
• Puke – 1 per Retail pack
• Brusied – 1 per Hobby Collector pack
• Spit – /99, Hobby and Hobby Collector packs
• Fool's Gold – /50
• Printing Plates Black – 1/1
• Printing Plates Cyan – 1/1
• Printing Plates Magenta – 1/1
• Printing Plates Yellow – 1/1
Cartoon TV Series
1a Merged Marge
1b Melded Maggie
2a South Mark
2b Killer Kenny
3a Burger Bob
3b Pat Patty
4a Regular Joe
4b Barfin' Benson
5a Grungy Bob
5b Spongy Spencer
6a My Little Polly
6b Elma's Glue
7a Nervous Norville
7b Meddling Mel
Comedy TV Series
1a Broke Brooke
1b Cracked Caroline
2a Lazy Ilana
2b Abbi Normal
3a Shelled Selina
3b Jingoist Julia
4a Phil Thy
4b Last Manny
5a Stuck Inside Amy
5b Schumer Tumor
Comic Book TV Series
1a Green Aaron
1b Hawk Ira
2a Flashin' Ash
2b Bare Barry
3a Hawk Manny
3b Caged Carter
4a Sue Pearl Girl
4b Cutting Kara
5a Oz Waddle
5b Goth Adam
6a I. Zom Bea
6b Not Liv
7a Sy Borg
7b Teen Ty Tim
8a Unlucky Leo
8b Un Sheldon
Crime TV Series
1a American Crime Jory
1b Ciminal Cuba
2a Cy Ber
2b Crime Scene Jean
3a Margot, North Dakota
3b Murder Molly
4a Bony Bonnie
4b Forensic Florence
5a Blind Dot
5b Tatted Tatiana
6a Cimin-Al
6b Mind Over Matt
Daytime Talk Show
1a Oz the Wizard
1b Phony Phil
2a Fallin' Ellen
2b Dead Lee
3a Germy Jerry
3b Smutty Springer
4a Unhealthy Hoda
4b Crocked Kathie Lee
5a Odd Oz
5b Mooning Mehmet
Drama TV Series
1a Lena Dumpham
1b Heinous Hannah
2a Charcoled Kelly
2b Melted Matthew
3a Washed Will
3b Chicago Ed
4a Tut Toots
4b Ay-Iee
5a Drew Zoo
5b Jawed Jackson
Food TV Series
1a Anthony Burned-Ain
1b Bo Reservations
2a Dive Clive
2b Gross Guy
3a Top Seth
3b Padma Puke
4a Chop Ed
4b Touched Ted
5a I. Ron Chef
5b Iron Seth
6a Hell's Kit
6b Gory Gordon
7a Jake Boss
7b Nutty Buddy
8a Food Fight-Earl
8b Manny vs. Food
Game Show Sticker
1a Jeff Ardee
1b Full Watt Watson
2a Wheel of For-June
2b Vain Vanna
3a Drew Blood
3b Crushed Carey
4a Fanny Feud
4b Steve Hurty
5a Fox Unworthy
5b Smarter Carter
Horror TV Series
1a Matt Ress
1b American Horror Rory
2a Vanna Pyre
2b Di Ary
3a Mo Tel
3b Ab Norma
4a Sleepy Hal O.
4b Ichabod Iless
5a Gene Wolf
5b Hairy Harry
6a Red Ned
6b Devilish Devin
7a Evil Ted
7b Ash Can
8a Dusky Dustin
8b Till Don
Late Night TV Show
1a Jimmy Fallin'
1b Tonight Joe
2a Conan O'Barbarian
2b Nate Night
3a Full Frontal Fran
3b Severed Samantha
4a Beat Bill
4b Mauled maher
News Show
1a Night Lee
1b Lester Halt
2a Anderson 360°
2b Kooky Cooper
3a Filed Kelly
3b Mangled Megyn
4a Face the Nate Sean
4b Bewilderered Bob
5a Lazzy larry
5b Suspender Spencer
6a Killer Keith
6b Murderous Morris
Reality TV Series
1a Kim Kar Trashy N.
1b Nasty Noel
2a Pained Pharrell
2b Bloody Blake
3a Angry Arnold
3b Termin Nate
4a Project Ron Way
4b Fash Sean
5a The Biggest Louise R.
5b Jacked-Up Jillian
6a Catfishy Finn
6b Nervous Nev
7a Fishin' Frank
7b Mucus Mike
8a Face Ophelia
8b Messed-Up McKenzie
9a Botch Ed
9b Plastic Paul
10a Moody Judy
10b Insane Jane
11a Painful Penn
11b Torn Teller
12a The Isl-Andy
12b Lone Lee
Reboot TV Series
1a Open Scully
1b Disguised Dana
2a Twin Finn
2b Cherry Cooper
3a Twen-Ty
3b Whacked Jack
4a Hawaii Five Owen
4b Surf's Upton
5a Full Klaus
5b Stuffed Stephanie
6a Odd Todd
6b Cup-Paul
7a Powerpuff Polly
7b Bumped Blossom
8a Torn Tom
8b Scary Jerry
Sci-Fi TV Series
1a Jon Snowy
1b Cold Kit
2a Draggin' Daenerys
2b Irked Emilia
3a Trapped Tyrion
3b Perturbed Peter
4a Ophelia Orphan
4b Scary Sarah
5a Limit Les
5b Brainy Brian
6a Leftover Lenny
6b Cruel Kevin
7a Flighty Flint
7b Jokester James
8a Colin-Ny
8b Will Wall
9a Abduct Ted
9b Probed Jobe
10a XXX-Giles
10b Foxy Mulder
Streaming Series
1a Fragile Frank
1b Kevin Cards
2a Make Jake
2b Set-Up Steven
3a Black Jack
3b Michael Mirror
4a Unbreakable Annabelle
4b "Grim" Kim
5a Messed-Up Mindy
5b Self Fi
Syndicated TV Series
1a Friend Lee
1b Fried Fry
2a Freaked-Out Frasier
2b Cherry Kelsey
3a Loony Lucy
3b Sweet Tooth Ruth
4a Grillin' Gilligan
4b Barbequed Bob
5a Late Lassie
5b Timmy Tomb
6a Mashed Ash
6b Ron Over
7a Quirky Kirk
7b Trent Trek
8a Wrecked Ralph
8b Alice Attacks
Inserts
Adam Bomb Your TV Stickers
4 cards. Exclusive to retail blister packs.
1a Adam Bomb Theory
1b Bomb Sheldon
2a Adam Boom
2b Blasting Brian
Artist Relics
4 cards.
Brent Engstrom
David Gross
Mark Pingitore
Joe Simko
Bathroom Buddies
6 cards.
4a Snowy Joey
4b Artistic Rick
5a Figure Skate Kate
5b Twirled Tanya
6a Zit Zack
6b Pimple Paul
Classic Rerun Stickers
20 cards.
1a Hot Head Harvey
1b Roy Bot
2a Catty Kathy
2b Kitty Litter
3a Taylor Tubby
3b Morgan Organ
4a Lisa Loser
4b Marooned Marissa
5a On Camera Cameron
5b The Real Wonda
6a Clay Achin'
6b Idol Ivan
7a Grunge Bob
7b Spongey Spencer
8a Matt Mobile
8b Batty Brad
9a Heavin' Hunter
9b Rabbit Chase
10a Leonard Nimrod
10b Trekkie Trevor
Garbage Pail Wacky Packages
8 cards. Hobby and Hobby Collector packs.
1 Campy Spider Soup
2 Crust
3 Gadzooka
4 Cover Ghoul
5 Duzn't
6 Quacker Oats
7 Commie Cleanser
8 Beanball
Gross Bears
6 cards. Exclusive to retail value boxes.
6 Heady Bear
7 Rambear
8 Big Shot Bear
9 Rug Bear
10 Everywhere Bear
L2 Deady Bear
Patch Cards
10 cards.
1 Roy Bot
2 Catty Kathy
3 Morgan Organ
4 Lisa Loser
5 On Camera Cameron
6 Clay Achin'
7 Spongey Spencer
8 Matt Mobile
9 Heavin' Hunter
10 Leonard Nimrod
Puzzle Sketch Cards
Retail value boxes only.
Sketch Cards
Retail packs only.
Comments? Questions? Contact Ryan Cracknell on Twitter @tradercracks.
In case some of these cards look familiar, the following images are mock-ups and not necessarily what will be in the final product.