2019 Panini One Football brings the all-on-card autograph concept back for a second year. The name sums up the box configuration. You get one card, which is an encased autograph. The checklist makes things a little more complicated with a variety of themes and inserts, but still, there's a similar hard-signed foundation that runs throughout.

2019 Panini One Football: The Rookies
Patch cards play a prominent role in the product. While memorabilia isn't part of every card, those that do have prime swatches.
Rookie Patch Autographs (/199 or less) have over-sized pieces to go with the hard signature. Embossed card stock is another added touch. Parallels come in Blue (/99 or less), Bronze (/49 or less), Red (/24), Gold (/10), Platinum (/5) and Black (1/1).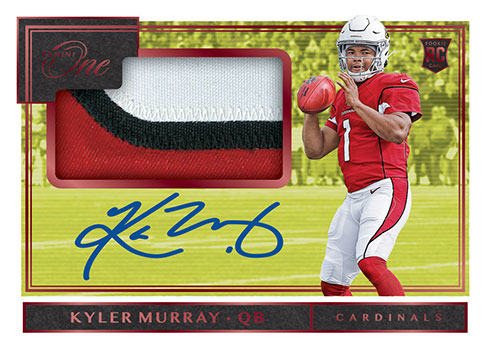 More first-year standouts are in Premium Rookie Patch Autographs, which use acetate stock, and Rookie Quad Patch Autographs. Both of these max out at 99 copies each and have six tiers of parallels that have no more than 49 copies.
Shield Signatures use an NFL 100 shield to go with signatures from 2019 rookies. Every card is a one-of-one.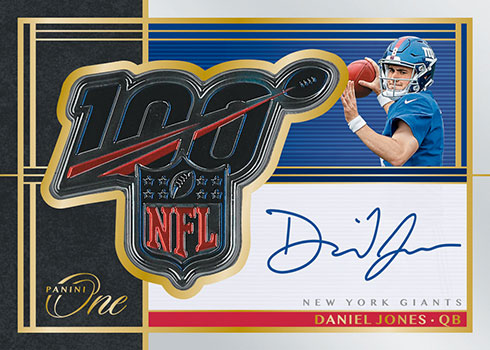 Other Autographs
It's not just rookie autographs on the 2019 One Football checklist. Veterans and retired stars also appear.
Dual Patch Autographs (/99 or less) use a similar layout as Flawless for showcasing a pair of premium swatches along with the signature. Parallels, which have six colors, are all numbered to 35 or less.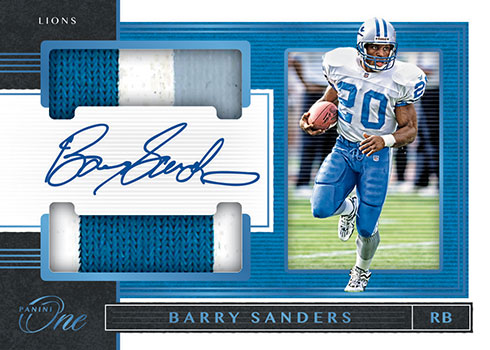 Autographs (/99 or less) may not have memorabilia, but the cards are done with a shadowbox design. Jerry Rice, Carson Wentz and Ray Lewis are among the mix of players included here. Blue (/49 or less), Bronze (/25 or less), Red (/15 or less), Gold (/10 or less), Platinum (/5) and Black (1/1) make up the parallels.
2019 Panini One Football has some new additions that weren't in the previous year's set.
Matchless (/75 or less) is another place where on-card signatures stand on their own. Drew Brees, Barry Sanders, Patrick Mahomes and Earl Campbell are among those on the multi-generational checklist.
Number Ones are all one-of-ones. And the players? They're all number one picks from the draft.
Another one-of-a-kind insert is Top of the Class, which use micro etch design elements.
2019 Panini One Football cards at a glance:
Cards per pack: 1
Packs per box: 1
Boxes per case: 20
Set size: 219 cards.
Release date: February 26, 2020
Shop for 2019 Panini One Football boxes on eBay:
What to expect in a hobby box:
2019 Panini One Football Checklist
Base
Parallels
Autographs
Udates
Team Sets