2019-20 Upper Deck Series 2 Hockey Easter Eggs and Surprises Roundup
It shouldn't come as a surprise that 2019-20 Upper Deck Series 2 Hockey has several surprises. The Easter Eggs and unannounced inserts lineup is a pretty big one. Some are updates to Series 1, others continue from past years and some even encompass different brands.
Here's a look at the various things that can be found in packs but weren't a part of Upper Deck's official checklist.
2019-20 Upper Deck Series 2 Hockey Easter Eggs Breakdown
Variations
Similar to Series 1, a handful of cards come with second versions. Other than the different photos, variations look like regular base cards.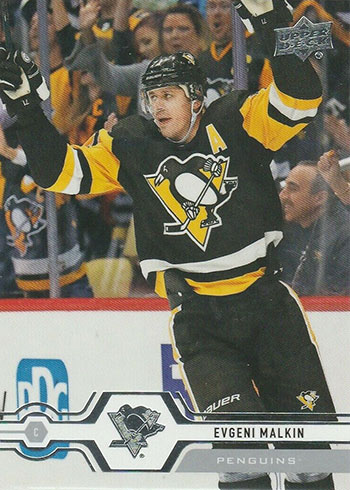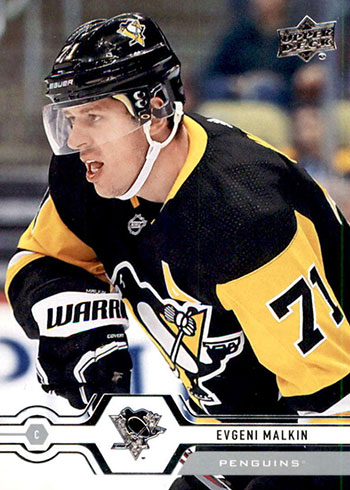 They're much more scarce, though. While not on the final checklist put out by Upper Deck, the original sell sheet mentioned the cards were 1:1,000 packs.
You can get a comprehensive Series 2 variations guide and gallery here.
Fanimation
The Fanimation resurgence continues with 15 more cards. These join the 16 from Series 1, which were also surprise Easter Eggs. This is the second consecutive year to have the illustrated inserts, which are similar in look to Panini's Downtown cards in basketball and football.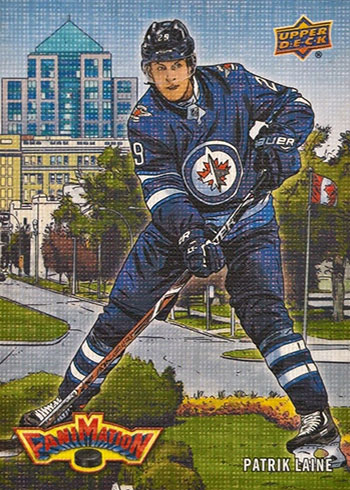 Fanimation Checklist
F-17 Brady Tkachuk, Ottawa Senators
F-18 Jonathan Toews, Chicago Blackhawks
F-19 Braden Holtby, Washington Capitals
F-20 Matthew Takachuk, Calgary Flames
F-21 Jonathan Huberdeau, Florida Panthers
F-22 Taylor Hall, New Jersey Devils
F-23 Max Domi, Montreal Canadiens
F-24 Dylan Larkin, Detroit Red Wings
F-25 Nikita Kucherov, Tampa Bay Lightning
F-26 John Gibson, Anaheim Ducks
F-27 Filip Forsberg, Nashville Predators
F-28 Anders Lee, New York Islanders
F-29 Evgeni Malkin, Pittsburgh Penguins
F-30 Patrik Laine, Winnipeg Jets
F-31 David Pastrnak, Boston Bruins
Retro Clear Cut Acetate Young Guns
Some classic Young Guns get an acetate makeover once again in Series 2. Not only do these cards come on clear card stock, but they also act as variations with different images.
Card backs mention 2017-18 Upper Deck Series 2 Hockey but this mix didn't arrive until now.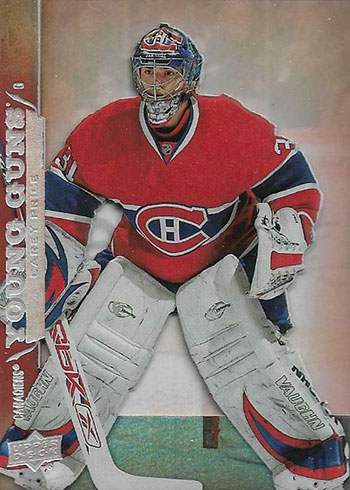 Retro Clear Cut Acetate Young Guns Checklist
203 Matt Duchene, Colorado Avalanche
210 Erik Karlsson, Ottawa Senators
212 Jamie Benn, Dallas Stars
227 Carey Price, Montreal Canadiens
230 Keith Duncan, Chicago Blackhawks
235 Claude Giroux, Philadelphia Flyers
237 Chris Kreider, New York Rangers
245 Steven Stamkos, Tampa Bay Lightning
444 Jeff Carter, Philadelphia Flyers
452 Ryan Getzlaf, Anaheim Ducks
465 Ryan Johansen, Columbus Blue Jackets
486 Evgeni Malkin, Pittsburgh Penguins
499 Braden Holtby, Washington Capitals
Shooting Stars Rookies
Like the variations, Shooting Stars Rookies got a mention on the initial info but were absent on Upper Deck's final checklist.
An update of sorts to the position-based cards from Series 1, these live up to their name with 20 of the season's top freshmen.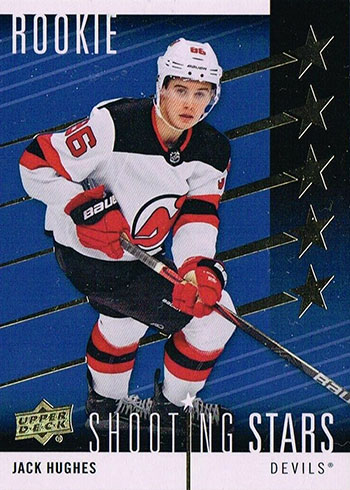 In addition to the base version, these have Red parallels.
Odds on the original sales info were 1:360 packs and 1:1,440 for the Reds.
Shooting Stars Rookies Checklist
SS-1 Kaapo Kakko, New York Rangers
SS-2 Morgan Frost, Philadelphia Flyers
SS-3 Adam Boqvist, Chicago Blackhawks
SS-4 Rasmus Sandin, Toronto Maple Leafs
SS-5 Victor Olofsson, Buffalo Sabres
SS-6 Noah Dobson, New York Islanders
SS-7 Ilya Mikheyev, Toronto Maple Leafs
SS-8 Filip Zadina, Detroit Red Wings
SS-9 Cale Makar, Colorado Avalanche
SS-10 Ryan Poehling, Montreal Canadiens
SS-11 Nick Suzuki, Montreal Canadiens
SS-12 Quinn Hughes, Vancouver Canucks
SS-13 Kirby Dach, Chicago Blackhawks
SS-14 Nikita Gusev, New Jersey Devils
SS-15 Joel Farabee, Philadelphia Flyers
SS-16 Erik Brannstrom, Ottawa Senators
SS-17 Cody Glass, Vegas Golden Knights
SS-18 Taro Hirose, Detroit Red Wings
SS-19 Barrett Hayton, Arizona Coyotes
SS-20 Jack Hughes, New Jersey Devils
MVP Stanley Cup Edition Colors and Contours Update
With 2019-20 Upper Deck MVP arriving before the start of the season — and many key debuts — it means rookie content is somewhat limited.
While the main MVP set is covered thanks to planned redemptions, Upper Deck Series 2 adds to the Colors and Contours portion of the checklist.
It appears as though there are 50 Colors and Contours Update cards, each numbered to 99. Purple parallels are also present with each having just nine copies.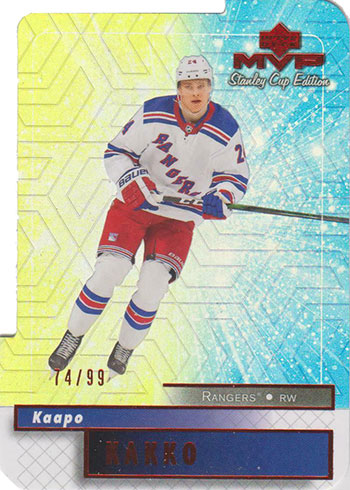 MVP Stanley Cup Edition Colors and Contours Update Checklist
Still working on filling in a few gaps.
101 Jack Hughes, New Jersey Devils /99
102
103 Kirby Dach, Chicago Blackhawks /99
104 Julien Gauthier, Carolina Hurricanes /99
105 Noah Dobson, New York Islanders /99
106 Alexander Volkov, Tampa Bay Lightning /99
107 Joel Farabee, Philadelphia Flyers /99
108 Ilya Mikheyev, Toronto Maple Leafs /99
109 Elvis Merzlikins, Columbus Blue Jackets /99
110 Tobias Bjornfot, Los Angeles Kings /99
111 Oliver Wahlstrom, New York Islanders /99
112
113 Cale Fleury, Montreal Canadiens /99
114
115 Victor Olofsson, Buffalo Sabres /99
116 Adam Fox, New York Rangers /99
117 Cody Glass, Vegas Golden Knights /99
118 Nick Suzuki, Montreal Canadiens /99
119 Nikita Gusev, New Jersey Devils /99
120 Rasmus Sandin, Toronto Maple Leafs /99
121
122 Max Jones, Anaheim Ducks /99
123 Nico Sturm, Minnesota Wild /99
124 Rem Pitlick, Nashville Predators /99
125 Sam Lafferty, Pittsburgh Penguins /99
126
127 Joel Persson, Edmonton Oilers /99
128 Joey Daccord, Ottawa Senators /99
129 Karson Kuhlman, Boston Bruins /99
130 Mario Ferraro, San Jose Sharks /99
131
132
133
134 Dante Fabbro, Nashville Predators /99
135 Dominik Kubalik, Chicago Blackhawks /99
136 Emil Bemstrom, Columbus Blue Jackets /99
137
138 Jesper Boqvist, New Jersey Devils /99
139 Nicolas Hague, Vegas Golden Knights /99
140 Nikolai Prokhorkin, Los Angeles Kings /99
141
142 Taro Hirose, Detroit Red Wings /99
143 Trevor Moore, Toronto Maple Leafs /99
144 Blake Lizotte, Los Angeles Kings /99
145 Carter Verhaeghe, Tampa Bay Lightning /99
147 Connor Timmins, Colorado Avalanche /99
148 David Gustafsson, Winnipeg Jets /99
149
150 Kaapo Kakko, New York Rangers /99
Alexandre Texier, Columbus Blue Jackets /99
Barrett Hoyton, Arizona Coyotes /99
Connor Cliffton, Boston Bruins /99
Dmytre Timashov, Toronto Maple Leafs /99
Joel L'Esperance, Dallas Stars /99
Martin Fehervary, Washington Capitals /99
Morgan Frost, Philadelphia Flyers /99
Philippe Myers, Philadelphia Flyers /99
Teddy Blueger, Pittsburgh Penguins /99