2019 Bowman Chrome Draft Adley Rutschman Superfractor Autograph Lands on eBay, Soars Past $15,000
The 2019 Bowman Chrome Draft Adley Rutschman Superfractor autograph has surfaced on eBay and bidding has already passed $16,000.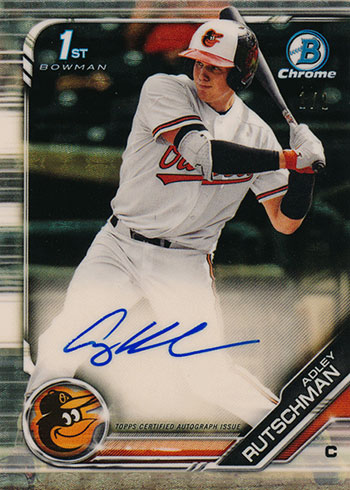 Although it will take a few years to see how the prospect's shake out, Rutschman is the top player in 2019 Bowman Draft early on and this one-of-one autograph should go on to be the ultimate chase as far as his baseball cards go.
Rutschman, who is part of the Baltimore Orioles franchise, was the first pick in the 2019 MLB Draft.
Superfractor Autographs have been soaring in recent years. In May, the 2019 Bowman Chrome Wander Franco Superfractor Autograph (found in 2019 Bowman) sold privately for more than $60,000.
The auction for the Rutschman Superfractor Autograph runs through Sunday, December 22. This isn't the catcher's only Superfractor in 2019 Bowman Draft. In fact, he has 11 total including this one. A handful of other inserts and autographs have one-of-one versions with the circular pattern in the background. The Draft Picks Autographs Superfractor is easily the biggest, though.
The Franchise Futures Superfractor that features Rutschman and Gunnar Henderson sold for $490 on eBay on December 15. The Draft Pick Breakdown Autograph Superfractor is currently listed with a purchase price of $9,999.99. Bidding on the Top of the Class Superfractor Box Topper closes on Friday, December 20.