Curious about who the 2019 Bowman Chrome autographs are? Covering 2019 Bowman, Bowman Chrome and Bowman Draft, there are a lot of them. The checklist has plenty of notable names and some that will likely become bigger in the years ahead.
Digging Into the 2019 Bowman Chrome Autographs
International signings are also part of the Chrome Prospect Autographs found in 2019 Bowman Baseball. Among them are Wander Franco, Victor Victor Mesa and Ronny Mauricio, who turned 18 just days before the set's release date.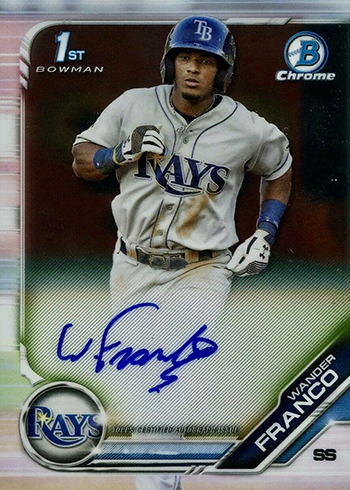 As far as 2018 draft picks go, Joey Bart leads the way. The Giants took the catcher second overall in 2018. He's one of the few top picks that year not to have autographs in 2018 Bowman Draft.
Sticking with a somewhat recent trend, a handful of big-name players on the 2019 Bowman Chrome Prospect Autographs list aren't making their debuts. Vladimir Guerrero falls under this category. He made his Bowman Chrome autograph debut in 2016. Eloy Jimenez, who started the season with the White Sox, also appears. His first Bowman Chrome autograph came in 2017.
The release of 2019 Bowman Chrome Baseball brought almost 70 more Prospect Autographs, many of them international signees. Among the headliners on the checklist are Seth Beer (which is his first Bowman Chrome Prospect Autograph despite no notation), Noelvi Marte and Orelvis Martinez.
It's worth noting that Washington's Telmito Agustin and Baltimore's Ryan McKenna have Chrome Prospect Autographs in both Bowman and Bowman Chrome. For both, the images are different.
The final installment of 2019 Bowman Chrome autographs arrived in 2019 Bowman Draft. A total of 81 players are on the checklist from this set, all of which are 2019 draft picks. First overall pick Adley Rutschman is among them.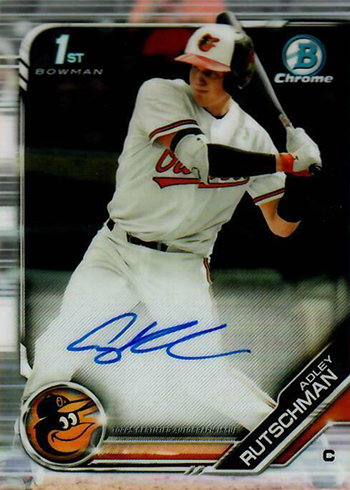 2019 Bowman Chrome Autographs Checklist
In addition to the players, you'll find links to other resources including full baseball card lists and stats.
---
---
---
---
---
---
---
---
---
---
---
---
---
---
---
---
---
---
---
---
---
---
---
---
---
---
---
---
---
---
---
---
---
---
---
---
---
---
---
---
---
---
---
---
---
---
---
---
---
---
---
---
---
---
---
---
---
---
---
---
---
---
---
---
---
---
---
---
---
---
---
---
---
---
---
---
---
---
---
---
---
---
---
---
---
---
---
---
---
---
---
---
---
---
---
---
---
---
---
---
---
---
---
---
---
---
---
---
---
---
---
---
---
---
---
---
---
---
---
---
---
---
---
---
---
---
---
---
---
---
---
---
---
---
---
---
---
---
---
---
---
---
---
---
---
---
---
---
---
---
---
---
---
---
---
---
---
---
---
---
---
---
---
---
---
---
---
---
---
---
---
---
---
---
---
---
---
---
---
---
---
---
---
---
---
---
---
---
---
---
---
---
---
---
---
---
---
---
---
---
---
---
---
---
---
---
---
---
---
---
---