2018 Panini Eminence Soccer Offers a Luxury Take
Over the past few years, soccer cards have seen a fast progression when it comes to the premium side of things. Panini has introduced super-premium brands like Immaculate, National Treasures and Flawless. 2018 Panini Eminence Soccer takes things a step further. And it's not just in the type of cards. It's the players as well. This is a product that promises legends and superstars throughout, some of whom haven't had certified autographs before. There's also premium memorabilia, cards with actual gems and others with precious metals embedded in them.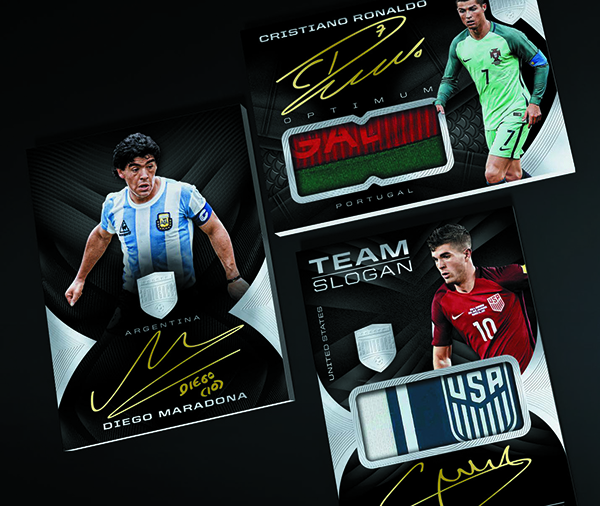 Each box of 2018 Panini Eminence Soccer has at least ten cards. Of those, a minimum of nine are autographs.
2018 Panini Eminence Soccer Overview
Lionel Messi, Cristiano Ronaldo, Roberto Baggio and Diego Maradona are among the headline autograph signers in 2018 Panini Eminence Soccer. They're joined by several players getting their first certified autograph cards: Falcão, Franco Baresi, Paolo Rossi, Dino Zoff, Luigi Riva, Geoff Hurst, and Gordon Banks. David Villa has his first Panini signatures in Eminence.
As far as autograph sets go, there are six that incorporate memorabilia. Patchs are large and come with colorful combinations.
Stud Signatures are the first cards to combine an autograph with the stud from the bottom of a match-worn cleat.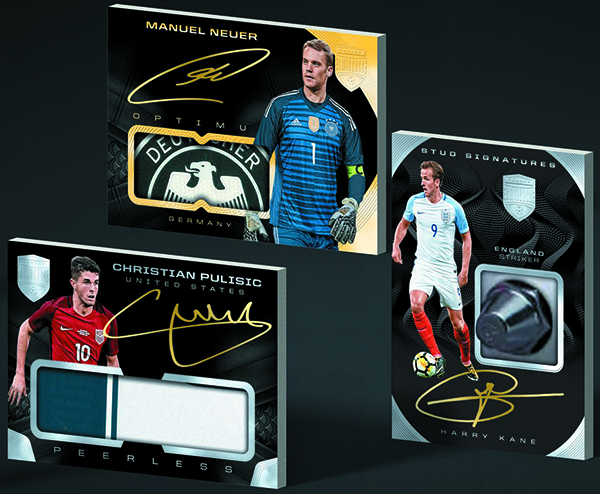 Passing the Torch is one of the hobby's most iconic dual autograph inserts. Usually, they're double-sided cards. For 2018 Panini Eminence Soccer, they shift to booklets. Pairings showcase different eras from national teams.
Also taking a book card format are Team Tandems.
Octet Signature Booklets have eight autographs. Other booklets feature four and six signers along with matching memorabilia.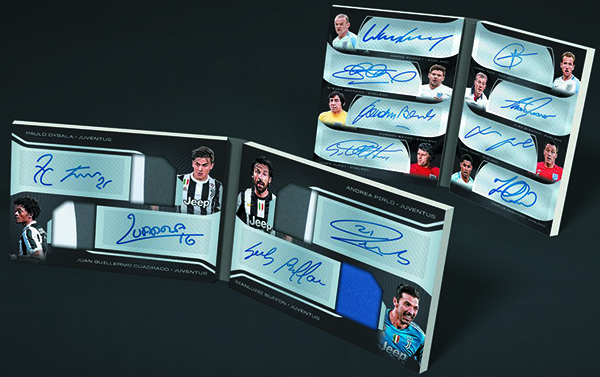 All autographs in 2018 Panini Eminence Soccer have one-of-one Platinum parallels.
Cut signatures are also available from past legends as well as some tough modern signatures. Cuts on the checklist include George Best, David Beckham and Lev Yashin.
That said, there are also a handful of inserts where all cards are one-of-ones and don't have parallels. These include Transcendent Talents, One of a Kind, Double Diamond Autographs, and Quad Diamond Autographs.
If a 2018 Panini Eminence Soccer box doesn't have a booklet card, it has an additional autograph card.
2018 Panini Eminence Soccer at a glance:
Cards per pack: 10
Packs per box: 1
Boxes per case: 1
Release date: July 18, 2018
What to expect in a hobby box:
• Autographs – 9
2018 Panini Eminence Soccer Autograph Signers
The following is a tentative list of confirmed 2018 Panini Eminence Soccer autograph signers. It is subject to change and could grow.
Gordon Banks
Franco Baresi
Gabriel Batistuta
Franz Beckenbauer
Dennis Bergkamp
Cuauhtemoc Blanco
Jorge Campos
Eric Cantona
Iker Casillas
Philippe Coutinho
Landon Donovan
Rio Ferdinand
Diego Forlan
Javier Hernandez
Xavi Hernandez
Geoff Hurst
Miroslav Klose
Robert Lewandowski
Sepp Maier
Diego Maradona
Lothar Matthaus
Lionel Messi
Thomas Muller
Manuel Neuer
Mesut Ozil
Robert Pires
Andrea Pirlo
Christian Pulisic
Sergio Ramos
Raul
Franck Ribery
Luigi Riva
Rivaldo
Cristiano Ronaldo
Paolo Rossi
Hugo Sanchez
Alan Shearer
Wesley Sneijder
Luis Suarez
Francesco Totti
Marco Van Basten
David Villa
Zico
Dino Zoff
The following have autograph deals in place and are also anticipated as long as cards are returned:
Ronaldo
Ronaldinho
Neymar
Cut Signatures
David Beckham
George Best
Johan Cruyff
Gerd Muller
Ferenc Puskas
Helmut Rahn
Ronaldhino
Ronaldo
Lev Yashin
Zinedine Zidane