2018 Panini Certified Racing Checklist and Details
2018 Panini Certified Racing sees the brand return after skipping last season. It is definitely premium leaning, but it doesn't quite reach the price of something like a National Treasures. That means ample autographs and memorabilia, not to mention inserts and parallels.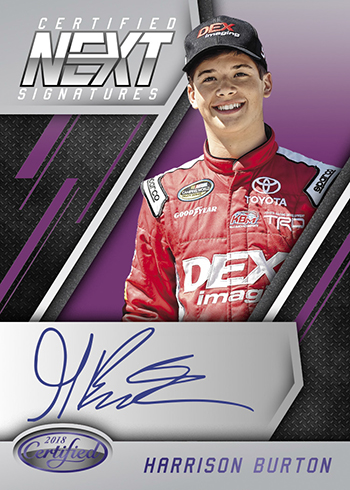 Each ten-pack 2018 Panini Certified Racing hobby box of the product comes with four total hits — two autographs and two memorabilia cards. Numbered parallels and chase cards combine at eight per box.
2018 Panini Certified Racing Overview
The foil-based shell set is compiled of 100 total cards. Eighty of those highlight NASCAR's finest.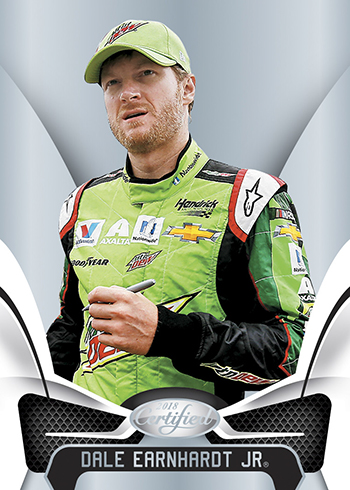 Rounding things out is a pair of subsets, each with ten cards: Immortals and Cars.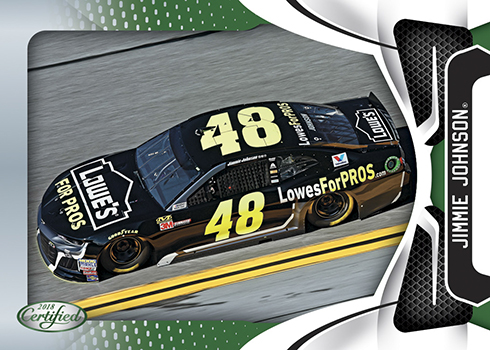 Parallels come in several colors, a tradition with the Certified line across several sports and years.
Putting a NASCAR spin on the Freshman Fabrics found in Certified in other sports comes Freshman Firesuits. These come with autographs and swatches from rookie drivers. Parallels run a full rainbow: Red (/199 or less), Blue (/49 or less), Gold (/25 or less), Purple (/10 or less), Green (/5 or less), and Black (1/1).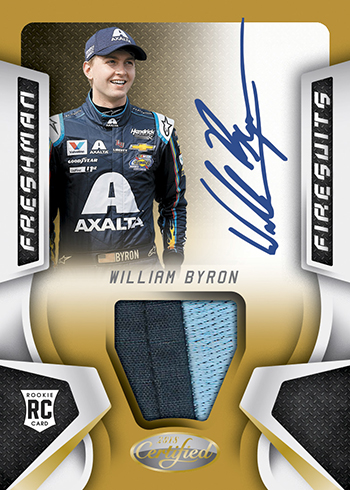 2018 Panini Certified Racing includes some on-card autographs, something that wasn't part of the debut 2016 release. Among them is Certified Signature Swatches. In addition to being hard-signed, these have a pair of memorabilia pieces. Parallels tiers match Freshman Firesuits in both colors and quantities.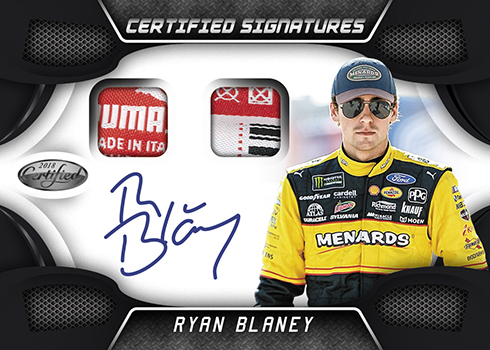 Certified Next Signatures and the 27-card Signing Sessions don't have memorabilia but they are on-card. Besides the regular versions, these come in Red (/75 and under), Blue (/50 and under), Gold (/25 and under), Purple (/10 and under), Green (/5 and under) and Black (1/1) parallels.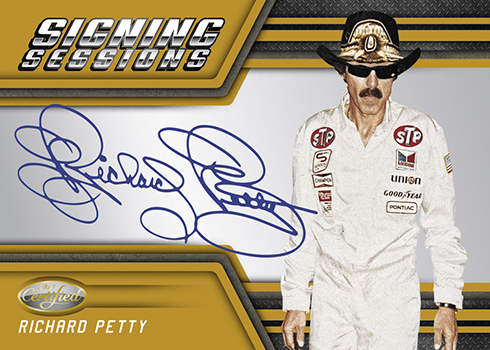 Xfinity Materials come with memorabilia worn by five young racers working their way up to the main NASCAR circuit. These have six parallel levels, none numbered higher then 199.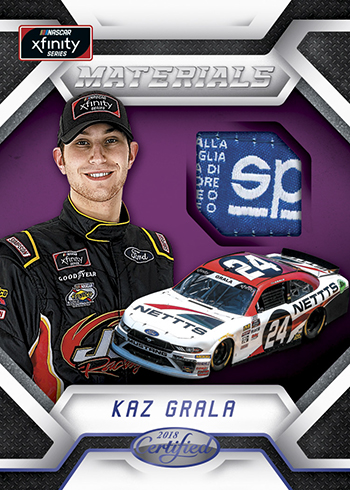 Epix is one of five regular insert sets in 2018 Panini Certified Racing. Numbered to 199 or less, the checklist has 20 racers and nine types of parallels. Other inserts include All-Certified Team, Certified Stars, Fresh Faces and Skills.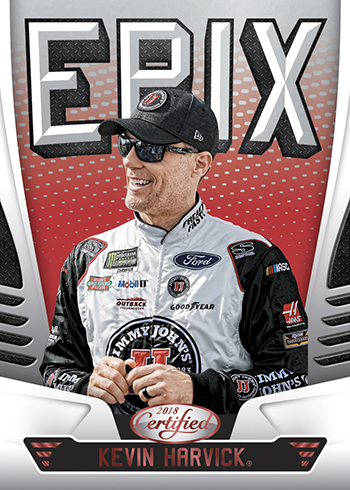 2018 Panini Certified Racing at a glance:
Cards per pack: 5
Packs per box: 10
Boxes per case: 12
Set size: 105 cards
Release date: July 27, 2018
What to expect in a hobby box:
• Autographs – 2
• Memorabilia Cards – 2
• Inserts and Parallels – 8

2018 Panini Certified Racing Checklist
Base
Autographs
Memorabilia
Inserts