2018 Rittenhouse Star Trek TOS Captain's Collection Checklist and Details
2018 Rittenhouse Star Trek TOS Captain's Collection trading cards combine several different elements. Among them? Inscription autographs that come with both a signature and an added note or line of memorable dialogue.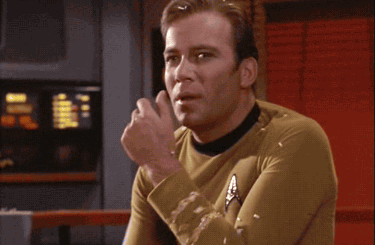 The checklist goes deep into The Original Series with lots of photos, a broad mix of inserts and even a preview of the company's first set of Discovery trading cards.
Each box has a pair of autographs.
2018 Rittenhouse Star Trek TOS Captain's Collection Base Set
The main part of Star Trek TOS Captain's Collection is the base set. It has 80 cards that cover every episode of the show's run. Each card has multiple photos but what sets it apart from the many other sets of Star Trek trading cards are the new captain's logs that accompany them. These are told from the perspectives of Captain Kirk and Captain Pike.
The base set comes with Throwback parallels. These land just one per box, which should make putting a full run together a challenge.
Autographs
2018 Rittenhouse Star Trek TOS Captain's Collection has a few different autograph styles.
The Inscription Autographs are a first for the franchise. The notations vary from signer to signer, opening up a lot of room for variations. Inscription signers include Joan Collins, Sean Kenney, BarBara Lun, Clint Howard, Michael Forest and Gary Lockwood.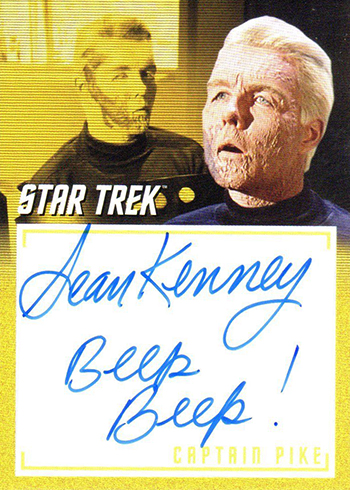 The set also goes back to the enduring Classic TOS Autographs. These date back to when SkyBox had the Star Trek card line. Signers here not only include key stars, but fill in some of the numerical gaps. Among them are William Shatner (#A270), Leonard Nimoy (#A280), Walter Koenig (#A281), Nichelle Nichols (#A282) and George Takei (#A283).
Cut signatures are also randomly inserted in packs. The first is an Cut Signature Relic from Susan Oliver. She played Vina in The Cage, the show's original pilot. The relic swatch comes from the material she wore in her first scene. Vic Tayback, Jojo Krako in A Piece of the Action, is the product's other cut signature.
Other Inserts
Where No Man Has Gone Before Uncut is kind of like a set within the main set. Clocking in at 70 cards, it focuses entirely on the pilot that originally aired and introduced us to Captain Kirk. These fall approximately two per box.
Star Trek TOS Lobby Cards is another large insert set, this time with 80 cards. Each of these have new art from Juan Ortiz. He's the artist who did the recent Star Trek Portfolio Prints sets. Lobby Cards are 1:12 packs.
Not all of the inserts in 2018 Rittenhouse Star Trek TOS Captain's Collection come with massive checklists. Inside the Enterprise (1:48 packs) has nine cards. As the name suggests, it looks at some of the most iconic locations on the ship. Star Trek Movies Captain's Log Cards (1:288 packs) expands on the base set theme to incorporate the first seven Star Trek films. Star Trek: Discovery has four preview cards for the card maker's Season 1 set. These land at a rate of about one per case.
Canada Post 50th Anniversary Stamp Cards fold in another type of collecting. Each of these cards, which are inserted 1:288 packs, has an original lenticular stamp embedded in it.
Sketch cards return with original art. These work out to approximately one per case.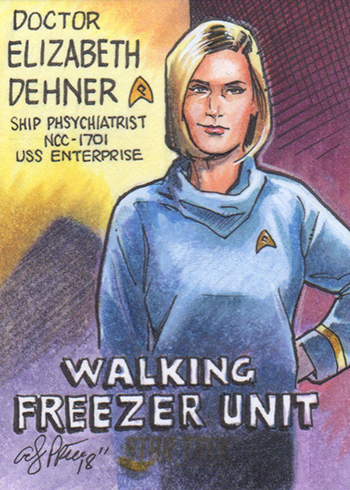 Incentive Cards
Those pre-ordering six, nine and 18 cases of the product get some exclusives not available in regular packs. The six-case incentive is a Dual Autograph featuring Walter Koenig and Celeste Yarnall. A second Dual Autograph card is the nine-case incentive. This one has William Shatner and Louise Sorel.
The 18-case incentive is a special Archive Box. Contents include a set of four matching Printing Plates used for one of the base cards. There's also a memorabilia card with material from the skirt Susan Oliver wore in The Cage. This is similar to the Cut Signature Relic minus the autograph.
2018 Rittenhouse Star Trek TOS Captain's Collection at a glance:
Cards per pack: 5
Packs per box: 24
Boxes per case: 12
Set size: 80 cards
Release date: July 25, 2018
What to expect in a hobby box:
• Autographs – 2
• Lobby Cards – 2
• Where No Man Has Gone Before Uncut – 2
• Throwback Parallels – 1
2018 Rittenhouse Star Trek TOS Captain's Collection Checklist
Base
Autographs
Memorabilia
Inserts
Promo Cards