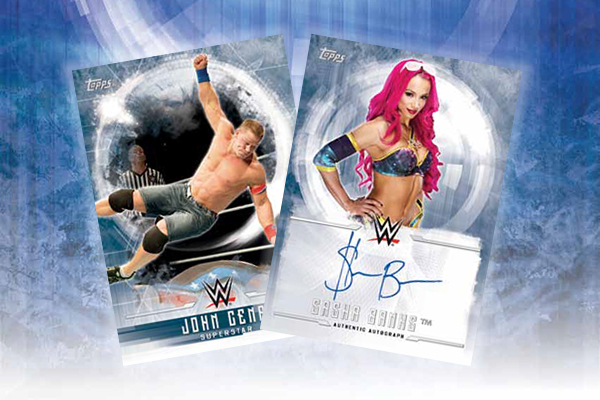 By Ryan Cracknell | Hobby Editor
2017 Topps WWE Undisputed marks the third time out for the only high-end brand in professional wrestling. Once again, there's a hit in every pack with eight autographs promised in every ten-pack box.
As with the previous two Undisputed releases, it starts with the Undisputed Autographs. These offer a deep roster of signers from the current rosters, NXT and retired stars.
Undisputed Autographs have no shortage of parallels. These include Bronze (/99), Silver (/50), Green (/25), Gold (/10), Black (/5), Printing Plates and Red (1/1).
Based on the sales material, it looks like the base versions are not serial numbered. This is the way they were in 2015. The 2016 set saw all autographs numbered.
Multi-signatures cards are also available, albeit in small numbers. Dual Autographs have 25 copies each. Triple Autograph are limited to just ten. Quad Autographs are done in a book card format and are numbered to 5.
Undisputed Relics come with both signed and unsigned versions. Both come with shirt relics and have Silver (/50), Green (/25), Gold (/10) and Red (1/1) parallels.
Autographed Kiss and Shirt Relic Book cards bring together several elements. A kiss imprint and autograph are on one panel while an oversized shirt swatch is on the other with an image of the featured women's division star. These are numbered to 5.
Tribute Cut Signatures are one-of-ones. The set has just one card, former WWE Champion, Yokozuna.
While much of the attention is going to be on the signed cards, 2017 Topps WWE Undisputed does have a base set. It has a total of 70 cards. It starts with 70 active stars from both Raw and Smackdown as well as NXT up-and-comers.
On top of these are a pair of insert sets. Women's Division has 19 cards. The checklist closes out with ten Dream Matches cards highlighting matches that never happened.
Base and insert parallels come in several levels: Bronze (/99), Silver (/50), Green (/25), Gold (/10), Printing Plates and Red (1/1).
2017 Topps WWE Undisputed wrestling cards at a glance:
Packs per box: 10
Cards per pack: 5
Boxes per case: 8
Set size: 100 cards
Release date: July 12, 2017
What to expect in a hobby box:
• Autographs – 8
• Relic Cards – 2
2017 Topps WWE Undisputed Checklist
Base
Autographs
Memorabilia
Inserts
Comments? Questions? Contact Ryan Cracknell on Twitter @tradercracks.