2017 Topps Star Wars Sugar-Free Gum Checklist and Details
As card collectors, sometimes it's easy to forget that Topps still has a major stake in the candy market. And that history goes back decades. The online-exclusive 2017 Topps Star Wars Sugar-Free Gum is a nod to the past in several regards. The premium-style box set offers trading card reproductions based on wrappers from special Star Wars-themed gum that came out nearly four decades earlier.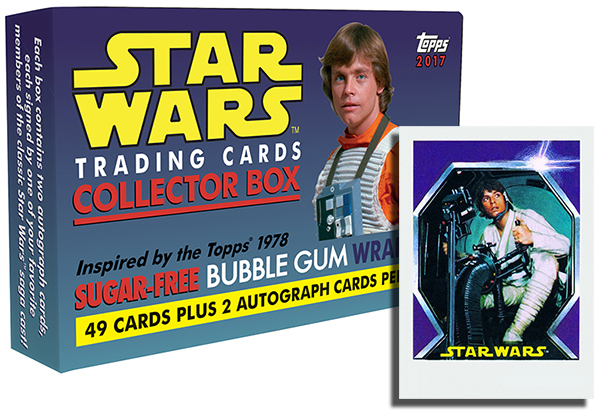 Each 2017 Topps Star Wars Sugar-Free Gum box has a complete base set plus a pair of autographs. Some sets also come with additional bonus cards.
The main set consists of 49 cards. Each has an image from the original Star Wars that was originally done as a wrapper. Although they're photo-based, the designs have a lot of flair as well. It's the kind of thing you might expect to have seen on an old ringer shirt back in the day.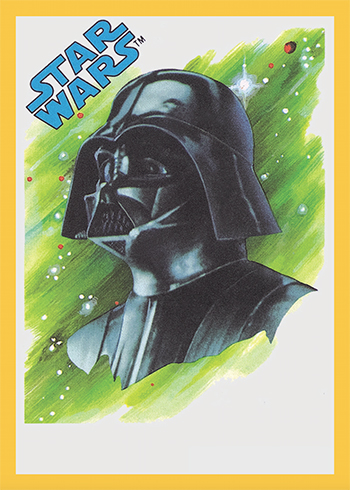 2017 Topps Star Wars Sugar-Free Gum has parallels, but, according to the card maker, these are randomly included in sets as a bonus. That means you still get the full base set with any potential parallels as extras. These come in Blue (/75), Green (/40), Gold (/10) and Red (1/1).
While the base set focuses exclusively on the original film, the two-per-set autographs span the entire original trilogy. More than 40 signers are in the product. Top-tier names include the big three of Harrison Ford (Han Solo), Carrie Fisher (Princess Leia Organa) and Mark Hamill (Luke Skywalker).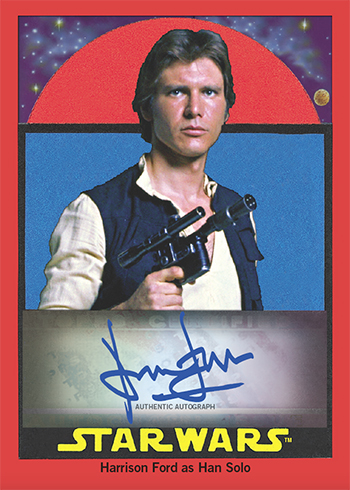 Box sets are available exclusively on the Topps website for $99.99.
The original Topps Sugar-Free Gum Wrappers came out in 1978 shortly after the first film's fifth, and final, series of cards. The main draw was the piece of candy. But there was the added element of the image on the inside of the wrapper to encourage further collecting.
Today, the wrappers are fairly tough to find. They were likely considered garbage by most. And many of those that do survive are not in the best shape. They were originally folded. That means that certain parts may not be the strongest anymore. Small tears are also common.
More recently, the original wrappers have also been used as digital trading cards in the Topps Star Wars Card Trader app.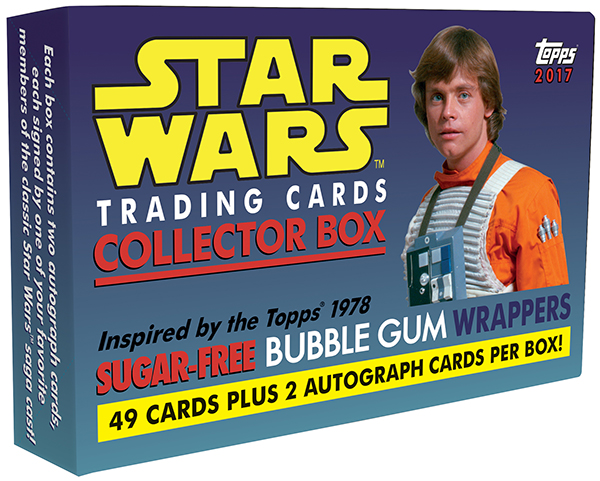 2017 Topps Star Wars Sugar-Free Gum at a glance:
Cards per box set: 51
Set size: 49 cards
Release date: March 2, 2017
What to expect in a box set:
• 49-Card Set
• Autographs – 2
2017 Topps Star Wars Sugar-Free Gum Wrappers Trading Cards Checklist
Base Set
49 cards.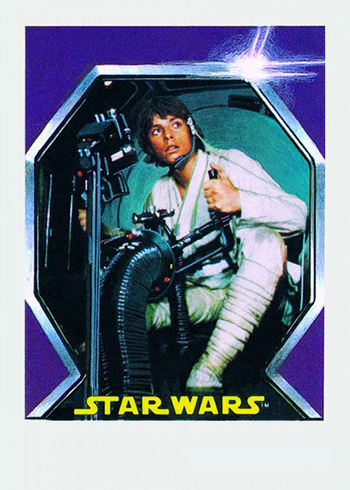 Parallels:
• Blue – /75
• Green – /40
• Gold – /10
• Red – 1/1
1 Jawas
2 Smuggler Han Solo
3 Protocol Droid C-3PO
4 Obi-Wan Kenobi
5 Astromech Droid C-3PO
6 Han Solo & Chewbacca
7 Luke Skywalker
8 R2-D2 & C-3PO on Tantive IV
9 Luke Skywalker on The Millennium Falcon
10 Han Solo
11 Stormtroopers
12 Han Solo
13 X-Wing & Y-Wing
14 Rebel Pilot Luke Skywalker
15 Jedi Knight Obi-Wan Kenobi
16 R2-D2
17 Han Solo
18 Tusken Raider
19 Stormtrooper
20 Rebel Leader Princess Leia Organa
21 Tusken Raider
22 Obi-Wan Kenobi
23 C-3PO
24 Chewbacca
25 Han Solo
26 Darth Vader
27 Luke Skywalker
28 Tusken Raider
29 Sandtrooper
30 Stormtrooper
31 Princess Leia Organa
32 Cantina Band
33 Luke in Stormtrooper Disguise
34 C-3PO
35 Luke in Stormtrooper Disguise
36 The Millennium Falcon
37 Han Solo
38 Rebel Pilot Luke Skywalker
39 Luke Skywalker
40 C-3PO & R2-D2
41 C-3PO
42 Escape Pod
43 Princess Leia Organa & Luke Skywalker
44 Luke Skywalker & Leia Organa
45 Chewbacca & Han Solo
46 Obi-Wan Kenobi & Luke Skywalker
47 Stormtroopers
48 Luke Skywalker & Leia Organa
49 Uncle Owen & Luke
Autographs
43 cards.
Inserted 2 per set.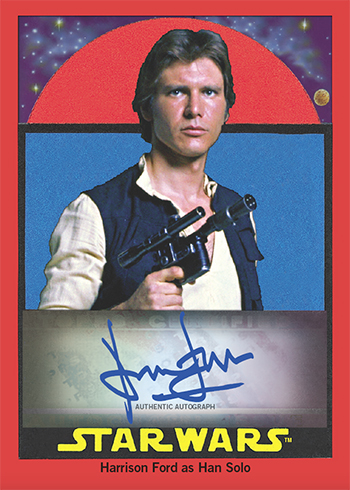 David Ankrum as the voice of Wedge Antilles
Kenny Baker as R2-D2
Erik Bauersfeld as the voice of Admiral Ackbar
Dickey Beer as Barada
Dickey Beer as Boba Fett
Dickey Beer as Scout Trooper
Paul Blake as Greedo
Caroline Blakiston as Mon Mothma
Jeremy Bulloch as Boba Fett
Mark Capri as Officer M'Kae
Michael Carter as Bib Fortuna
Kenneth Colley as Admiral Piett
Sean Crawford as Saelt-Marae
Dermot Crowley as General Madine
Anthony Daniels as C-3PO
Warwick Davis as Wicket
Mark Dodson as the voice of Salacious Crumb
Tim Dry as J'Quille
Carrie Fisher as Princess Leia Organa
Harrison Ford as Han Solo
Anthony Forrest as Sandtrooper
Barbara Frankland as Saurin
Julian Glover as General Veers
Rusty Goffe as Jawa
Garrick Hagon as Biggs Darklighter
Mark Hamill as Luke Skywalker
Alan Harris as Bossk
Denis Lawson as Wedge Antilles
Angus MacInnes as Jon Dutch Vander
Peter Mayhew as Chewbacca
Ian McDiarmid as The Emperor
John Morton as Dak Ralter
Toby Philpott as Jabba The Hutt
Mike Quinn as Nien Nunb
Mike Quinn as Sy Snootles
John Ratzenberger as Bren Derlin
Clive Revill as the voice of The Emperor
Pam Rose as Leesub Sirln
Tim Rose as Admiral Ackbar
Deep Roy as Droopy McCool
Femi Taylor as Oola
Billy Dee Williams as Lando Calrissian
Corey Dee Williams as Klaatu
Comments? Questions? Contact Ryan Cracknell on Twitter @tradercracks.