Record $4.3 Million for 2017 National Treasures Patrick Mahomes Rookie Autograph Shield
There's a new king at the top of the list for the most expensive football cards of all-time. A rookie-year 2017 Panini National Treasures Rookie Patch Autograph Platinum Patrick Mahomes sold for $4.3 million.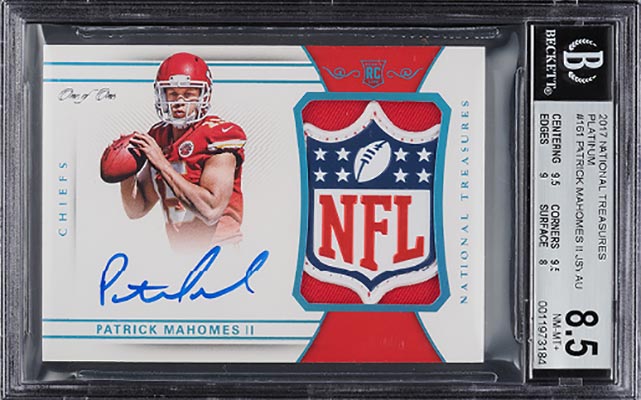 The card is a one-of-one version of Mahomes' most valuable Rookie Card. Instead of the standard jumbo patch, this one comes with an NFL Shield logo. It's graded NM-MT+ 8.5 by BGS with a 10 for the signature. The individual subgrades break down to 9.5 for centering and corners, 9 on the edges and 8 for the surface.
PWCC Marketplace announced the private sale. The buyer, LJ's Card Shop in New Albany, Ohio, said in a statement, "The 2017 National Treasures NFL Shield Patrick Mahomes rookie is truly a piece of art and we are honored to add this card to our collection."
The sale breaks the previous high of $3,107,372 for a football card, a 2000 Playoff Contenders Championship Ticket Tom Brady autograph graded BGS 9. That card sold at auction through Lelands in June.
Over the past several months, the football card price record has changed several times. For perspective, a Black version of the 2017 National Treasures Mahomes RC was the record holder for a short time early in 2021. It sold for $840,000. Since then, multiple 2000 Contenders Championship Ticket Tom Brady's took things over the $1 million.