6 Affordable Early Patrick Mahomes Cards
Patrick Mahomes Rookie Cards or key autographs are not the only hot targets for collectors. These six rookie-year inserts and second-year base cards also might be terrific choices that are a fraction of the price as his most popular RCs. Here are six to consider.
2017 Panini Contenders Rookie of the Year Contenders Patrick Mahomes #RY-7
Even if you didn't pull a Mahomes RC from 2017 Contenders, it's still a bit of a victory if you pulled the quarterback's Rookie of the Year Contenders insert. There are numbered parallels, but the base is a great early card of Mahomes that is rising in interest from collectors wanting a card from the now-legendary 2017 Contenders release. While professionally graded Gem Mint copies can approach four figures, ungraded Mint copies can still be found for around $120. There are 30 players on the insert set's checklist.
Buy on: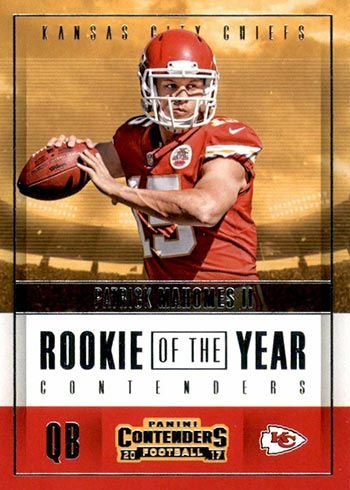 2017 Donruss Optic The Rookies Patrick Mahomes #7
Just because this isn't a base Rookie Card, don't expect to pay any less for it than the Optic Rated Rookie. The Rookies is a 40-card insert highlighting the top rookies in the 2017 class. It has a cool design and has become more popular with collectors over the last year. It sells for at least $300. There are five parallel levels: Blue, Green, Red, Gold and Gold Vinyl.
Buy on: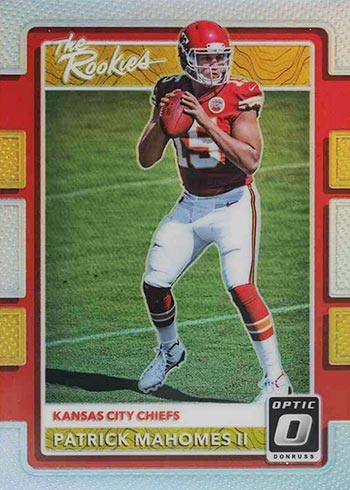 2017 Donruss The Elite Series Rookies Patrick Mahomes #7
A design similar to The Rookies insert, this one from 2017 Donruss is less than half the price. The Elite Series Rookies insert has been around since 2016 when Donruss launched back into football. In 2017, this was a 30-card insert and is not a hot chase element to Donruss. You can find this one for about $100.
Buy on: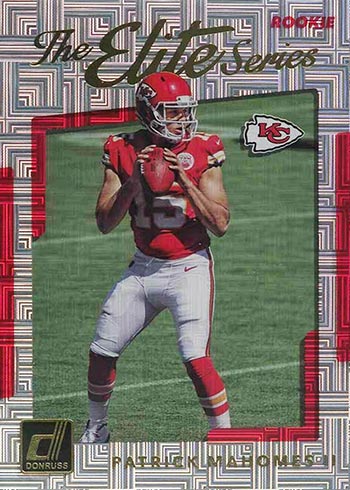 2018 Panini Prizm Patrick Mahomes #102
When Rookie Cards reach thousands of dollars, collectors start to focus on second-year cards. Panini Prizm base cards are so similar to the RCs, and this is Mahomes' 2018 Panini Prizm base card. Of course, there are many parallels to collect, if that's your thing.
Buy on: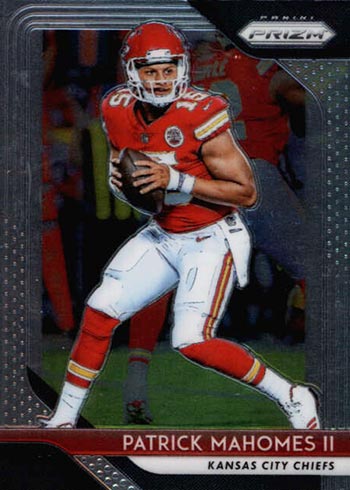 2018 Donruss Optic Patrick Mahomes #49
Just like Mahomes' second-year base Prizm, this 2018 Donruss Optic has drawn a lot of collectors. It's about a third of the value of the Prizm.
Buy on: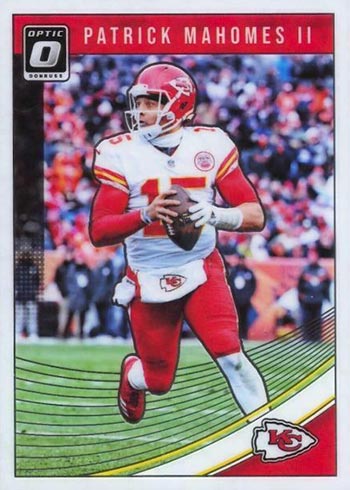 2018 Select Patrick Mahomes #66
Mahomes' 2017 Select Rookie Card has risen to $500 to $800. There's no autograph or memorabilia, so this second-year Select base card may be an affordable alternative. There actually are three Select Mahomes base card levels: #66 Concourse Level, #104 Premier Level and #232 Field Level.
Buy on: