2017-18 Upper Deck Series 2 Young Guns Retro Acetate SSPs See Through Famous Rookie Cards
2017-18 Upper Deck Series 2 Hockey has acetate in a few places. For starters, there's the Clear Cut parallels that are exclusive to hobby packs. Then there's the tough Rookie Breakouts inserts. You can add a surprise entry to that list with some previously unannounced 2017-18 Upper Deck Series 2 Young Guns Retro Acetate cards.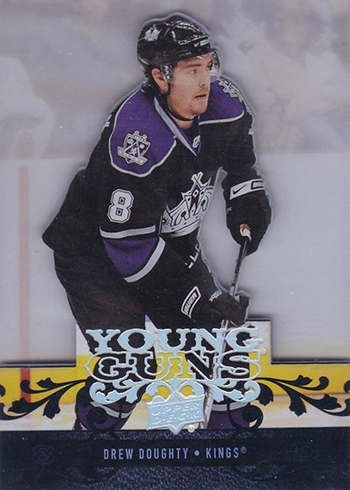 In the past, Upper Deck has done acetate variations of the current year's Young Guns. For these SSP inserts, they're taking a 'greatest hits' approach, offering a new look at some of the most famous Young Guns Rookie Cards of all-time with the clear plastic card stock.
This is a skip-numbered set with cards getting their original numbers from when they first came out. Backs also suggest that these may have been planned for Series 1 as that's what's noted on the back.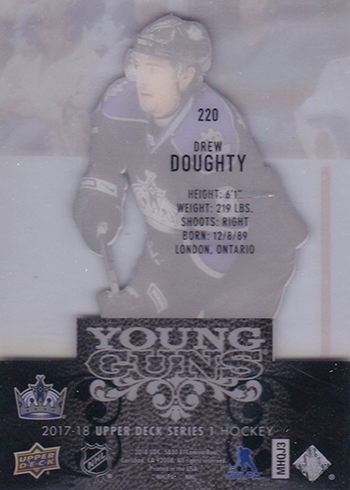 These are exact conversions of the original cards. The layout is the same but the photos are different.
Like other surprise inserts, the 2017-18 Upper Deck Series 2 Young Guns Retro Acetate checklist is not yet fully known. Insertion rates and print runs have also not been announced. But it is safe to say that these cards are tough and rare pulls.
We'll keep you posted as more cards surfaced.
2017-18 Upper Deck Series 2 Young Guns Retro Acetate Checklist
More will be added as they're confirmed (you can also drop a note in the comments below).
201 Sidney Crosby, Pittsburgh Penguins (2005-06)
201 John Tavares, New York Islanders (2009-10)
202 Blake Wheeler, Boston Bruins (2008-09)
202 Victor Hedman, Tampa Bay Lightning (2009-10)
204 Phil Kessel, Boston Bruins (2006-07)
206 Zach Parise, New Jersey Devils (2005-06)
207 Brandon Saad, Chicago Blackhawks (2011-12)
210 Patrick Kane, Chicago Blackhawks (2007-08)
214 Ryan Nugent-Hopkins, Edmonton Oilers (2011-12)
220 Drew Doughty, Los Angeles Kings (2008-09)
231 P.K. Subban, Montreal Canadiens (2010-11)
240 Sergei Bobrovsky, Philadelphia Flyers (2010-11)
245 Steven Stamkos, Tampa Bay Lightning (2008-09)
248 Mark Scheifele, Winnipeg Jets (2011-12)
249 Nicklas Backstrom, Washington Capitals (2007-08)
Comments? Questions? Contact Ryan Cracknell on Twitter @tradercracks or by email.