2017-18 Upper Deck Artifacts Hockey Checklist, Team Set Lists and All You Need to Know
2017-18 Upper Deck Artifacts Hockey is one of the early sets of the new season. And it's bringing more autographs and memorabilia than other preseason sets.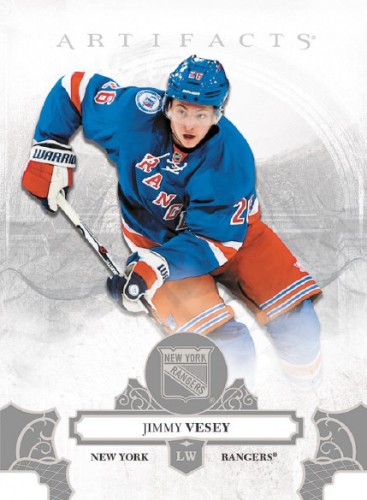 Once again, hobby boxes will contain eight packs, each with a hit in one form or another. Look for three cards that will be either autographs, memorabilia, or an Aurum insert along with four serial numbered parallels and a Rookie Redemption card of a member of the 2017-18 freshman class that will debut during the early months of the season.
Base Set and Parallels
Like its predecessors, the 2017-18 Upper Deck Artifacts Hockey base set is made up of 100 regular cards to go along with such limited subsets as Stars (/599), Legends (/499), and Rookies (/999). The latter group is going to draw from an impressive pool of players that debuted after the Rookie Card Deadline such as Tyson Jost, Josh Ho-Sang, and Charlie McAvoy.
Parallels for all of these card have always been a big part of Artifacts as well. Offering up a rainbow of foil accents, the spectrum runs from Ruby (/299) to Emerald (/99), Orange (/55), Purple (/20), and Black (/5).
The Artifacts set is also once again augmented by Rookie Redemption cards (1:9). Normally, there is one for each NHL team and this year, the Vegas Golden Knights are part of that group for the first time. Expect to also find Wild Cards which get filled up with players from teams that have more than one debuting player. New this season are Rare Variation (1:320) and Ultra Rare Variation (1:1,280) cards, but all will have an Emerald parallel (1:62, 1:9,920, and 1:49,600 respectively), too.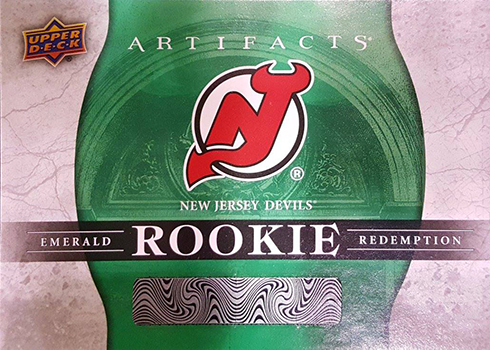 Most, if not close to all, base set and subset card should have autograph, memorabilia, and autographed memorabilia parallels as well. There are essentially four colors for each type with Silver being the most common and premium swatches and autographs added as scarcity increases from Emerald to Purple to Black. The Black parallels with just an autograph are limited to just five copies each.
Inserts
Aurum (1:20) is back for a second straight year and these attractive inserts are considered by some to be a set within a set. There will be eight of these cards inside a master case, so they are at the right level of scarcity to appeal to those who want to get them all.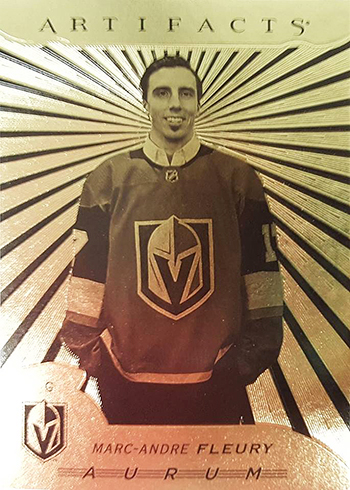 Autographs and Memorabilia
The autograph-oriented fun in 2017-18 Upper Deck Artifacts Hockey starts with the standard Autofacts (1:60) which have been a big part of this product since it debuted back in 2005-06. Top 12 Rookie Signatures (1:1,200) are a longer-odds hit which could draw from the carryover group of players and there is an additional 2016-17 Update (1:1,800) to track down as well.
Honored Members has been one of the most chased collections ever offered in Artifacts and it will be back with Relics and Signatures that are numbered to 27 copies each along with one-of-one Cut Signatures for some legendary talents. This year, however, there are joined by Honored Hopefuls which are produced in similar quantities and offer up memorabilia pieces or ink from big names that could one day be inducted in the Hockey Hall of Fame.
New to Artifacts are Centennial Remnants (1:240, parallels /10 and /3) which will draw from the best players of the present and those that were prime performers over the past 100 years.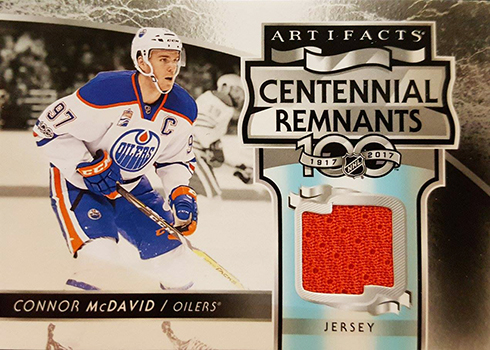 Also part of the memorabilia program in 2017-18 Upper Deck Artifacts Hockey are sets like Frozen Artifacts (1:27, Premium /25, Premium Materials /5), Year One Rookie Sweaters (1:50, parallels /25 and /5), Tundra Teammates Duos (/199, parallels /15 and /5), Tundra Teammates Quad (/99, /10, /3). Lord Stanley's Legacy (1:160, parallels /15 and /5) have an additional signed version (1:800, parallels /10 and /3).
The Rookie Relic Redemptions are slightly different this year as the card dubbed "I" has no additional signed version, but others will. The breakdown is a bit daunting compared to previous seasons, but it all starts with Purple for "I" that has versions like Jersey-Jersey (1:2,457), Jersey-Patch (1:16,213), Patch-Patch (1:48,640), and Patch-Tag (1:243,200). It is likely that this card will be reserved for Nolan Patrick, who has an exclusive autograph deal with Leaf Trading Cards.
For the other Rookie Relic Redemptions, there are memorabilia-only or autographed Rookie Relics that come in Silver (Jersey-Jersey, 1:152, 1:4,963 for auto), Emerald (Jersey-Patch, 1:614, 1:9,728 for auto), Gold Spectrum (Patch-Patch, 1:1,241, 1:24,320 for auto), and Black (Patch-Tag, 1:12,160, 1:243,200 for auto).
Finally, there are simply Autographed Rookie Redemptions that are inserted once in every 90 packs.
2017-18 Upper Deck Artifacts Hockey at a glance:
Packs per box: 8
Cards per pack: 4
Boxes per case: 20
Set size: 180 cards
Release date: September 27, 2017
What to expect in a hobby box:
– Three autograph, memorabilia, or Aurum cards
– Four serial-numbered cards
– One Rookie Redemption
2017-18 Upper Deck Artifacts Hockey Checklist
Base
Autographs
Memorabilia
Inserts
Redemptions
Updates
Team Sets
Stephen Laroche is the editor of Beckett Hockey, Beckett Basketball, and Beckett Sports Card Monthly magazines. Have a comment, question or idea? Send an e-mail to him at slaroche@beckett.com or follow him on Twitter @Stephen_Laroche.