First Look: 2014-15 Upper Deck SP Game-Used Hockey
When you click on links to various merchants on this site, like eBay, and make a purchase, this can result in this site earning a commission.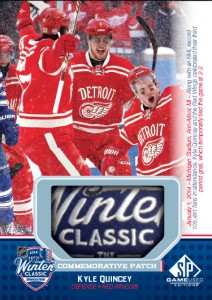 By Stephen Laroche | Beckett Hockey Editor
Back in 2000-01, Upper Deck was one of the first hockey card manufacturers to embrace the concept of having a game-used memorabilia card included in every pack of a product. Their debut SP Game Used release hit store shelves that season and it was an instant smash hit.
In recent years, however, the brand has had to fight an uphill battle at times despite adding some new features and facing added competition from products offering increased ratios for pulling a memorabilia card. Critics may need to reconsider their opinion in the near future, though, as the configuration has changed dramatically and it looks to offer more variety and value in every five-card pack.
What can collectors expect to find in 2014-15 SP Game Used Hockey? Find out after the jump…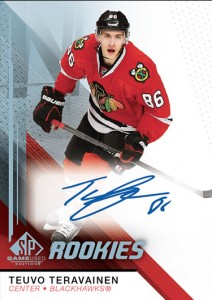 Each pack of 2014-15 SP Game Used Hockey will feature five autograph or memorabilia hits in every pack. In an interesting twist, one of those hits may be occasionally replaced by a scarce numbered base or rookie card. There will only be one pack per box and Upper Deck looks to have reinvented the brand in fine fashion.
First off, the 100-card base set will be limited to the player's jersey number and that should create some incredible hits for player collectors. While one may pull a Patrick Kane card limited to 88 copies, the Alexander Ovechkin card will be considerably tougher to find since he wears the number 8 on the ice. Rookie cards will also be limited to the prospect's number, but there are 1/1 signed versions that will be quite coveted.
The bread and butter of SP Game Used has always been the memorabilia cards and Upper Deck acquired several pieces from the Stanley Cup Final, Stadium Series and Winter Classic that will give collectors a direct connection to these historical events. Game-Used Pucks and Game-Used Jersey cards from these will be the easiest to find, but collectors can also look for much more limited cards such as Commemorative Patch and Tag parallels, Net Cords and Net Skirt Shield Patches.
One of the most popular hits from recent years have been the Draft Day Marks cards and they will return again in 2014-15. Naturally, the content of this set will be determined by the players that debut this season. These cards are numbered to 35 or less.
A typical 10-box inner case break is going to yield a strong assortment of cards and collectors can expect to pull one or more Base Veteran, Base Rookie or Veteran Auto cards, six Base Rookie Autographs, two Draft Day Marks and one Net Cord card. There should also be one Base Veteran Patch, a Base Rookie Patch, and a Stadium Series Patch to go along with two or more Inked Sweaters or Rookie Sweaters cards.
To top in all off, there will be one or more super premium relics in each 10-box case from such sets as Authentic Fabric Quad, Six or Eight Patches (limited to 10 copies or less), Tandem Twigs (numbered to 15), Stadium Series Commemorative Patches (numbered to 8), Game Gear (numbered to 3) and Stadium Series Net Skirt Shield Patch (numbered to 3). There also some intriguing Career Legacy Patches (numbered to 25) and Supreme Patch, Supreme Stick, Supreme Glove and Supreme Skate cards with jumbo memorabilia swatches (limited to 12 copies each) that are sure to be highly sought-after.
Stephen Laroche is the editor of Beckett Hockey and Beckett Basketball magazines. Have a comment, question or idea? Send an e-mail to him at SLaroche@beckett.com. Follow him on Twitter @Stephen_Laroche.