2017-18 Panini Prestige Basketball Checklist and Team Set Lists
2017-18 Panini Prestige Basketball has a pretty big checklist but it doesn't have a lot of frills. Focused largely on action as far as design elements go, it covers a lot of ground on both the hobby and retail fronts.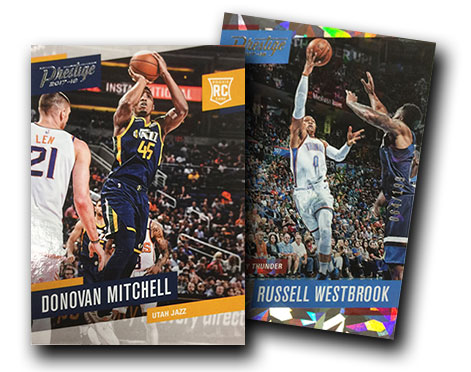 2017-18 Panini Prestige Basketball Base Set
A total of 200 cards make up the Prestige checklist. The first 150 are veterans while rookies make up the final quarter. As with many other sets in the Prestige line, cards use a lot of sharp action shots. This includes the Rookie Cards, which don't have a lot of these types of photos on cards.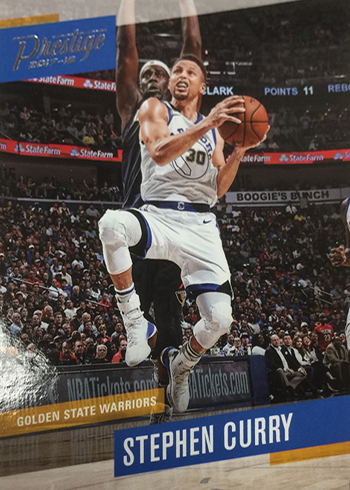 Parallels come in several levels including the debut of Crystal, or Cracked Ice, in Prestige. Available in hobby packs, basic Crystal parallels have 199 copies each. Crystal Gold are numbered to 10 while Crystal Blue are one-of-ones.
Retail has some exclusive parallels of their own. Horizon cards are only in blaster boxes. Retail hanger boxes have Mist parallels. Rain parallels are fat pack exclusives. This carries through to many of the regular inserts in 2017-18 Panini Prestige Basketball.
Autographs
Autographs combine to land two per 2017-18 Panini Prestige Basketball hobby box. They're also included in retail packs.
Bonus Shots Signatures have the largest checklist of all the autograph inserts. These use the same basic layout as base cards on the front. Signers are a mix of veterans and rookies.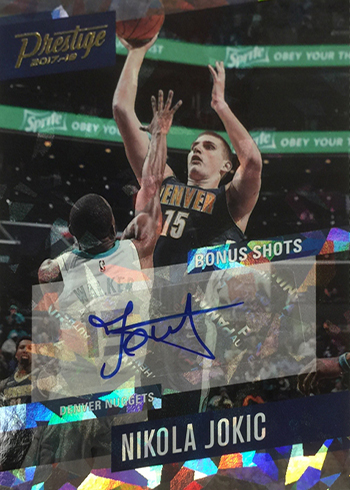 Almost 50 players have Prestigious Signatures cards. These are a mix of current players and retired stars.
The 20-card Old School Signatures is strictly retired players.
Inserts
Besides the signed sets, 2017-18 Panini Prestige Basketball has nine regular insert sets. Most of these also have several levels of parallels. Prestigious Picks and Rookie Class both have 25 cards and center on first-year players. Mirco Etch Rookies do as well, only with a much larger checklist of 50 cards.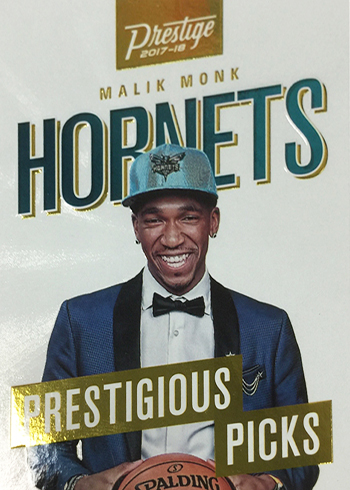 Other insert themes include Hardcourt Heroes (20 cards), All-Time Greats (20 cards), Playmakers (25 cards), Highlight Reel (ten cards), Stat Stars (ten cards) and Stars of the NBA (15 cards).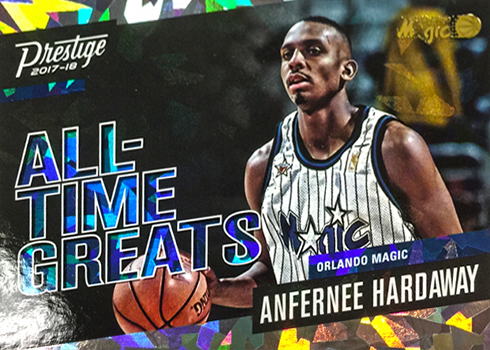 Panini has lots of 2017-18 Panini Prestige Basketball preview images posted on their blog.
2017-18 Panini Prestige Basketball at a glance:
Cards per pack: Hobby – 6
Packs per box: Hobby – 24
Boxes per case: Hobby – 16
Set size: 200 cards
Release date: February 21, 2018
What to expect in a hobby box:
• Autographs – 2
• Parallels or Inserts – 24 Total
2017-18 Panini Prestige Basketball Checklist
Base
Autographs
Inserts
Team Sets