Local Card Shop of the Week: The Rookie Sports Cards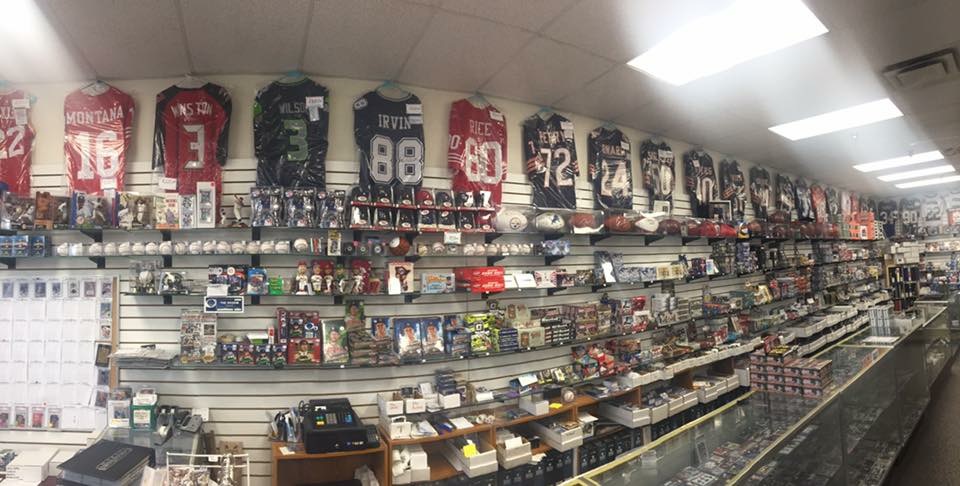 Anders Olson started collecting Topps Star Wars cards in 1977. At the age of 7, he used to go into a variety store in the small town where he grew up and buy non-sports trading cards. Looking back, Anders says, "I have some really great memories of opening packs of cards from movies and television shows that I watched at the time. Some of the first sets I collected were Star Wars, Battlestar Galactica, Aliens, Close Encounters of the Third Kind, The Incredible Hulk, and Mork & Mindy."
In 1980, he remembers finding $10 on the street and using that money to buy Topps baseball cards. From those packs, he pulled a Rickey Henderson rookie card! As an adult many years later, he found that Rickey Henderson card in his old collection and looked it up in the Beckett Price Guide. He found the card listed at $80 and the ensuing excitement re-ignited his interest in collecting as an adult. He is now the owner of his very own card shop in Iowa: The Rookie Sports Cards.
Local Card Shop of the Week is brought to you by Southern Hobby, who has been serving the collecting community for nearly 30 years.
JS – Thanks for taking the time to speak with me Anders. Can you talk a little about opening a store in 2005? What led you to want to be a store owner and what was the card shop landscape like in your area at the time?
AO – In 2005, I had been actively collecting as an adult for 7 years. On my days off, I would visit all 6 card shops in my city. My favorite store was called The Rookie. One day the owner asked me if I was interested in buying his shop, I told him it would be a dream come true. I was a bartender at the time but always interested in owning my own business. I always thought I would own a bar, but when the opportunity to buy a card shop came along, I thought owning a card shop would be in my best interest. I bought only the name and fixtures of the store and I sacrificed my personal collection as start up inventory. I added new hobby boxes to sell and re-invested all the profits into more inventory. I was fortunate to buy an established business and have had great support from the community. Every year the business has continued to grow.

JS – You have been in the hobby for over 40 years and a store owner now for over 13 years so you have likely seen the hobby change for both good and bad over the years. What are some of the major differences in owning a card shop in 2018 vs the store you opened in 2005?
AO – In 2005, each company produced several different brands in each sport category. Today there are exclusive licenses in each sport and fewer brands in which to choose. The disadvantage of the market today is that some of my favorite brands of cards are not around any longer. The advantage to this though is the shelf life of many of the brands today are very strong so store owners have confidence they will sell all the product.
Obviously, social media has changed and complimented the way people collect and communicate about collecting. Facebook and Twitter have been a great and efficient way to communicate with customers. For me, it has been a challenge to physically run the store as well as meet the social media selling opportunities. We have recently started a Facebook group called "The Rookie Sports Cards Breaks" and have begun to see the benefits of online breaking. Keeping up with technology has been imperative to keeping my business successful.
JS – Iowa does not currently have any sports teams from the "Big 4" but there are a couple of teams that are likely known to most collectors around the country. The Iowa Cubs has been the home to many future Cubs superstars and the Iowa Barnstormers is the team that put Kurt Warner on the map. Who are the most sought after players and teams with your customers?
AO –I have a nice balance and mix of regional fans in each sport. In football, the biggest collected teams are the Midwestern teams of the Bears, Packers, Chiefs, Vikings, and Broncos. Des Moines is a great minor league sports town. We love our Iowa Wild hockey, Iowa Wolves basketball, Iowa Cubs baseball, and Iowa Barnstormers arena football. Iowa is also passionate about our college sports. All of these groups have cultivated a great interest in sports in our state, resulting in a strong group of sports cards collectors. With Iowa not having any pro teams, some collectors in this area focus on players who played at Iowa, Iowa State and UNI. For football, David Johnson who attended UNI was very popular two years ago, but missed mostly the whole year with injury.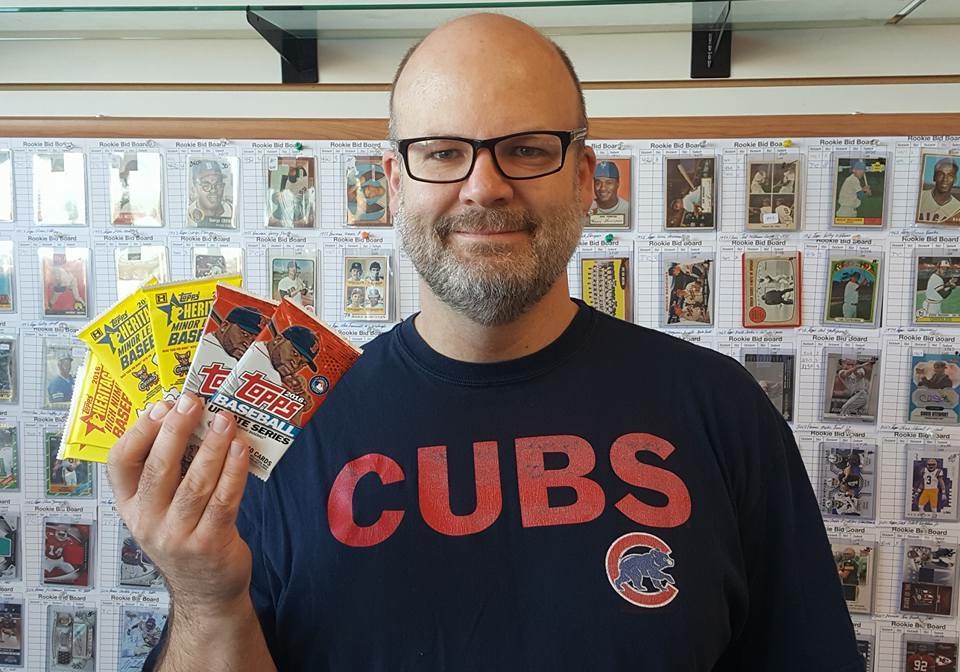 JS – Along those same lines, who would be the ONE player that is found in most collections throughout Iowa? Who is the hometown hero?
AO – Kurt Warner has historically been my most sought-after athlete in football. Kris Bryant has been the most sought-after in baseball. During the time Bryant was here, fans had a great time watching him play at Principal Park. Fans also appreciated how giving Bryant was with his time and autographs.
JS – Your website mentions that your store has a "Bid Board" and it helps your store stand out amongst competition. Can you tell us about that store feature? 
AO – The bid board is a weekly silent auction that ends on Saturday afternoons. We accept consignments from local collectors to post on the weekly bid board. The bid board provides a very easy way for consignors to sell their sports collectibles. All items are publicly posted at the beginning of the week and left to view until Saturday. Each bidder is given a bidding number and can post bids as often as they wish. The bid board provides buyers access to new items each week and keeps customers coming in, sometimes a few days a week. I credit the bid board as an integral part of the business.
JS – You mentioned a group called "The Rookie Sports Cards Breaks", which appears to be a breaking aspect to the shop. Is this one of the ways your store has tried to reach new customers? How has this process been?
AO – I have been doing Facebook group breaks for about a year and it's amazing how popular group breaks have become. I had heard about people doing online breaks and decided I needed to do this to keep up with new trends. Although it is difficult to manage an online presence, a physical store presence, and family life, it is vital to embrace technology as an asset in owning a card shop. I have been lucky to utilize people that are interested in group breaking to help me with The Rookie Sports Cards Breaks. An added bonus to the online breaks is people coming into the store to pick up their cards and then buying supplies or other products. I am optimistic this part of the business will continue to grow.
JS – What are some of the other ways you have tried to embrace the hobby in its current state and the new ways to collect in 2018?
AO – Social media is at the heart of new ways to reach and attract customers. On social media, I post pictures of customer big pulls, advertise new releases, etc. I am thinking of hosting an in-store card show as I have noticed other shops in other states have had success with this. I also host birthday parties which are really fun and a good way to attract new kids to the hobby.
JS – What have been some of the hottest products in your store over the last 12 months and why do you think collectors have been drawn to those?
AO – Prizm basketball has been good due to the rookie class and scarcity of product. 2017 baseball was also great due to the hot rookies. It has been pretty difficult to keep the store stocked due to the skyrocketing secondary market. This is a nice reflection of the popularity of the hobby but the downside is getting enough products ordered to even begin to meet the demand in the store (ex. Prizm basketball). I tried to pre-order 6 cases of 2017-2018 Prizm basketball but only received less than 2 after a combined effort between 4 different distributors. I sold out in less than a day after allocating boxes to customers. I wish I could carry it in the store longer than 1 hour.
JS – What have been some of the biggest hits pulled at "The Rookie"? This could be any pulls from 2005 up until now. I saw some great recent pulls on your FB page!
AO – It's always fun when a customer has a great pull. We celebrate it by taking their picture and posting it on our FB page, The Rookie Sports Cards. In the past, my best pull sold for $3,150, which was a 2006 Upper Deck Epic Pittsburg Pirate quad bat barrel #1/1. Another big pull was a 1/1 Bryce Harper Tribute autograph, I sold this at the National Sports Cards Convention for $1,500.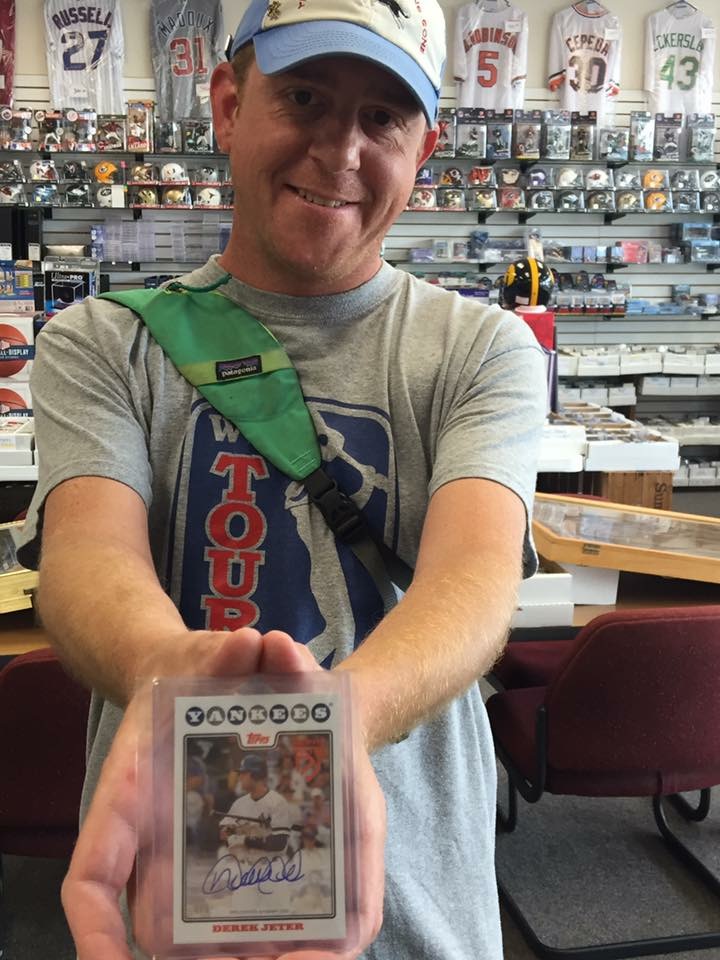 JS – You recently attended the Upper Deck Diamond Dealer convention in Florida. What were your thoughts on that event?
AO – I am very impressed with the Upper Deck Company. They really seem to care about the well being of the hobby shops, and this is proven by the high quality conference I have attended both last year and this year. At the conference, I learned about a co-op program in which I am hoping to utilize to increase my advertising with our local minor league hockey team. My hope is to attract new hockey card collectors, establish brand awareness, and grow more interest in hockey collectibles in central Iowa.
JS – Let's talk a little about your personal collection. You started collecting almost 41 years ago so you have been a part of several ups and downs. What is your primary focus now on a personal level? Are you more into vintage/junk wax/modern? What are some of the highlights?
AO –I really like vintage cards, I have several sets from the 50's and 60's that I have been working on for many years. I also like modern cards as well. I have at least one set from each sport going each year. From the modern sets, I try to get as many different cards as I can, including rookies, inserts, and parallels. I am having a lot of fun collecting, to say the least. One of my best condition sets is 1971 Topps baseball, my favorite because that was the year I was born. My personal collection is becoming so large that I am having some storage issues. If I ever had to take all of my personal collection cards from the shop home, my family would be pretty mad at me.
JS – Along with those ups and downs, you have also seen a lot of product changes over the years. What changes have been most surprising to you in the industry? What products have changed the hobby for you for the better?
AO – We have lost some popular brands over the last few years from exclusive licenses to manufacturers. The benefit to these changes is that there is more stability in the hobby. With less competing brands, there is more predictability with pre-ordering and I have enjoyed a longer shelf life of releases.
JS – In conjunction with the positive changes you've seen, what would you like to see from card companies in the future to help the hobby continue to grow and keep it strong?
AO – I would like to see more moderately priced hobby boxes. There seems to be too many high-end releases that only a small percentage of my clients could ever consider purchasing. More products with pack prices of $5-$10 would be beneficial for me because more people would be able to participate in the hobby. With approximately half of hobby boxes being high-end releases, 95% of my customers would never consider buying a product outside of their financial comfort zone. I feel sales would increase if more of my customers had wider choices of cards in their price range. High-end boxes may be great for group breaking, but not necessarily the best for in-store hobby shop sales.
One area that customers tell us they would like to see change in is the redemption process. For new collectors, it can be frustrating because they are looking for hits and have to wait. Along with waiting for redemptions, some are lost or not fulfilled. It would be nice for companies to fulfill redemptions more efficiently.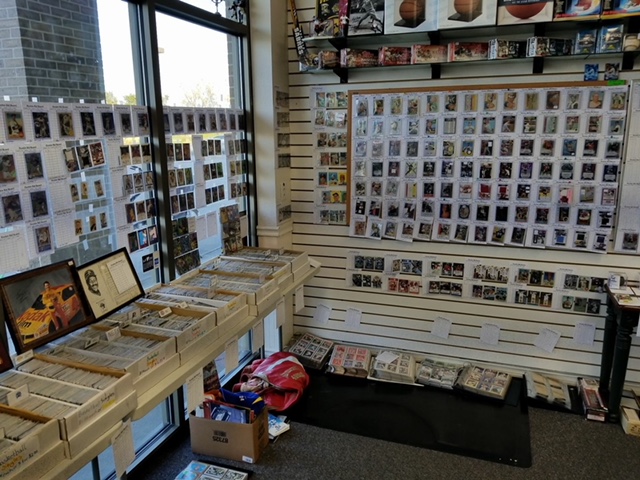 JS – The hobby has been growing very well over the last few years. What advice would you give new collectors who may be reading this?
AO – My best advice is to have fun. Enjoy the hobby. Collecting for financial reasons can be pretty tricky, if you collect things you like, it can be very rewarding. The Rookie offers a wide variety of cards and collectibles for all ages. The hobby is for anyone from kids spending their allowance, to adults with no spending limit.
JS – Did we miss anything? Do you have any other in-store events or promotions in 2018 you'd like to share?
AO – I have been hosting birthday parties for the last few years at The Rookie. It has been a great way to reach the younger collectors in our community. The birthday parties are good word of mouth advertising for the shop and have resulted in nice repeat business from enthusiastic younger collectors.
Thank you very much, happy collecting.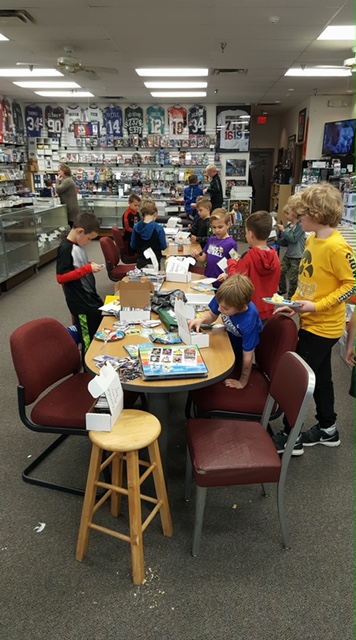 The Rookie
Anders Olson
9992 Swanson Blvd
Clive, IA
(515)255-4675
andersolson@therookiesportscards.com
FaceBook – The Rookie Sports Cards
Website – www.therookiesportscards.com
Hours of Operation
Sunday – 11am:4pm
Monday – Friday – 10am:6pm
Saturday – 10am:5pm