On-card autographs get a starring role in 2019-20 Panini Noir Basketball, a returning high-end release that also has some of the most distinct designs of the year.
The majority of the cards in the product are either autographs or memorabilia cards. Each box has a total of seven hits. Of those that are autographs, they're all hard-signed. Noir doesn't have any stickers for signatures.
2019-20 Panini Noir Basketball Checklist Overview
While the Hollywood themes from the early years of Noir are here, they're not as apparent as they have been in the past.
The returning metal frame cards is one place you will find them. Split Screen, Vintage Art and Feature Length are among the places where the movie industry's inspiration is felt.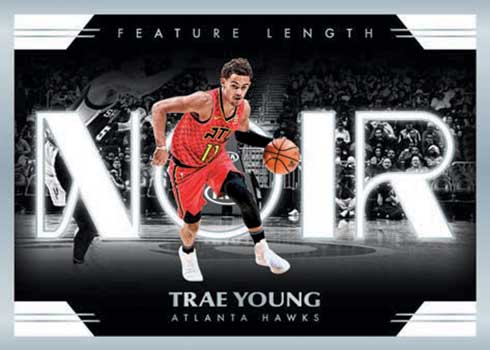 Besides regular versions, framed cards have exclusive parallels in 1st Off the Line boxes. Falling one per FOTL box, these versions are numbered to 11.
Rookie Patch Autographs (/99 or less) bring on-card signatures and prime swatches from the year's first-year crop. Images can be found in both color and black and white.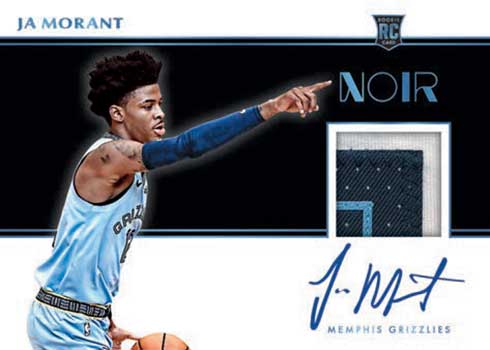 Spotlight Signatures return. These have a dark backdrop, adding a layer of intensity to the player images. Colored ink makes them pop a little further. Horizontal and vertical layouts are both part of the checklist.
Kicks star in a couple of places. Sneaker Spotlight offers a close-up look at some of the game's best and most popular footwear.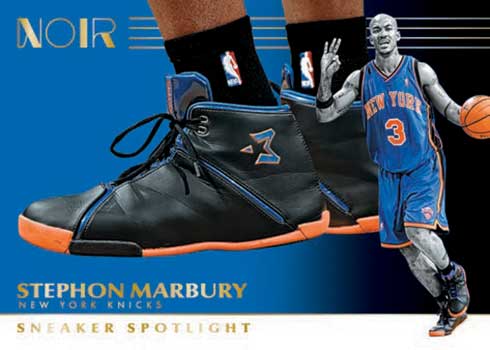 Sneaker Spotlight Signatures add on-card ink.
2019-20 Panini Noir Basketball cards at a glance:
Cards per pack: Hobby – 10, FOTL – 11
Packs per box: Hobby – 1, FOTL – 1
Boxes per case: Hobby – 4, FOTL – 4
Set size: 400 cards
Release date: May 27, 2020
Shop for 2019-20 Panini Noir Basketball boxes on eBay:
What to expect in a hobby box:
Autographs or Memorabilia Cards – 7 Total
What to expect in a 1st Off the Line box:
Autographs or Memorabilia Cards – 7 Total
2019-20 Panini Noir Basketball Checklist
Base
Autographs
Memorabilia
Inserts
Team Sets