1980 Kellogg's Baseball Checklist and Details
1980 Kellogg's Baseball cards stick with the same 3-D format the food issue is synonymous with. At 60 cards, the checklist is big given its distribution through boxes of cereal. That means lots of Hall of Famers and superstars including Nolan Ryan, George Brett and Peter Rose. It also means some depth for fan favorites. Every team has at least one card in the set with most having two or three.
Cards measure on the small side, 1 7/8″ by 3 1/4″. This is close to previous years but 1980 Kellogg's Baseball cards are a little more narrow than other sets leading up to this one.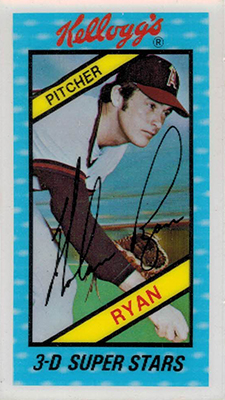 Despite their shrunken dimensions, there's plenty of information including vitals, full stats and even a short write-up.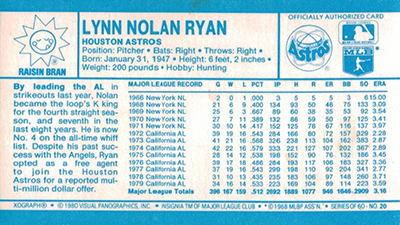 Collectors can expect to pay a premium for cards that are still in their original wrapper just as they were included in cereal boxes. A box top offer made full sets available as well.
Buy 1980 Kellogg's Baseball cards on:
Checklist
1980 Kellogg's Baseball Checklist
60 cards.
Check 1980 Kellogg's Baseball card values in the Beckett Price Guide.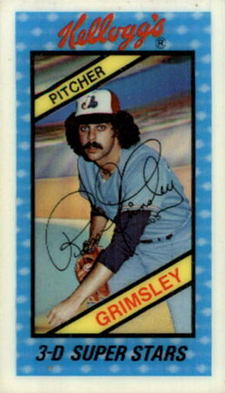 1 Ross Grimsley
2 Mike Schmidt
3 Mike Flanagan
4 Ron Guidry
5 Bert Blyleven
6 Dave Kingman
7 Jeff Newman
8 Steve Rogers
9 George Brett
10 Bruce Sutter
11 Gorman Thomas
12 Darrell Porter
13 Roy Smalley
14 Steve Carlton
15 Jim Palmer
16 Bob Bailor
17 Jason Thompson
18 Graig Nettles
19 Ron Cey
20 Nolan Ryan
21 Ellis Valentine
22 Larry Hisle
23 Dave Parker
24 Eddie Murray
25 Willie Stargell
26 Reggie Jackson
27 Carl Yastrzemski
28 Andre Thornton
29 Dave Lopes
30 Ken Singleton
31 Steve Garvey
32 Dave Winfield
33 Steve Kemp
34 Claudell Washington
35 Pete Rose
36 Cesar Cedeno
37 John Stearns
38 Lee Mazzilli
39 Larry Bowa
40 Fred Lynn
41 Carlton Fisk
42 Vida Blue
43 Keith Hernandez
44 Jim Rice
45 Ted Simmons
46 Chet Lemon
47 Ferguson Jenkins
48 Gary Matthews
49 Tom Seaver
50 George Foster
51 Phil Niekro
52 Johnny Bench
53 Buddy Bell
54 Lance Parrish
55 Joaquin Andujar
56 Don Baylor
57 Jack Clark
58 J.R. Richard
59 Bruce Bochte
60 Rod Carew
Team Sets
1980 Kellogg's Baseball Team Set Checklists
Want to know what cards your favorite team has in 1980 Kellogg's Baseball? Here's the checklist broken down by team. Scroll through or click below to go directly to that team.
Please note that parallels are not included here. Please check the main checklist in the other tab for parallel specifics.
1980 Kellogg's Baseball Atlanta Braves Checklist
48 Gary Matthews
51 Phil Niekro
1980 Kellogg's Baseball Baltimore Orioles Checklist
3 Mike Flanagan
15 Jim Palmer
24 Eddie Murray
30 Ken Singleton
1980 Kellogg's Baseball Boston Red Sox Checklist
27 Carl Yastrzemski
40 Fred Lynn
41 Carlton Fisk
44 Jim Rice
1980 Kellogg's Baseball California Angels Checklist
20 Nolan Ryan
56 Don Baylor
60 Rod Carew
1980 Kellogg's Baseball Chicago Cubs Checklist
6 Dave Kingman
10 Bruce Sutter
1980 Kellogg's Baseball Chicago White Sox Checklist
34 Claudell Washington
46 Chet Lemon
1980 Kellogg's Baseball Cincinnati Reds Checklist
49 Tom Seaver
50 George Foster
52 Johnny Bench
1980 Kellogg's Baseball Cleveland Indians Checklist
28 Andre Thornton
1980 Kellogg's Baseball Detroit Tigers Checklist
17 Jason Thompson
33 Steve Kemp
54 Lance Parrish
1980 Kellogg's Baseball Houston Astros Checklist
36 Cesar Cedeno
55 Joaquin Andujar
58 J.R. Richard
1980 Kellogg's Baseball Kansas City Royals Checklist
9 George Brett
12 Darrell Porter
1980 Kellogg's Baseball Los Angeles Dodgers Checklist
19 Ron Cey
29 Dave Lopes
31 Steve Garvey
Milwaukee Brewers Checklist
11 Gorman Thomas
22 Larry Hisle
Minnesota Twins Checklist
13 Roy Smalley
Montreal Expos Checklist
1 Ross Grimsley
8 Steve Rogers
21 Ellis Valentine
New York Mets Checklist
37 John Stearns
38 Lee Mazzilli
New York Yankees Checklist
4 Ron Guidry
18 Graig Nettles
26 Reggie Jackson
Oakland Athletics Checklist
7 Jeff Newman
Philadelphia Phillies Checklist
2 Mike Schmidt
14 Steve Carlton
35 Pete Rose
39 Larry Bowa
Pittsburgh Pirates Checklist
5 Bert Blyleven
23 Dave Parker
25 Willie Stargell
San Diego Padres Checklist
32 Dave Winfield
San Francisco Giants Checklist
42 Vida Blue
57 Jack Clark
Seattle Mariners Checklist
59 Bruce Bochte
St. Louis Cardinals Checklist
43 Keith Hernandez
45 Ted Simmons
Texas Rangers Checklist
47 Ferguson Jenkins
53 Buddy Bell
1980 Kellogg's Baseball Toronto Blue Jays Checklist
16 Bob Bailor