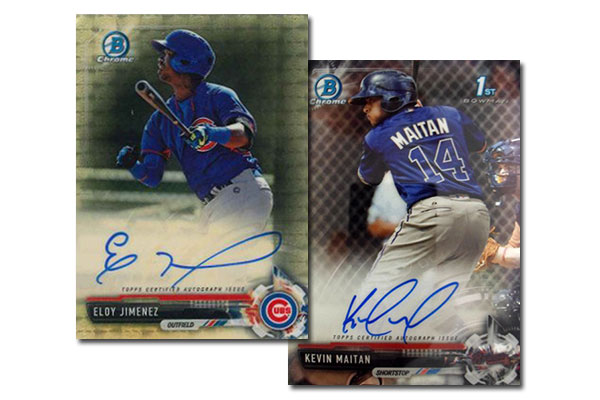 By Ryan Cracknell | Hobby Editor
Another year, another big batch of prospects getting their first MLB autographs. The 2017 Bowman Chrome autographs feature a mix of recent draft picks and international standouts. As with past years, for many of these players, it could be a few years before they become household names.
The first batch of 2017 Bowman Chrome Prospect Autographs arrive in 2017 Bowman Baseball. Further instalments are slated for 2017 Bowman Chrome and, finally, 2017 Bowman Draft.
The design is new but falls in line with other recent Bowman and Bowman Chrome looks. Of course, there's the large mix of colorful Refractor parallels that come with them as well. The one-of-one Superfractors will likely be the ultimate card for those getting their first MLB autographs among the various 2017 Bowman products.
While not precedent setting, a trio of prospects in 2017 Bowman already have MLB Bowman Chrome autographs. The first is Mickey Moniak, the first overall pick in the 2016 draft. His signature debuted in 2016 Bowman Draft. The other two players, Gleyber Torres and Anderson Espinoza, find themselves on new teams following off-season trades. Their 2017 Bowman Chrome autographs have them in their new uniforms.
As is always the case, it's highly unlikely that all of the players on the checklist will make big impacts in the majors. In fact, most will probably probably make little to none. But that's part of draw of prospecting. Usually, a couple of players will hit it big, sometimes coming out of nowhere.
Prospecting with the 2017 Bowman Chrome autographs isn't easy. It can take a lot of work, scanning minor league box scores each and every day. Other things to take into account if you're looking for the next Kris Bryant or Mike Trout include looking at things like a player's age, position and even the city they play for.
We don't have a crystal ball to guarantee where players will be in five or ten years. But we've compiled some tools and links below to help you. Feel free to bookmark it and revisit it in the weeks, months and even years ahead.
2017 Bowman Chrome Prospect Autograph Checklist
Here's a full list and breakdown of all the confirmed 2017 Bowman Chrome Prospect Autographs, as well as some info and links to follow their progress through the minors. Currently, only those in 2017 Bowman Baseball are listed. When 2017 Bowman Chrome and 2017 Bowman Draft are released later in the year, they'll be added to make a master checklist.
Players are listed alphabetically by last name.
Comments? Questions? Contact Ryan Cracknell on Twitter @tradercracks.