Christian Arroyo's First MLB Autograph Card Coincides with MLB Debut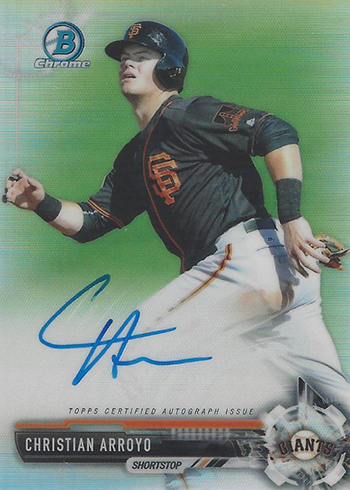 By Ryan Cracknell | Hobby Editor
Most of the time today, baseball players have their first autograph cards well before they play their first big league game. Christian Arroyo is no different, having signed cards as early as 2012. However, all of those first autograph cards come with him in a USA Baseball uniform. His first solo MLB autographs are arriving the same time he makes his MLB debut, a nice coincidence that should bode well for 2017 Bowman Baseball.
Arroyo, San Francisco's first pick in the 2013 draft, made his debut with the Giants on April 24. 2017 Bowman releases officially on April 26 (although some cards are already surfacing).
He is considered the team's top hitting prospect. At the time of his call-up Arroyo was batting .446 for Triple-A Sacramento with three home runs and 12 RBI in 16 games. The 21-year-old went 0-4 in his first game with San Francisco, starting at third base.
As far as early Christian Arroyo cards go, he does have several cards of him in a Giants uniform — just not autographs. His first MLB cards are in 2014 Bowman Draft where he has both base Bowman and Bowman Chrome Top Prospects cards, not to mention lots of parallels. He has also appeared in multiple Bowman and Topps minor league products since.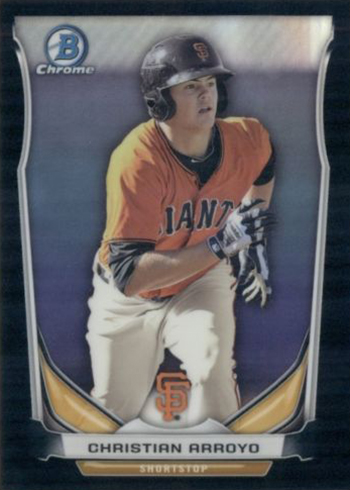 Christian Arroyo USA Baseball autograph cards date back to 2012 where he was in 2012 Panini Elite Extra Edition and the 2012 USA Baseball box set.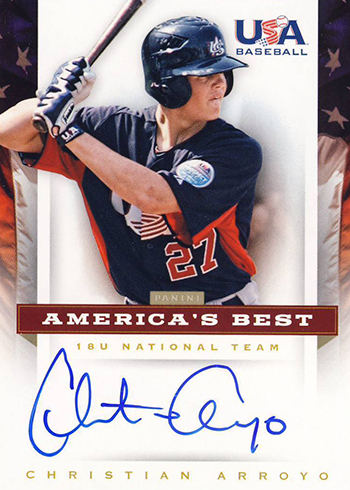 Arroyo was one of six players on a redemption for a 2013 Bowman Sterling Autographed Oversized Boxloader. That said, it doesn't look like the final copies of the cards have arrived. The redemption expired on December 31, 2016.
Of the 46 Chrome Prospect Autographs in 2017 Bowman, Arroyo is the second to make his MLB debut. Joe Jimenez of the Tigers played his first game on April 13.
The Christian Arroyo 2017 Bowman Chrome Prospect Autograph comes with an on-card signature. As with all modern Bowman Chrome Prospect Autographs, there are plenty of rarer and more colorful Refractor parallels to go with it.
Because of his early-season debut, Christian Arroyo Rookie Cards in MLB base sets will likely appear by the latter part of the season.
As a collector, does it make it more exciting when something like this happens and a key card of a player comes out just as they're making their MLB debut? Or do you prefer the patience that comes with modern prospecting? Feel free to chime in with the comments below or tag @beckettmedia on Twitter.

Comments? Questions? Contact Ryan Cracknell on Twitter @tradercracks.