Must-Have Super Bowl Football Card Sets and Singles
While the Super Bowl comes once a year, the event lives on in cardboard – with numerous sets and singles devoted to NFL championship lore. Here's a look at key Super Bowl sets, as well as other notable cards that showcase football's most significant (and sometimes humorous) moments.
Top Super Bowl Football Card Sets
1990 Pro Set Super Bowl MVPs
Pro Set had its flaws, with mass production and errors leading to the company's demise. But sometimes the results were stunning, and such was the case with 1990 Pro Set Super Bowl MVPs, an insert set highlighting the big game's biggest players. Each card shows a painting of Super Bowl MVPs, starting with Packers QB Bart Starr and leading to 49ers legend Joe Montana, the most valuable player of Super Bowl XXIV. Pro Set produced a number of Super Bowl-themed releases, but these cards are the most memorable.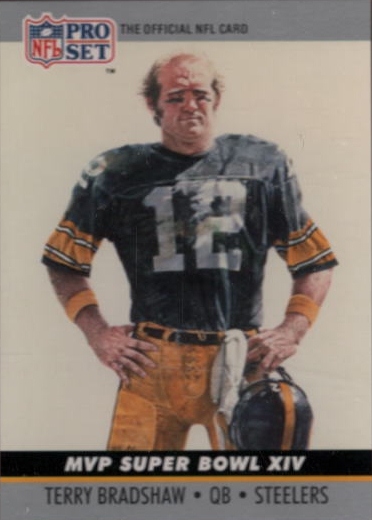 1970s and '80s Fleer Team Action Cards
Fleer didn't own an NFL Players Association license during this stretch, meaning the company couldn't create cards identifying stars such as Walter Payton and Dan Marino. But Fleer found a loophole by creating "Team Action" cards showing generic action shots from previous game action and Super Bowls. Highlights include 1985's Super Bowl XIX card, showing Montana throwing to running back Roger Craig in San Francisco's 38-16 victory over Miami.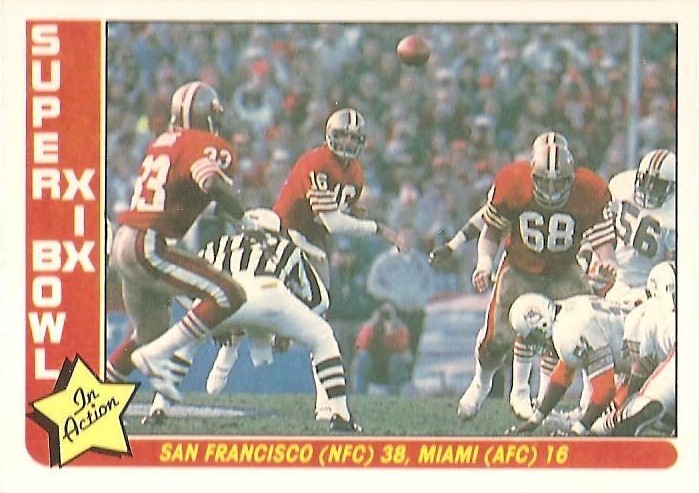 2000 Upper Deck Super Bowl XXXIV Special Moments
This 10-card jumbo set includes football heroes such as Steve Young, Brett Favre and Emmitt Smith shown during their moments of glory. The photos used are crisp and evocative, and the card's backs feature detailed nuggets about Super Bowl milestones. Each card is numbered to 2,000, providing added value while still maintaining affordability.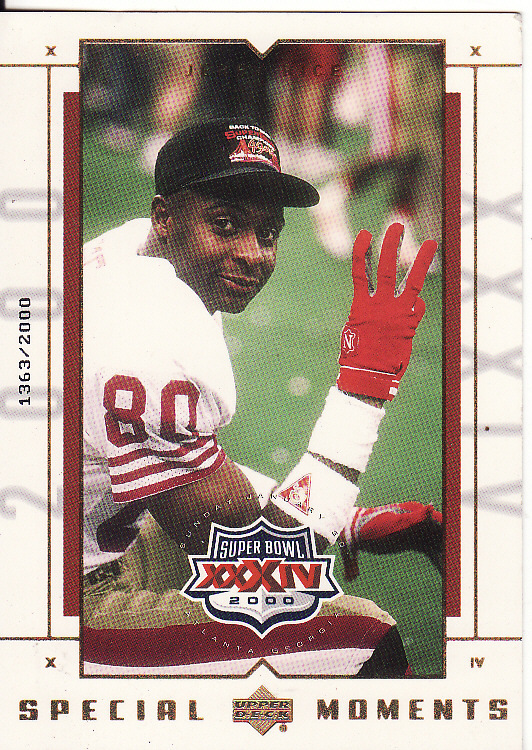 2011 Topps Super Bowl Legends Giveaway Die Cuts
These cards, available through an online redemption program, are shaped like championship rings and provide some of the most stellar Super Bowl cards to date. The checklist features such icons as Troy Aikman and Jerry Rice, with Joe Namath signing a limited number of his cards.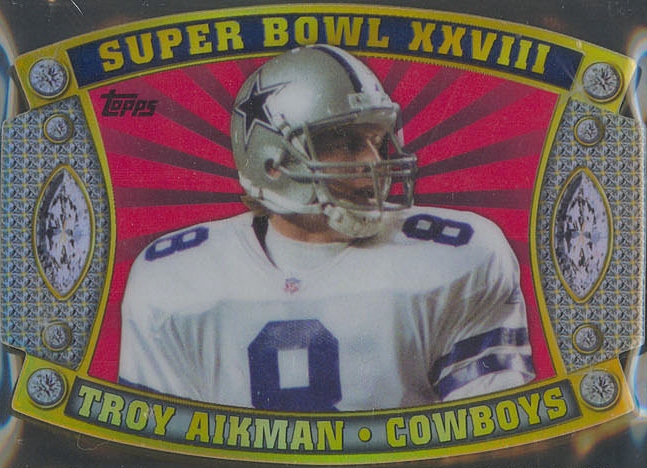 2012 Panini Super Bowl Pylon Cards
How close do you want to get to the Super Bowl action? Pylon cards put you into the endzone, with the orange foam markers designating the difference between paydirt and dejection. Pylon cards have been appearing in packs since 2001 (starting with Donruss and Playoff) but never before have such large foam pieces been used as they have for recent Panini releases. Panini included Super Bowl XLVI pylon cards in its 2012 Black Friday promotions, showcasing the best players – and on-field materials – from the Giants' 21-17 victory over the Patriots.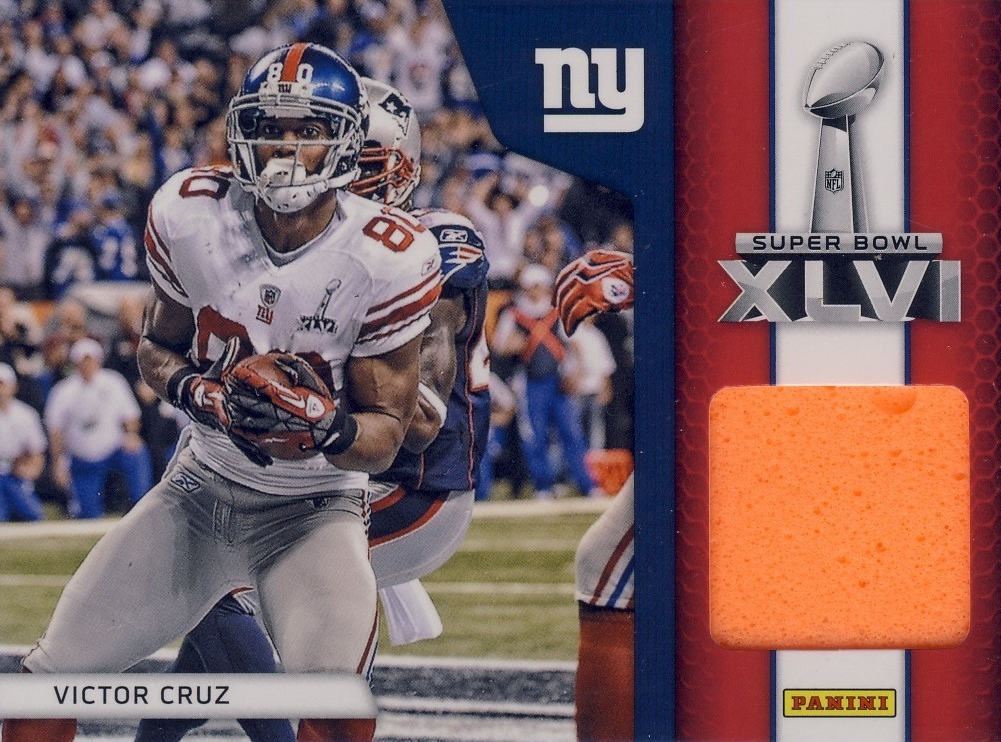 Other Notable Super Bowl Cards

1973 Topps #139 – Super Bowl VII
The 1972 Dolphins remain the only NFL team to finish a season undefeated, with the final victory coming in Super Bowl VII against the Redskins. While stars such as Bob Griese and Larry Csonka provided scoring opportunities, Miami was fueled by its aptly-named "No-Name Defense." That unit held Washington's offense scoreless in Super Bowl VII (the Redskins' lone points scored on a botched field goal attempt). So it's fitting that card #139 in the next season's Topps set shows Miami's defense – led here by lineman Manny Fernandez – suffocating its opponent.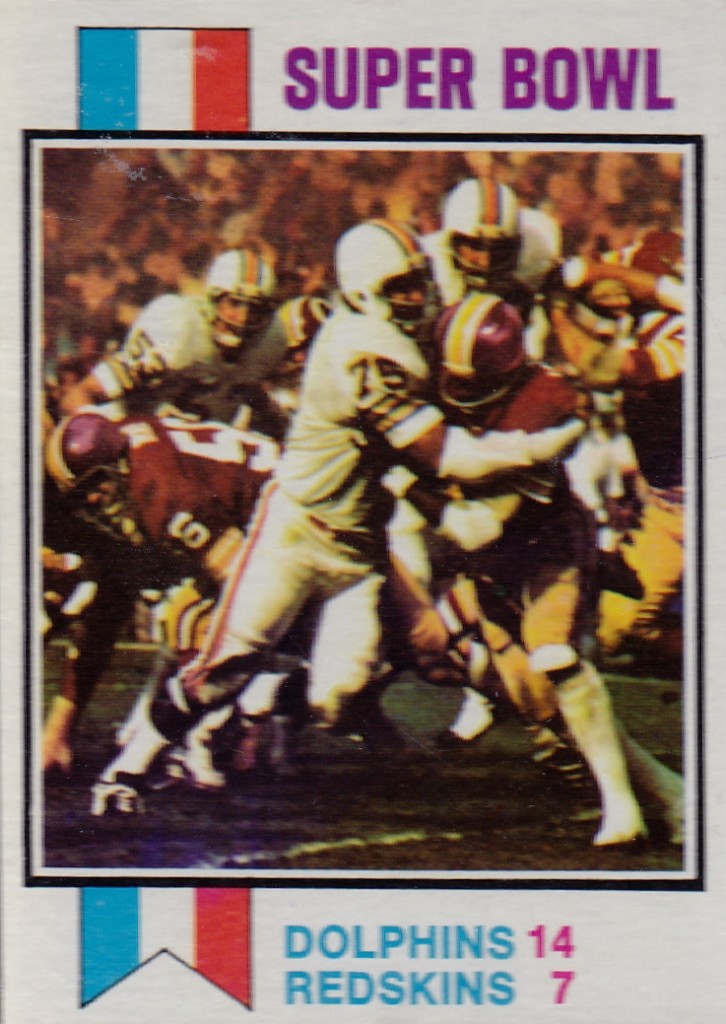 1999 Sports Illustrated Autographs Doug Williams AU
Doug Williams turned in a historic performance in Super Bowl XXII, leading his Redskins to a 42-10 win over the Broncos. With that victory, Williams became the first – and to date, only – black quarterback to lead his team to an NFL title. The moment was captured on the cover of the Feb. 8, 1988 cover of "Sports Illustrated." "WOW!" declared the magazine cover. Williams autographed cards showing the cover in 1999 Sports Illustrated, a one-off football set featuring a deep checklist of retired stars.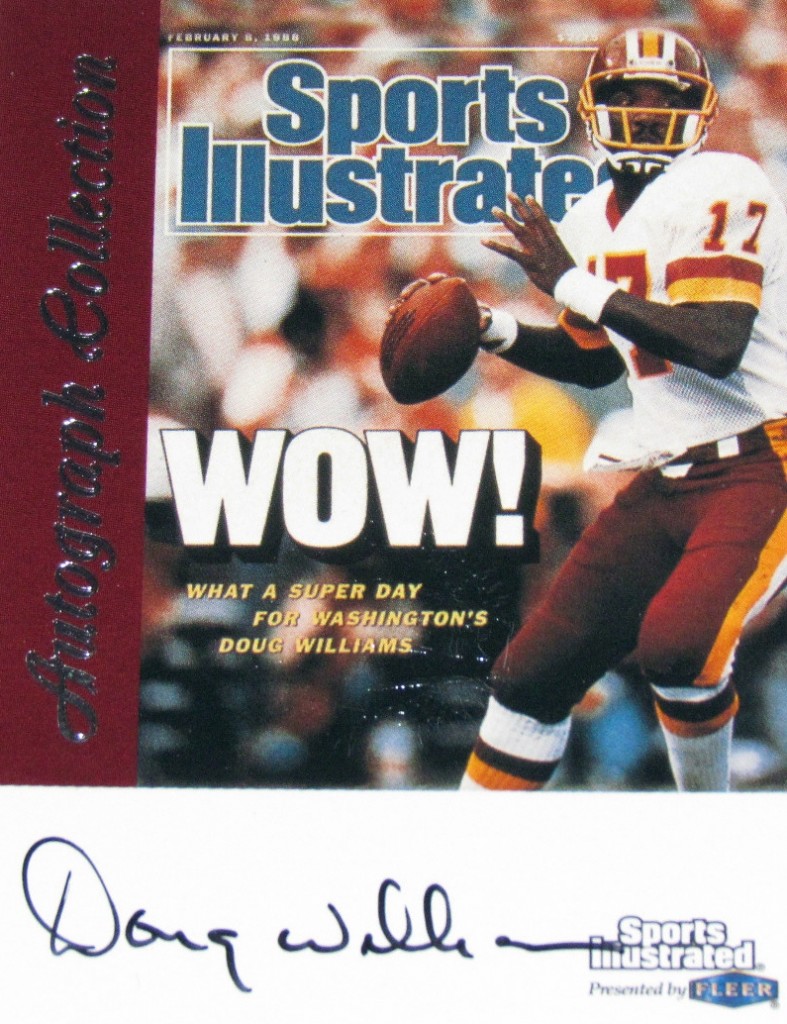 2002 Topps #SBMVP Tom Brady FB AU/150
Topps released a number of game-used autographed Super Bowl cards in the early 2000s, but none features the star power of Tom Brady's card from 2002. Brady started the season on the bench, but an injury to starter Drew Bledsoe gave him his chance – and he used that opportunity to become a star, leading his Patriots to victory in three Super Bowls in four years. More than a decade after New England's triumph in Super Bowl XXXVI, Brady's 2002 Topps football autograph insert remains one of his most collectible cards.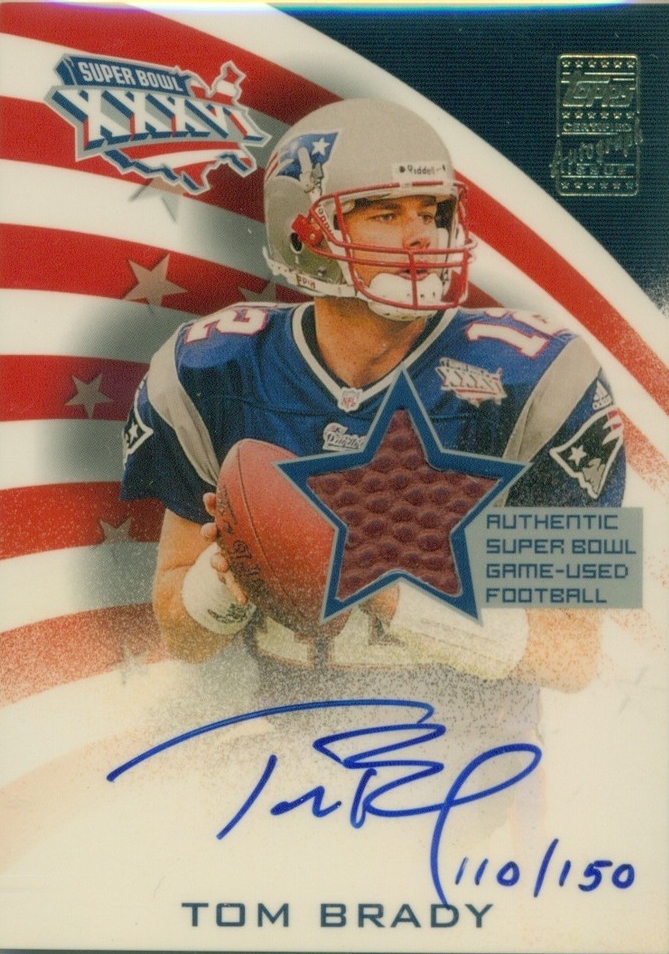 2011 Packers Topps Super Bowl XLV #27 Super Bowl XLV Champs/Aaron Rodgers/Clay Matthews
Packers QB Aaron Rodgers has spent years celebrating successes with a championship belt gesture, something popularized by professional wrestlers such as HHH – and celebrated in those "Discount Double Check" commercials. So naturally when the Packers won Super Bowl XLV, Rodgers draped an actual championship belt over his shoulder pads, a moment commemorated on a handful of Topps cards.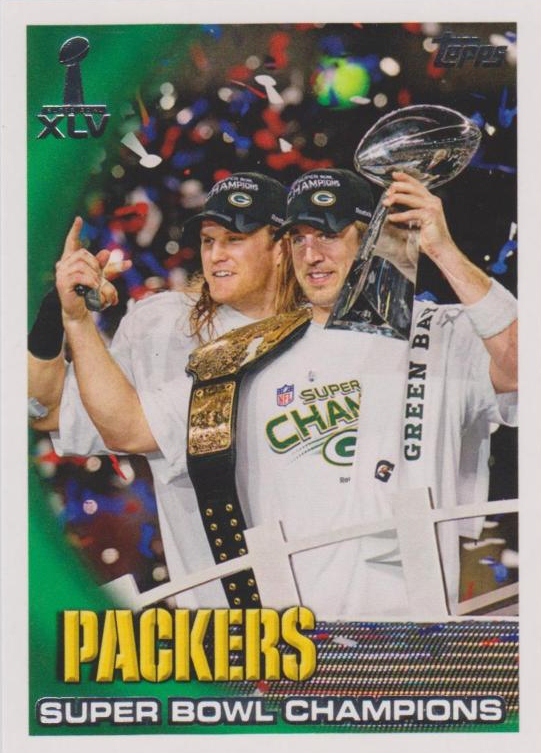 1991 Pro Set #350 Whitney Houston
As United States troops battled in the Gulf War, Whitney Houston's rendition of the National Anthem before Super Bowl XXV served as a powerful display of patriotism and hope. Pro Set commemorated the moment on an NFL Newsreel card, with the card representing the transcendence of America's most popular sporting event.