Instant PC: 10 Career-Defining Albert Belle Cards
With so many different base cards, subsets, parallels, memorabilia cards and autographs, building out a collection for a single player can be overwhelming.
Luckily, the 10-Card Instant PC article series is here to help.
There are more than 2,900 Albert Belle cards, according to the Beckett database.
So where does one begin putting together an Albert Belle PC?
These 10 cards serve as an excellent representation of his playing career and footprint on the hobby, making them a great place to start.
1989 Fleer Update #25 Albert Belle RC
A second-round pick out of LSU in the 1987 draft, Belle made his MLB debut two years later when he hit .225/.269/.394 with seven home runs and 37 RBI in 62 games following a midseason promotion.
That earned him a spot in the 1989 Fleer Update set, which also includes Rookie Cards of Omar Vizquel, Deion Sanders, Jim Abbott, Robin Ventura and an early Randy Johnson card.
Buy on: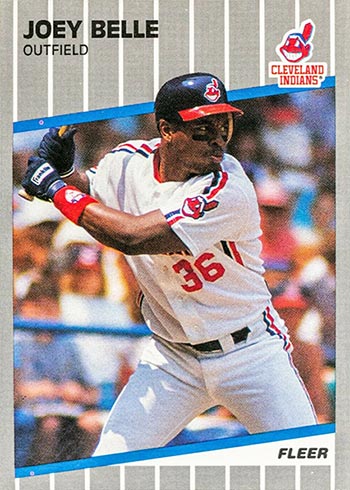 1989 Score Rookie/Traded #106T Albert Belle RC
Belle played just 149 games in the minors. This includes hitting .282/.354/.538 with 20 doubles, 20 home runs and 69 RBI in 89 games at Double-A in 1989 before he was promoted to the majors.
His only other Rookie Card is featured in the 1989 Score Rookie/Traded set, which is also home to a Ken Griffey Jr. rookie. He did not make the cut for the 1989 Topps Traded set, so his first Topps card would not come until the following year.
Buy on: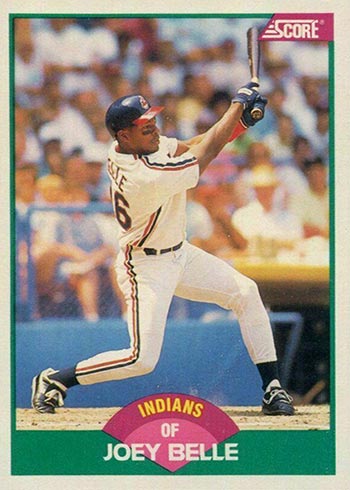 1990 Topps #283 Albert Belle
Belle went by "Joey" early in his career, and that's how he is immortalized on his first Topps card which was included in the flagship set the year after his MLB debut.
The slugger played in just nine games at the MLB level in 1990, despite receiving extended playing time as a rookie the previous year. That proved to be nothing more than a temporary hiccup, though, and he took over as Cleveland's everyday left fielder in 1991.
Buy on: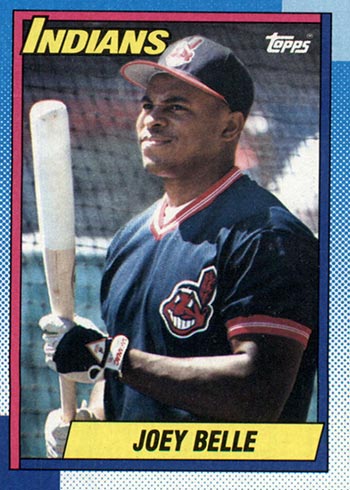 1992 Topps Kids #73 Albert Belle
A 130-card checklist with no subsets, no inserts and a low price point, the 1992 Topps Kids product was marketed toward—you guessed it-—kids. The set featured a variety of different designs, and the caricature-like one used on Belle and several other sluggers in the set was arguably the coolest looking of the bunch.
In 1992, Belle was fresh off a breakout year that saw him post a 134 OPS+ with 31 doubles, 28 home runs and 95 RBI in his age-24 season to cement his place in the Cleveland lineup.
Buy on: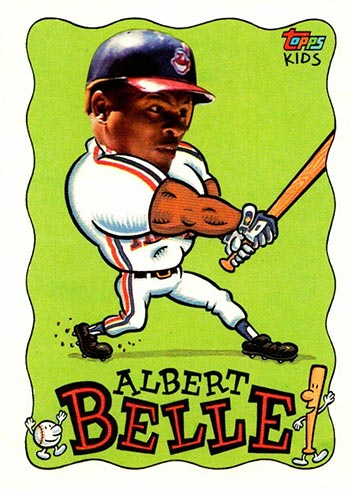 1994 Stadium Club Bowman Previews #3 Albert Belle
Inserted 1:24 wax packs of 1994 Stadium Club Series 2 is a 10-card insert set that serves as a preview of the 1994 Bowman release. The checklist includes Frank Thomas, Mike Piazza, Albert Belle and seven up-and-coming players headlined by Javy Lopez and Cliff Floyd.
The photo on the Belle card is different than the one used for his actual 1994 Bowman card, and it's one of the most menacing pictures out there of a slugger who was feared by opposing pitchers throughout the 1990s.
Buy on: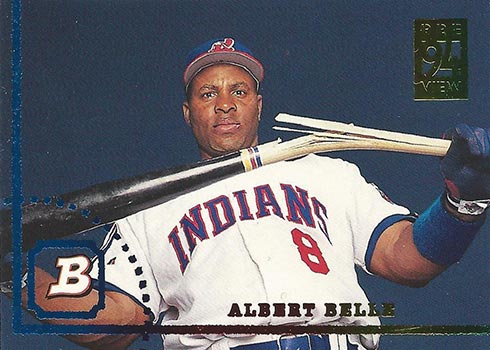 1994 Triple Play Medalists #11 Ken Griffey Jr./Kirby Puckett/Albert Belle
Triple Play was a low-cost product released by Donruss geared toward kids in 1992 and 1993. They tried to take a step forward in 1994 with a more traditional product.
The set includes three insert sets, Medalists (1:12 packs), Bomb Squad (1:18 packs) and Nicknames (1:36 packs). Medalists highlights the three best players at each position from each league. This ended up being the only card that Belle and Ken Griffey Jr. shared during their playing careers.
Buy on: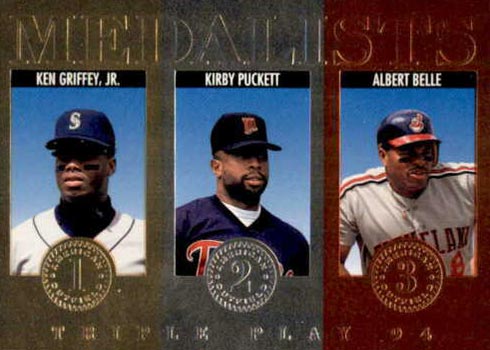 1997 Topps #69 Albert Belle
Belle reached free agency for the first time following the 1996 season, and after eight years in Cleveland, he jumped ship and signed a five-year, $55 million deal with the Chicago White Sox. That briefly made him the highest-paid player in baseball and the first to earn $10 million in a season.
He was an All-Star in his first season on the South Side, hitting .274/.332/.491 with 45 doubles, 30 home runs and 116 RBI in 161 games.
Buy on: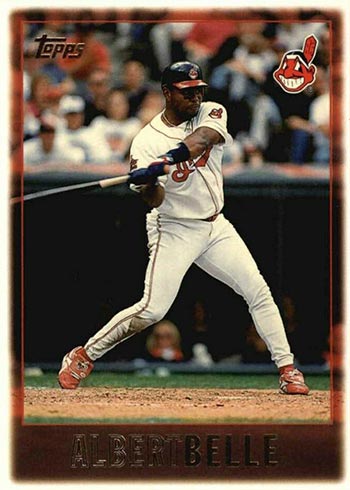 1998 Ultra Double Trouble #6 Frank Thomas/Albert Belle
The Belle signing gave the White Sox the most feared one-two punch in baseball, as he joined two-time AL MVP Frank Thomas in the middle of the lineup.
After a solid first season in Chicago, Belle put together a dominant 1998 campaign that was largely overshadowed by what Sammy Sosa was doing on the other side of town chasing Mark McGwire in the home run race. Belle hit .328/.399/.655 with 48 doubles, 49 home runs and 152 RBI to finish eighth in AL MVP voting and win his fifth Silver Slugger Award.
Buy on: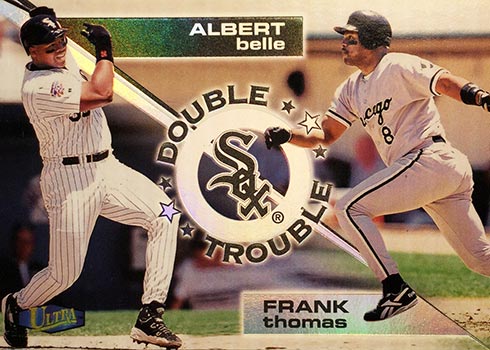 1999 Topps Traded #T84 Albert Belle
Belle had a unique clause in his contract with the White Sox that allowed him to opt out of the deal if he did not remain the highest-paid player in baseball. He exercised it after the 1998 season, and when the White Sox were unwilling to negotiate a raise, he hit the open market once again.
The Baltimore Orioles swooped in and signed him to a new five-year, $65 million deal, but he played just two more seasons before a degenerative hip condition forced him into an early retirement.
Buy on: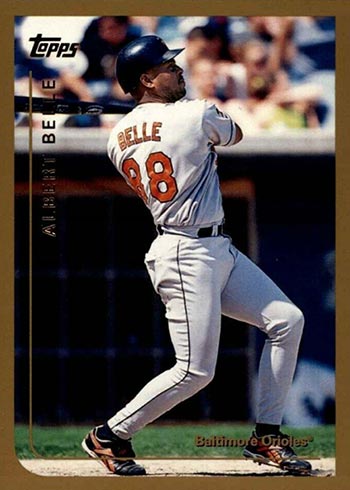 2012 Topps Gypsy Queen Autographs #AB Albert Belle
There were a handful of certified autograph cards released of Belle later in his career, but none that featured him as a member of the Indians until after he retired. There are several to choose from now, and the 2012 Gypsy Queen autograph is a reasonably priced, sharp-looking option to break the autograph seal.
Belle finished his 12-year career with 381 home runs, 1,289 RBI and a 144 OPS+ in 1,539 games. He spent just two years on the Hall of Fame ballot, peaking at 7.7 percent of the vote.
Buy on: