First look: 2013 Leaf Pop Century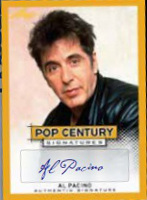 By Susan Lulgjuraj | Beckett Sports Card Monthly Editor
Leaf is bringing back 2013 Pop Century featuring actors, athletes and entertainers all in one box.
There are four autographs in every box with the likes of Al Pacino, Jennifer Lopez and the Naked Cowboy. All autographs will have parallels, including 1-of-1s.
The base autographs will feature a wide array of talent, but there are many autograph inserts:
– Stunning Starlets: Highlighting celebrities such as Jenny McCarthy and Vida Guerra.
– Keeping it Real: Personalities that have appeared on reality television.
– Dressing Room Signatures: Featuring autographed memorabilia.
– And the Nomination Is …: Autographs of celebrities with major award nominations.
– Perfectly Cast: Autographs with pictures of actors with the character they are well known for.
– Co-Stars: Pairing of celebrities that have appeared together such as Tonya Harding and Nancy Kerrigan or a Bond Girl autograph card with five signatures.
Pop Century will also feature 1-of-1 hand-painted art cards or sketches. Leaf did this in Best of Football with Heisman Trophy winner Johnny Manziel and his cards sold for hundreds on the secondary market. Look for Leaf to do this with more than 100 celebrities throughout the entertainment business.
Pop Century is scheduled to release in July.
As always, these cards are just mock-ups and not the actual signature.
Susan Lulgjuraj is an editor of Beckett Sports Card Monthly. You can email her here with questions, comments or ideas. Follow her on Twitter here. Follow Beckett Media on Facebook and Twitter.