Cheap Wax Wednesday Box Breaks: 1996 Topps Gilt Edge Football
I do large wax orders a few times a year, usually 20 or so boxes each. When I build an order I have a few criteria:
1) Obviously, I stick to the price limit I have set for myself, which is a maximum of $50 per box.
2) I only buy boxes I have yet to feature in this series. Seeing that this is my 249th Cheap Wax Wednesday post, that narrows down the options I have to buy.
3) If I see something I have never even heard of, and it is a realistic price, I grab it. This week's product fit into all three of those criteria.
1996 Topps Gilt Edge Football — I'm not sure I had ever seen or heard of this product in my 25-plus years of collecting. Let's start with the word "gilt." The dictionary definition: the thin layer of gold or other material applied in gilding. All right, I think I see where this is going.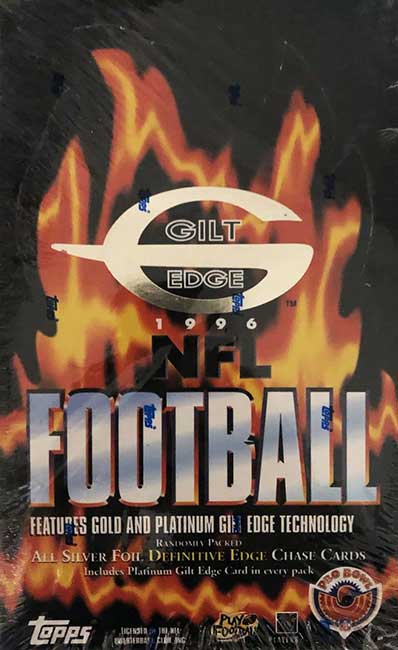 This product was a "one-year wonder" for Topps, who never made a Gilt Edge set again. The set includes 90 base cards, including the 84 players on the 1996 Pro Bowl roster, five additional players, and a checklist card. The product also features one insert set, Definitive Edge, with the cards being found once in every four packs.
There are two different base card designs in Gilt Edge, one featuring a wave background and another set on a fire background. Both base card designs feature a prominent tiki mask, something that has a long history in Hawaiian and Polynesian culture. The design was chosen because of the Pro Bowl being played at Aloha Stadium in Honolulu, Hawaii. In fact, this is where the game was held every year from 1980 to 2009. It has since moved around a bit, with the last few, including this year's game (this Sunday) being played in Orlando.
1996 Topps Gilt Edge Football Box Break
Cards per pack: 9
Packs per box: 20
Price paid: $25

Pack 1 highlights:
Reggie White x2, Bruce Smith & Shannon Sharpe

Pack 2:
Emmitt Smith twice & Ricky Watters
Pack 3:
Dual Brett Favres & Junior Seau Definitive Edge (1:4 packs)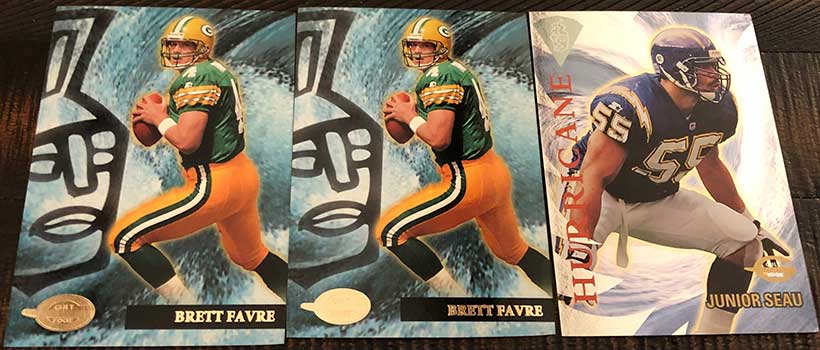 Pack 4:
Joey Galloway, Darren Woodson, Junior Seau & another Galloway

Pack 5:
Curtis Martin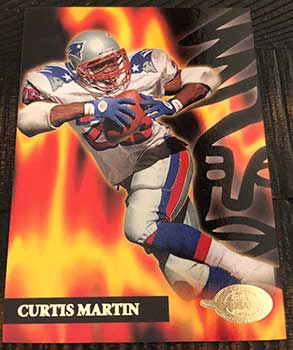 Pack 6:
Derrick Thomas, Barry Sanders, Dan Marino, Jim Harbaugh Platinum (one per pack) & Bruce Smith Definitive Edge (1:4 packs)
Pack 7:
Michael Irvin & Anthony Miller Platinum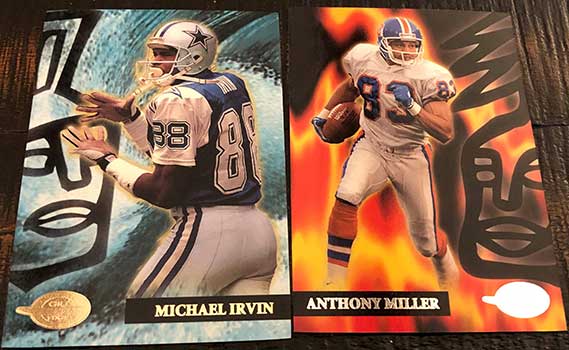 Pack 8:
Steve Young, Tim Brown & Barry Sanders Platinum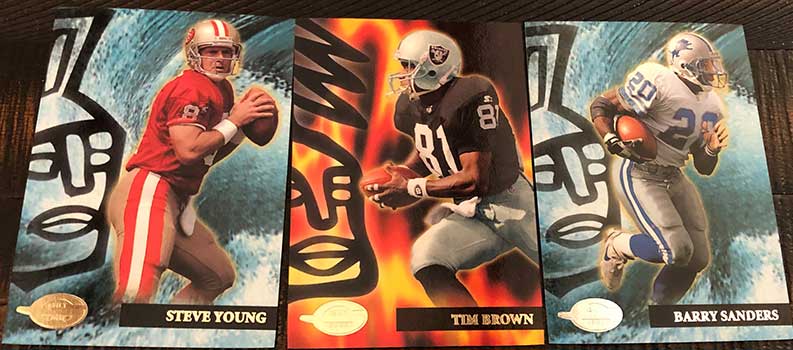 Pack 9:
Nate Newton & Jay Novacek Platinum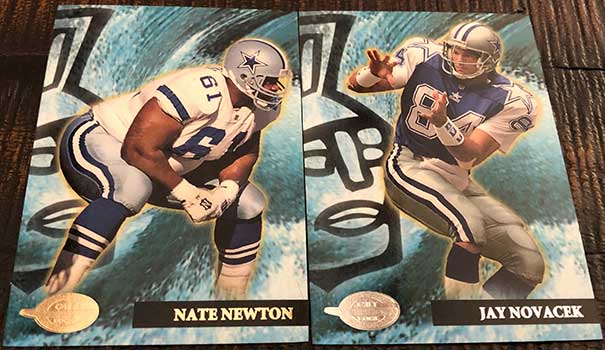 Pack 10:
Carl Pickens, Lomas Brown Platinum & Brett Favre Definitive Edge (1:4 packs)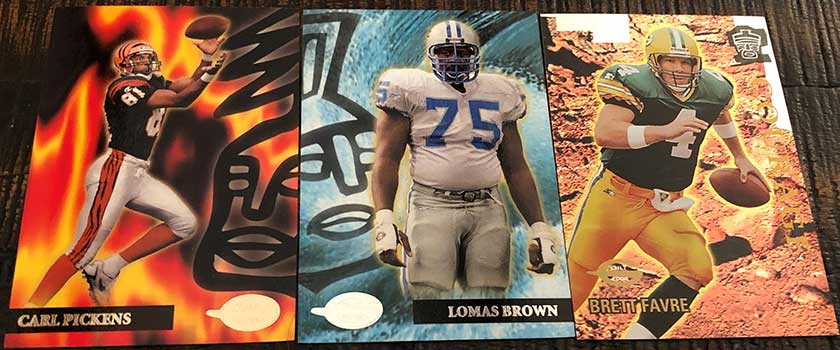 Pack 11:
Barry Sanders, Emmitt Smith, Curtis Martin (How about that running back trio?) & Reggie White Platinum

Pack 12:
Joey Galloway, Emmitt Smith Platinum & Kordell Stewart Definitive Edge (1:4 packs)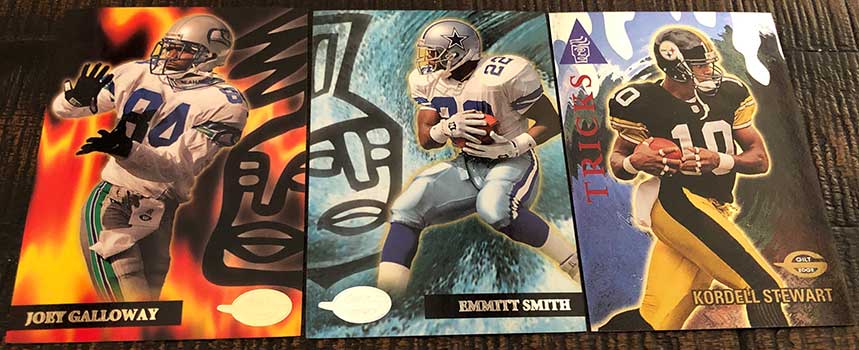 Pack 13:
Brett Favre Platinum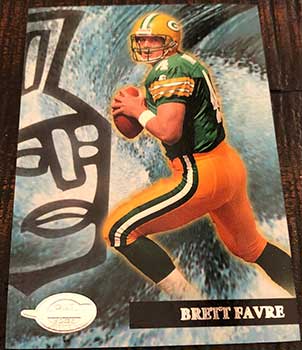 Pack 14:
Jeff Blake, Dan Marino, Jim Harbaugh & Joey Galloway Platinum

Pack 15:
Cris Carter, Shannon Sharpe x2 & Mark Stepnoski Platinum

Pack 16:
Curtis Martin & Nate Newton Platinum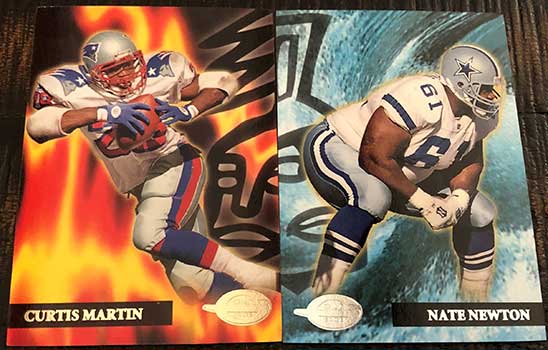 Pack 17:
Herman Moore dupes, Carl Pickens & Jessie Tuggle Platinum

Pack 18:
Jerry Rice (So nice they did it twice…OK, I'll show myself out), Tim Brown & Jeff Blake Platinum

Pack 19:
Isaac Bruce, Tim Brown, Yancey Thigpen Platinum & Marcus Allen Definitive Edge (1:4 packs)

Pack 20:
Troy Aikman, Dan Marino & Derrick Thomas Platinum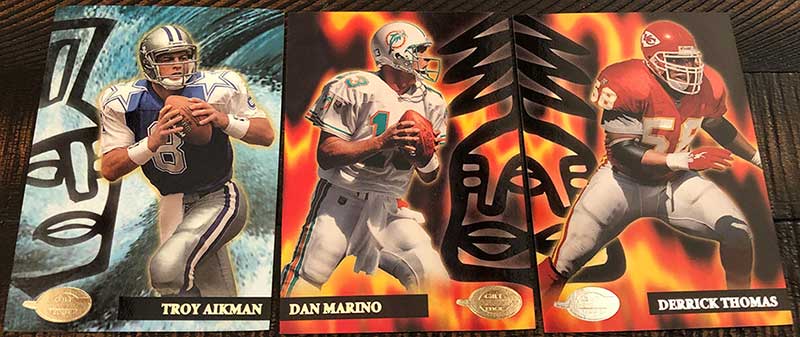 Lastly, the Marino card back. It was a little overkill to add all of the substitutions to Marino's Pro Bowl appearances. That is a lot of asterisks (42 in total).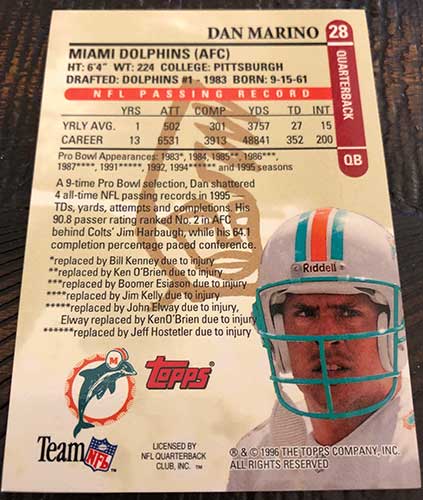 For those still wondering about the Gilt Edge set name — those are some shiny edges!
Overall this is kind of a weird set. The base card design is certainly unique. I get where Topps was going with it but I am just not sure it ended up going quite to plan. The Definitive Edge inserts are not bad with the full silver foil images. It's still certainly worth the try, though, as it is definitely something different.
How did that Pro Bowl game end up going? The Mike Holmgren-led NFC beat the Ted Marchibroda-coached AFC team 20-13. Jerry Rice received MVP honors.
Shop for 1996 Topps Gilt Edge Football cards on:
Want more installments of Shane Salmonson's Cheap Wax Wednesday? Check out his other breaks in the archives.