Cheap Wax Wednesday Box Break: 2003 Topps Shoebox Baseball
With the recent loss of multiple legends of the game (Al Kaline, Bob Gibson, Lou Brock, Tom Seaver, Whitey Ford and Joe Morgan, to name a few), I felt this was the right time to share this. This product is a little different than usual because of the fact that it is technically a complete set. However, it is boxed in pack form, so I felt that it could work here.
2003 Topps Shoebox Baseball is a reprint set, highlighting some of the best cards from the 1950s through the 1980s. The cards are nearly identical to the originals with additional gold foil on the front. Also, if a card happened have multiple players like the 1965 Topps Joe Morgan Rookie Card that he shared with Sonny Jackson, they are cropped to only show the highlighted player. Each box is broken up into 12 eight-card packs, three for each decade.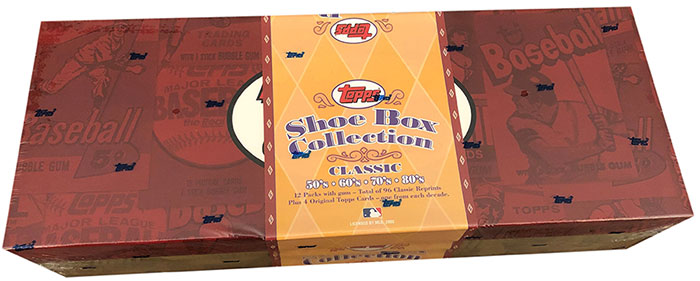 Fun Facts are provided by Bleacher Report National MLB Columnist Joel Reuter. You can follow Joel on Twitter (@JoelReuterBR) and check out his work at Bleacher Report. You can also catch Joel regularly on Beckett with his One-Sheet Collections series.
2003 Topps Shoebox Baseball Box Break
Cards per pack: 8
Packs per box: 12
Price paid: $50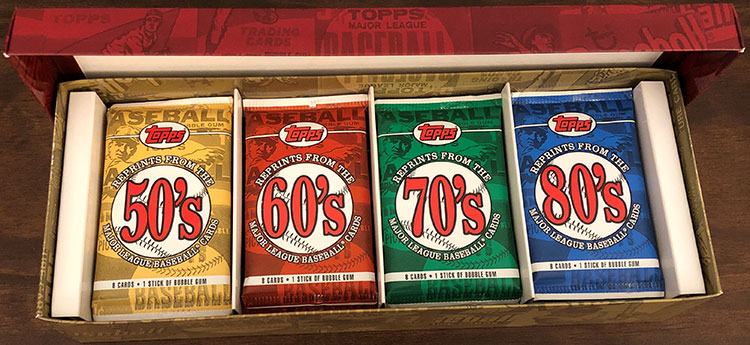 Pack 1 highlights (1980s):
Ozzie Smith, Kirk Gibson, Don Mattingly, Joe Carter, Kirby Puckett, Dale Murphy, Keith Hernandez & Tony Armas
Pack 1 fun fact: Tony Armas led the AL in home runs in 1981 (22) and 1984 (43) en route to 251 long balls in his career. His son later pitched in the big leagues, and he was part of the return package in the trade that sent Pedro Martinez from Montreal to Boston.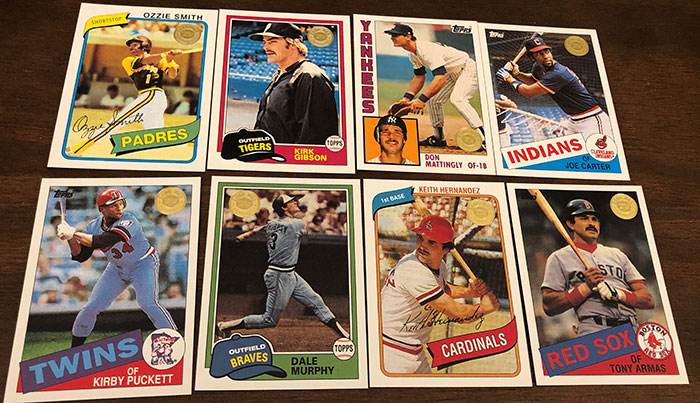 Pack 2:
Bo Jackson, Dwight Gooden, Eric Davis & Harold Reynolds. Each pack also contains a piece of gum. No, I did NOT try it.
Pack 2 fun fact: A fourth-round pick in the 1986 draft, Bo Jackson made his MLB debut three months later after just 53 games in the minors. He hit .333 with a .942 OPS and two home runs in his first eight games before cooling off.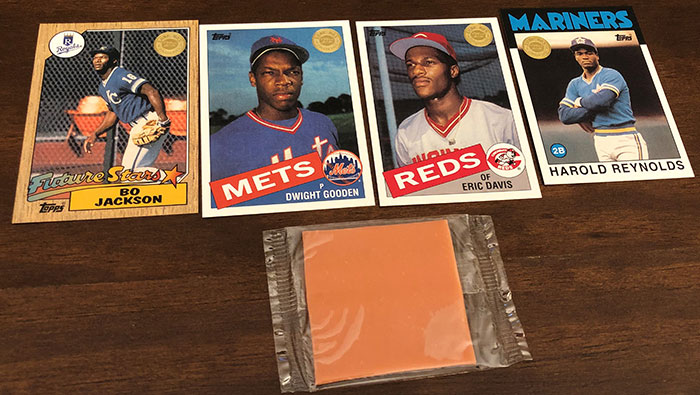 Pack 3:
Jim Rice, Ken Griffey, Sr., Lee Smith, Jose Canseco, Paul O'Neill, Paul Molitor & Alan Trammell
Pack 3 fun fact: Jose Canseco had a 33-homer, 117-RBI rookie season in 1986, edging out California Angels first baseman Wally Joyner and Toronto Blue Jays reliever Mark Eichhorn for AL Rookie of the Year honors.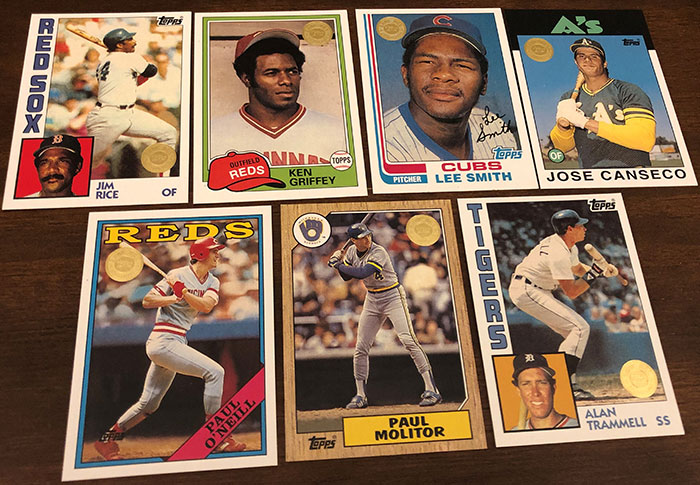 Pack 4 (1970s):
Bill Buckner, George Foster, Bert Blyleven, Dave Concepcion, Bob Grich & Ron Cey
Pack 4 fun fact: Ron Cey shared his 1972 Topps rookie with future Milwaukee Brewers All-Star Ben Oglivie, and he was also included alongside Mike Schmidt on his rookie card in the 1973 Topps set. With 53.8 WAR, Cey ranks 19th all-time among third basemen.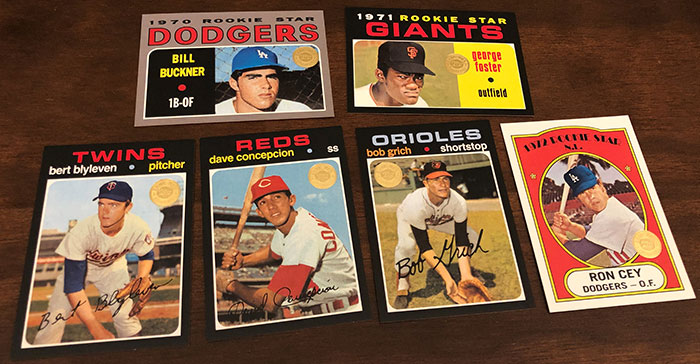 Pack 5:
Cecil Cooper, Carlton Fisk, Dwight Evans, Rich "Goose" Gossage, Mike Schmidt, Dave Parker & Gary Carter
Pack 5 fun fact: Rich Gossage spent the first five seasons of his career with the Chicago White Sox, leading the AL in saves (26) in 1975. He was traded to Pittsburgh in 1977, spending one season with the Pirates before joining the New York Yankees in free agency.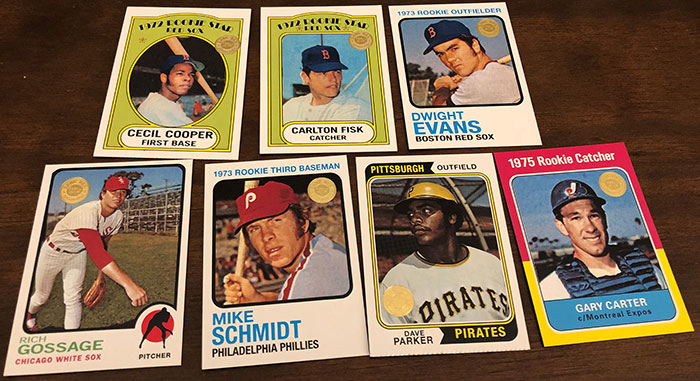 Pack 6:
Robin Yount, Dennis Eckersley, Ron Guidry, Jack Clark, Andre Dawson, Mark "The Bird" Fidrych, Bruce Sutter & Willie Hernandez
Pack 6 fun fact: Willie Hernandez won AL Cy Young honors with the Detroit Tigers in 1984. He went 9-3 with 32 saves, posting a 1.92 ERA and 0.94 WHIP while working 140.1 innings and leading the AL with 80 appearances. He was a true relief ace.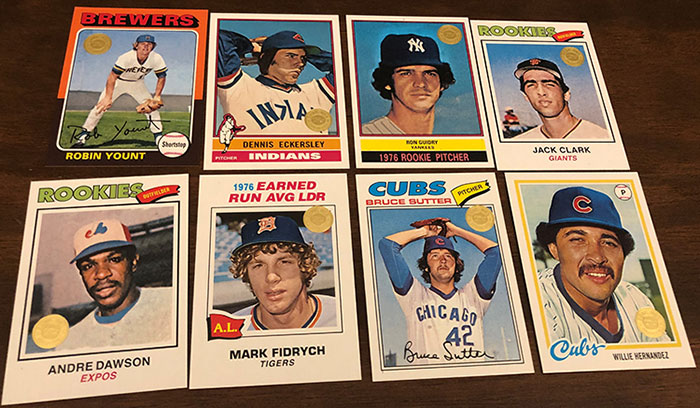 Pack 7 (1960s):
Willie McCovery, Maury Wills, Carl Yastrzemski, Juan Marichal, John "Boog" Powell, Willie Stargell, Bert Campaneris & Tug McGraw
Pack 7 fun fact: Maury Wills led the NL in steals for six straight seasons from 1960 to 1965, including a 104-steal performance in 1962 when he won NL MVP honors.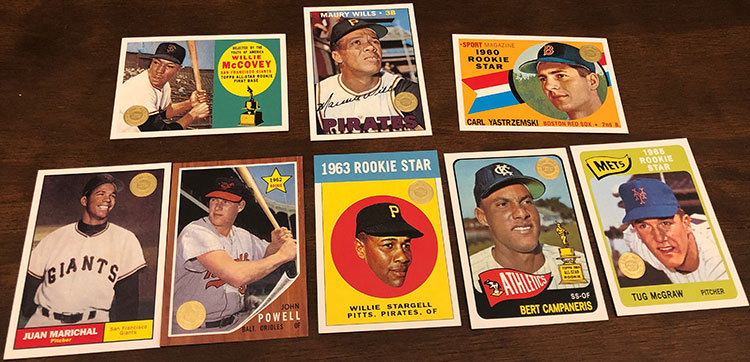 Pack 8:
Joe Morgan, Tony Perez, Luis Tiant, Ferguson Jenkins, Jim Palmer, Rod Carew, Tom Seaver & Nolan Ryan
Pack 8 fun fact: Tom Seaver was originally drafted by the Atlanta Braves, but the contract was voided by the commissioner because USC had played a pair of exhibition games that year. The rest of the league was given a chance to match Atlanta's signing bonus offer. The Mets were chosen over the Indians and Phillies in a lottery drawing for his signing rights.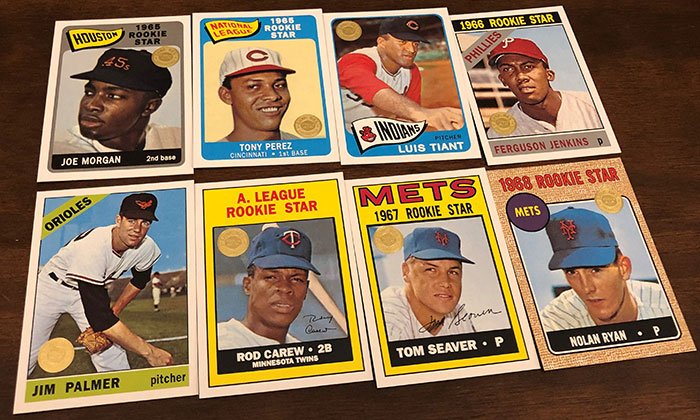 Pack 9:
Rollie Fingers, Reggie Jackson, Gaylord Perry, Al Oliver, Lou Brock, Johnny Bench, Paul Blair & Phil Niekro
Pack 9 fun fact: Paul Blair was an eight-time Gold Glove winner in center field during his 13 seasons with the Baltimore Orioles. He was part of a Baltimore team that made three straight World Series appearances from 1969 to 1971.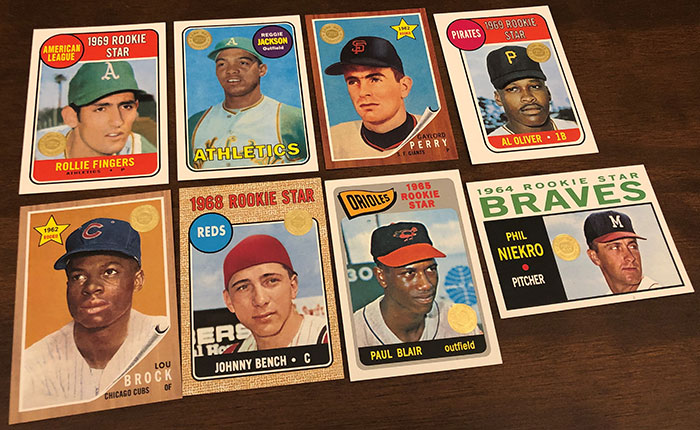 Pack 10 (1950s):
Willie Mays, Monte Irvin, Bill Mazeroski, Phil Rizzuto, Hank Sauer (bonus dupe!), Hank Bauer, Ted Kluszewski & Robin Roberts
Pack 10 fun fact: At his peak in 1954, Ted Kluszewski and his cut-off sleeves hit .326/.407/.642 while leading the NL in home runs (49) and RBI (141). He finished second in NL MVP voting to Willie Mays, receiving 7 of 24 first-place votes.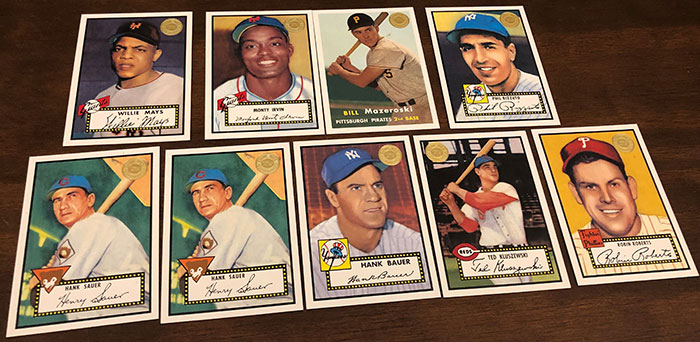 Pack 11:
Al "Red" Schoendienst, Ralph Kiner, Whitey Ford, John Podres, Bob Feller, Duke Snider, Bobby Thomson & Hoyt Wilhelm
Pack 11 fun fact: Hoyt Wilhelm played 21 seasons, wrapping up his MLB career at the age of 49. He was the oldest player in the majors in each of the final seven seasons of his career.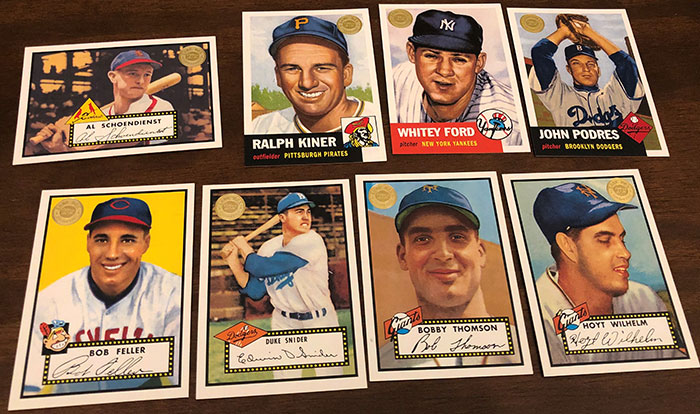 Pack 12:
Harmon Killebrew, Luis Aparicio, Don Newcombe, Bobby Richardson, Frank Robinson, Brooks Robinson, Stan Musial & Orlando Cepeda
Pack 12 fun fact: Frank Robinson won unanimous NL Rookie of the Year honors with one of the best debut seasons in MLB history in 1956. He hit .290/.379/.558 with 38 home runs, 83 RBI and 122 runs scored in a 6.6-WAR season.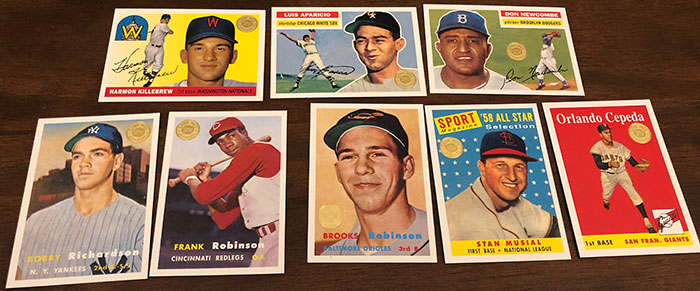 The Brooks Robinson card back. The backs are also reprints of the originals, but with some extra trademark information and adding set numbering.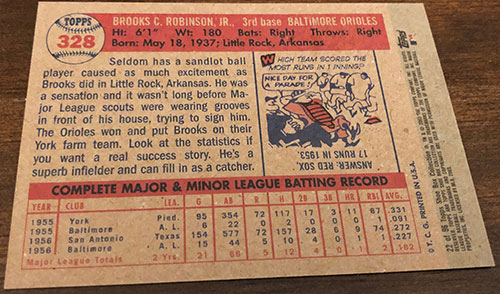 Also included in every box, four vintage Topps cards, one from each decade. My box contained 1959 Bob Keegan, 1963 Ron Piche, 1977 Willie Horton and a 1985 Don Sutton.

Though this is a complete set, and you do know what you are going to find in the box, it is still a fun rip. It is a great way to add some of the iconic vintage cards (albeit reprints) to your collection, without paying vintage prices. I certainly don't mind seeing these as I flip through my binders. You are also getting four vintage cards in every box, one from each decade. Though I am sure these vintage inclusions aren't full of stars, I was lucky enough to pull a Hall of Famer in Don Sutton. Classic cards deserve to be honored alongside the legendary players we seem to be losing too many of lately. One way to keep honoring those legendary players is by collecting their cards.
Shop for 2003 Topps Shoebox Baseball cards on:
Want more installments of Shane Salmonson's Cheap Wax Wednesday? Check out his other breaks in the archives.