Cheap Wax Wednesday Box Breaks: 1996 Pinnacle Football
Pinnacle released their first football card set in 1991, one year before the brand's baseball debut. I feel safe saying that it wasn't very pretty. It also didn't include any parallels or inserts, which was par for the course in 1991. Heading into the mid-'90s all that changed. Pinnacle (Score) started producing some really nice looking inserts. They also unveiled Dufex printing technology on some insert cards and later used it on parallels. By the time 1996 Pinnacle Football arrived, the company was producing some of the best looking cards in the hobby.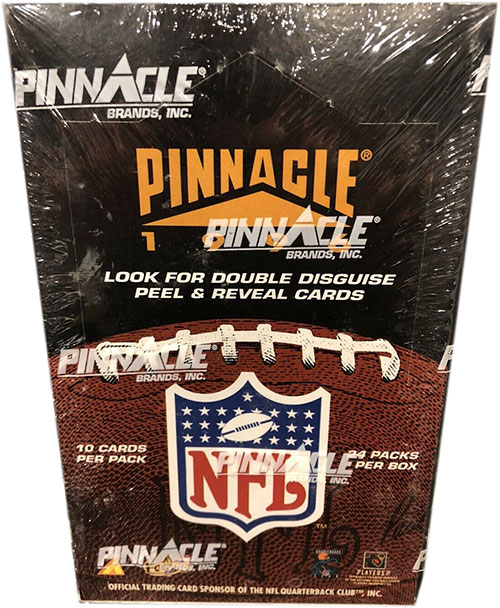 1996 Pinnacle Football consists of 200 base cards. They are borderless and feature a prominent gold foil pyramid (similar to the Pinnacle logo) that features the player names. More importantly, the set has two parallels and three different insert sets. All but one parallel and insert use Dufex.
1996 Pinnacle Football Box Break
Cards per pack: 10
Packs per box: 24
Price paid: $18

Pack 1 highlights:
Junior Seau (I love sideline shots like this!), Jay Novacek, Irving Fryar & a Double Disguise insert (1:18 packs). The Double Disguise inserts are double-sided and, fittingly, both sides had to be peeled to reveal the card.

This particular card revealed Steve Young on the front, and Emmitt Smith on the back.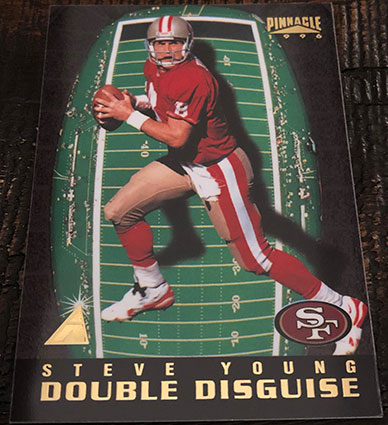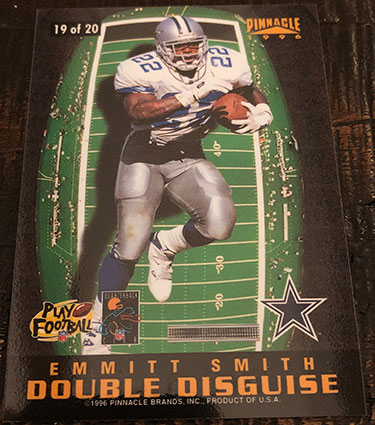 Pack 2:
Brain Blades & Dale Hellestrae Trophy Collection (1:5 packs)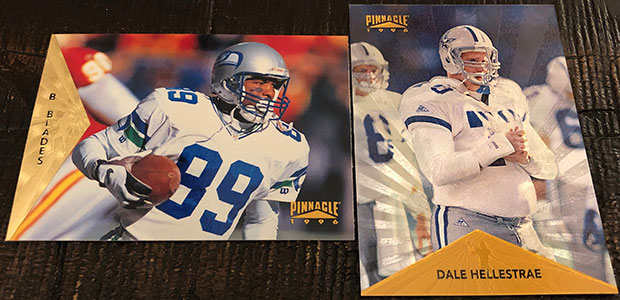 Pack 3:
Marvin Harrison RC, Emmitt Smith CL, Derrick Thomas, Kevin Hardy RC, Rodney Hampton, Robert Brooks & Ben Coates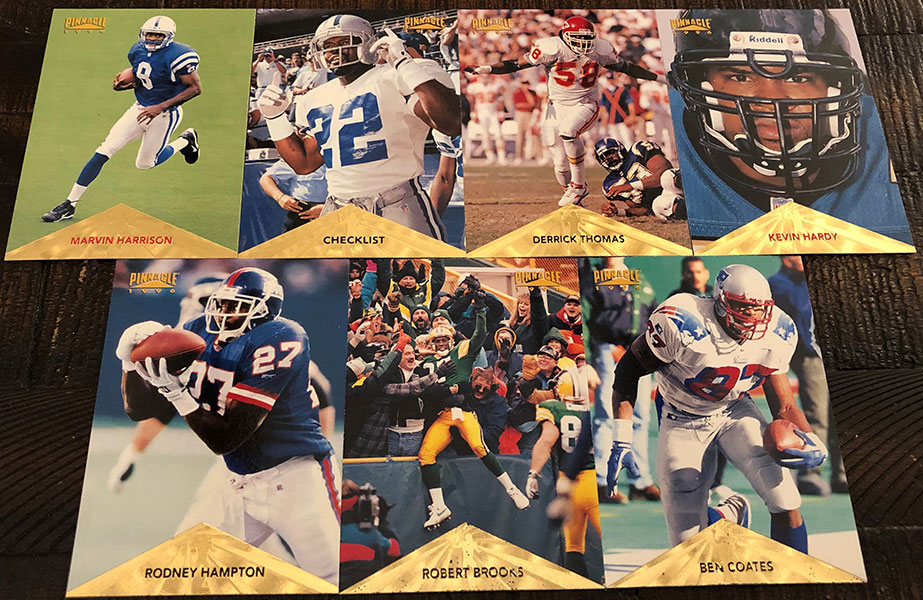 Pack 4:
Jonathan Ogden RC, Reggie White, John Elway & J.J. Stokes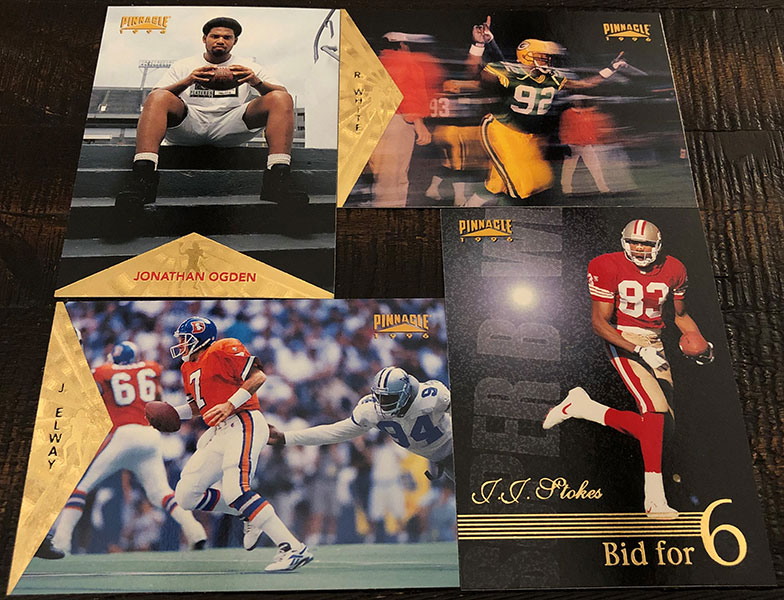 Pack 5:
Boomer Esiason, Daryl "Moose" Johnston & Marshall Faulk
Pack 6:
Jeff George, Tim Brown, Terry Kirby (Pinnacle went with quite a few painful looking hits in this set) & Steve McNair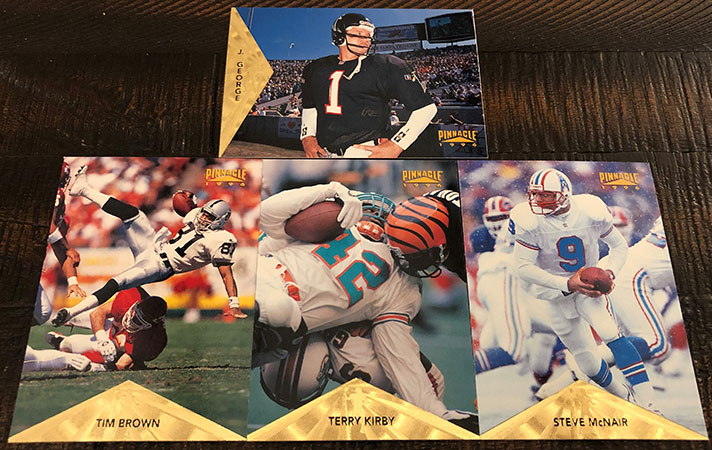 Pack 7:
Eric Moulds RC, Rashaan Salaam, Shannon Sharpe, Jim Kelly, Troy Aikman, Emmitt Smith & Bernie Parmalee Trophy Collection (1:5 packs)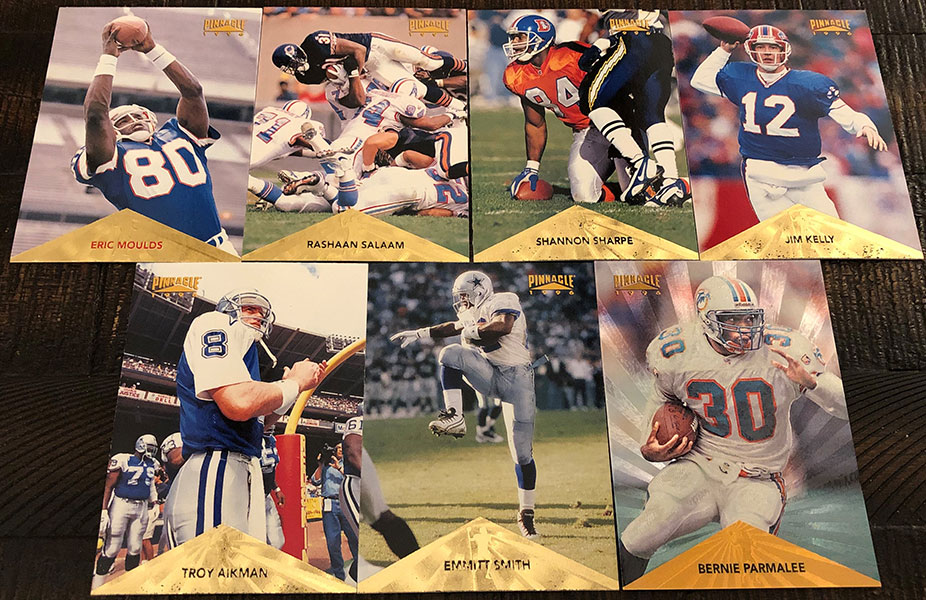 Pack 8:
Barry Sanders CL, Jerry Rice & Brett Favre. Interesting photo choice on the Favre card.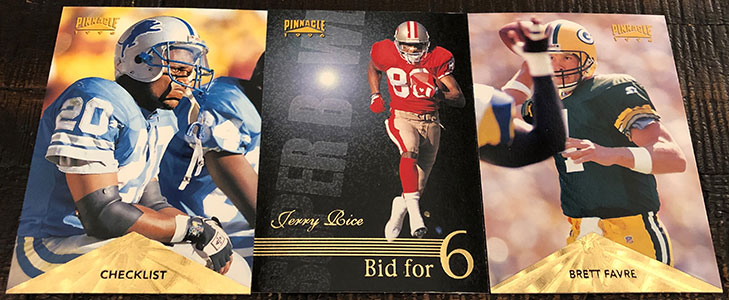 Pack 9:
Kerry Collins, Steve Young, Deion Sanders, Keyshawn Johnson RC & Curtis Martin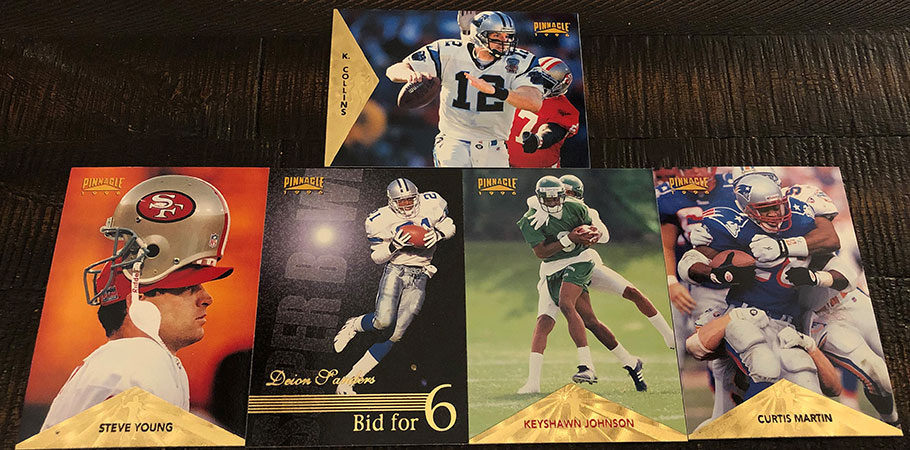 Pack 10:
Lawrence Phillips RC, Bruce Smith, Willie McGinest, Jerry Rice (Another interesting card. The only one that I pulled with animations.), Jeff Blake & Terrell Davis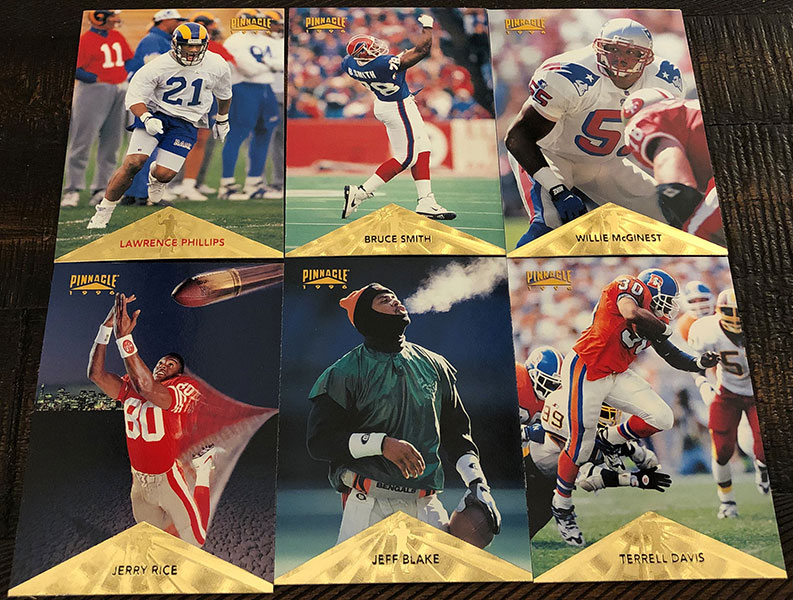 Pack 11:
Brett Favre CL, Warren Moon, Trent Dilfer, Garrison Hearst & Michael Irvin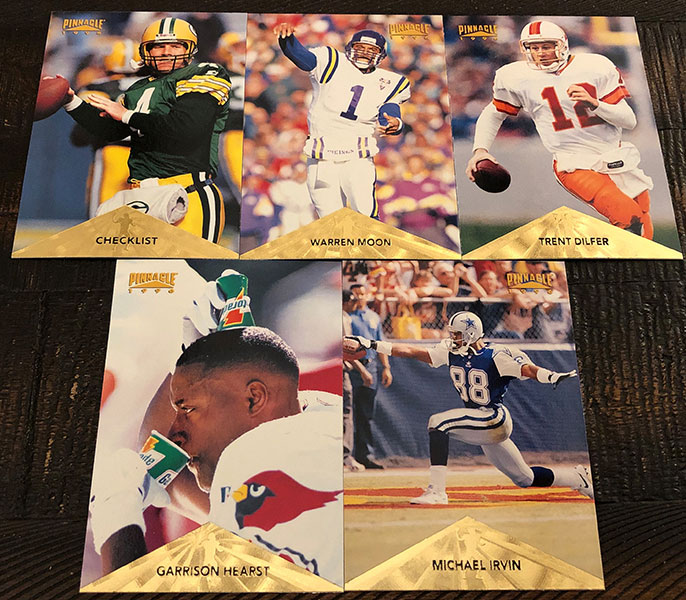 Pack 12:
Carl Pickens, Drew Bledsoe (another painful shot), Steve Young & Bernie Parmalee Trophy Collection (1:5 packs). Anyone better than me at math that can tell me what the odds are of pulling two of the same Trophy Collection parallels in the same box?

Pack 13:
Troy Aikman, Dan Marino CL, Joey Galloway & Double Disguise insert (1:18 packs)

Same combo as the last Double Disguise card. Young & Smith, but reversed. Smith on the front and Young on the back.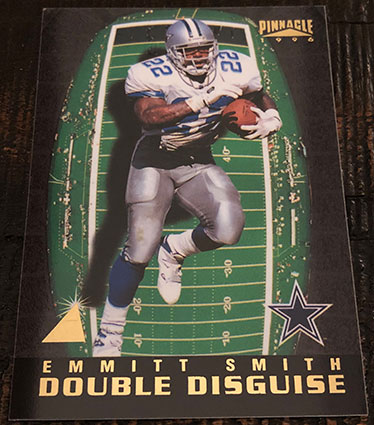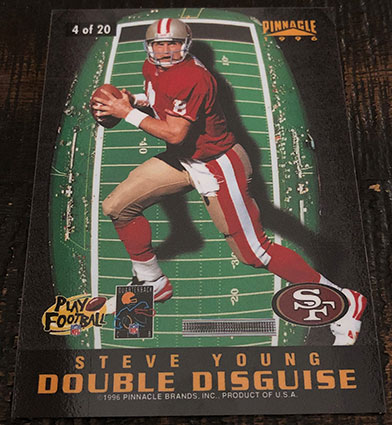 Pack 14:
Jim Harbaugh, Steve Atwater, Marino/Favre/Sanders/Smith CL & Isaac Bruce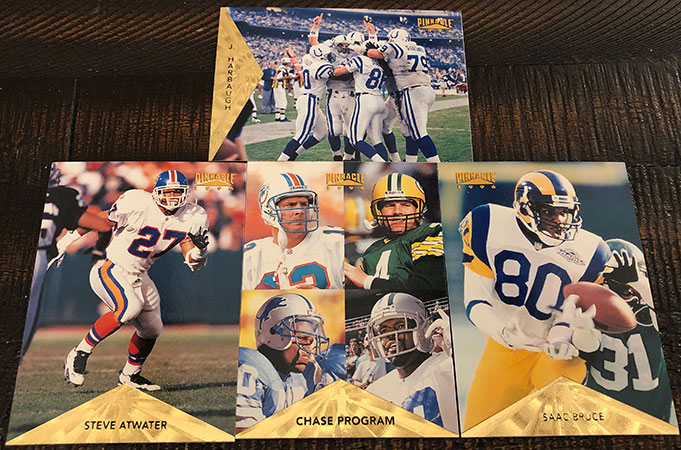 Pack 15:
Mark Brunell, Troy Aikman & Terry Glenn RC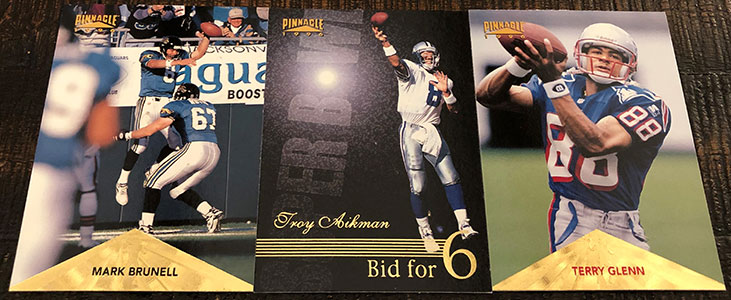 Pack 16:
Neil O'Donnell, Ken Norton & Curtis Conway Trophy Collection (1:5 packs)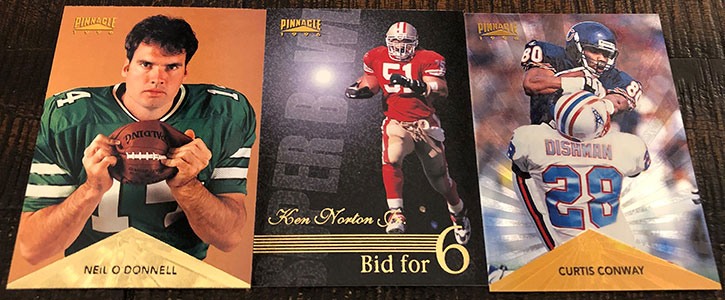 Pack 17:
Marvin Harrison RC, Bryan Cox, Irving Fryar & Emmitt Smith CL

Pack 18:
John Elway, Eric Matcalf, Jonathan Ogden RC & Reggie White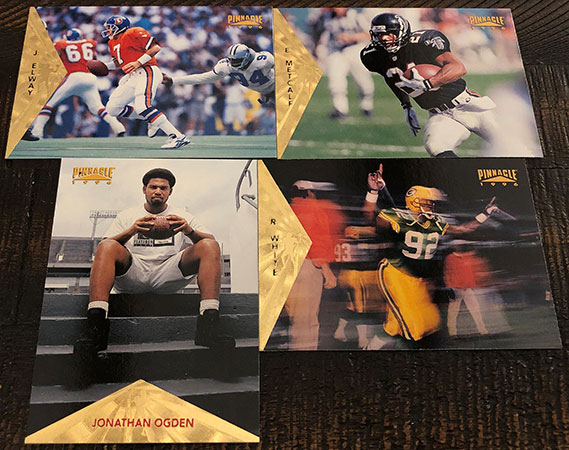 Pack 19:
Ricky Watters, Mike Alstott RC, Michael Irvin, Darren Woodson & Marcus Allen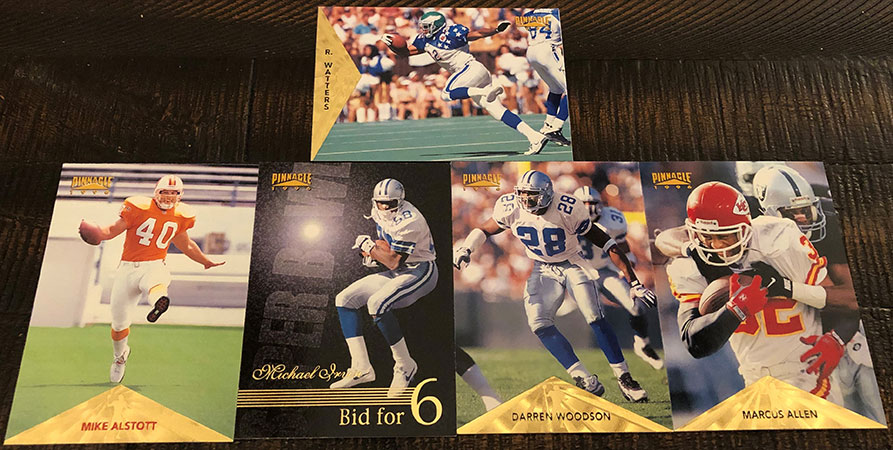 Pack 20:
Cris Carter, Daryl Johnston, Robert Smith & Kordell "Slash" Stewart

Pack 21:
Antonio Freeman, Dan Marino, Jake Reed, Barry Sanders & Rod Woodson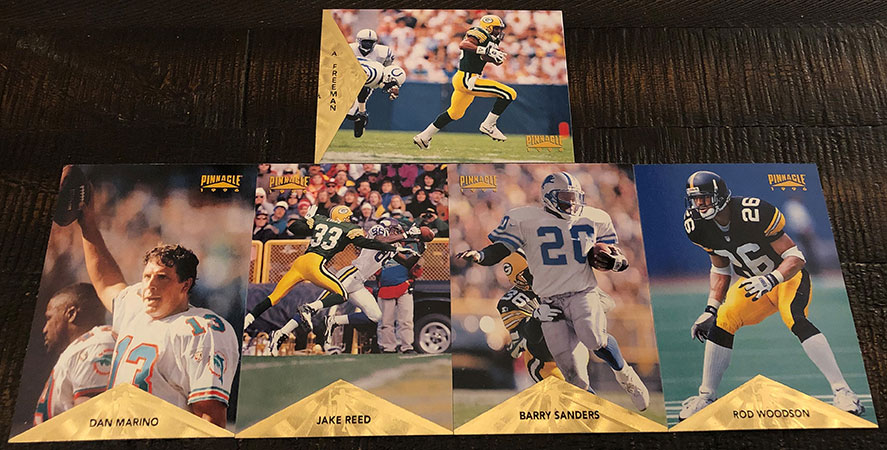 Pack 22:
Andre Reed, Simeon Rice RC, Brett Favre & Alex Van Dyke On the Line (1:24 packs)

Pack 23:
Deion Sanders, Thurman Thomas, Craig Heyward, Emmitt Smith, Bobby Engram RC & Bryan Cox Trophy Collection (1:5 packs)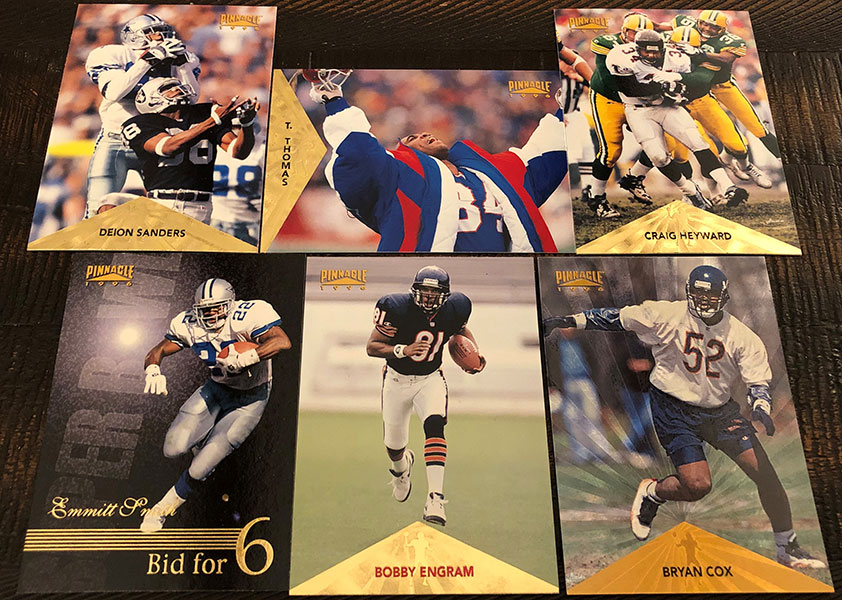 Pack 24:
Yancey Thigpen, Eddie Kennison RC & Brent Jones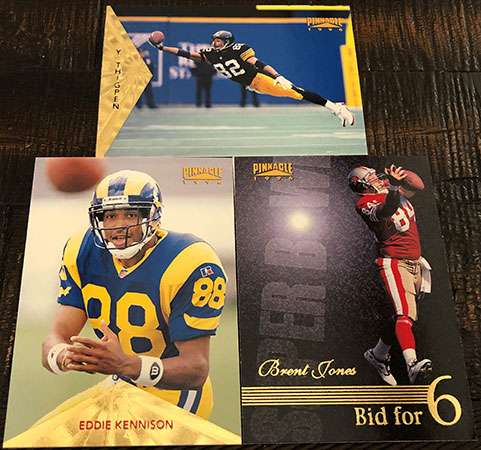 Lastly, the Prime Time card back. Pretty basic card back, though another picture is definitely appreciated.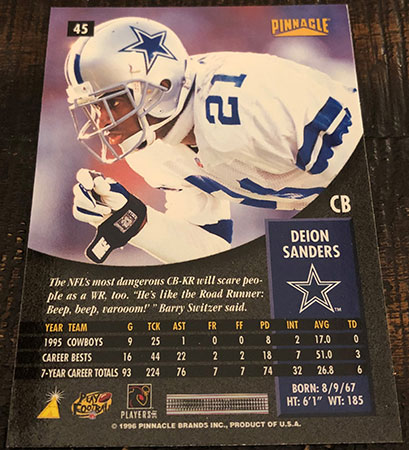 So I didn't pull any great names for my Trophy Collection parallels. That isn't surprising they have a 200-card checklist and only five per box. Van Dyke was probably the worst name in the On the Line checklist, which is a bummer. It's a good looking insert set though. I certainly won't complain about the mirroring Double Disguise cards I pulled. Now I can put one in each player's section of my football player binders.
All in all, 1996 Pinnacle Football is a fun product to break, especially at just $18 a box. I may have to grab another if I can find one at that price to see if I can pull some better parallels.
Want more installments of Shane Salmonson's Cheap Wax Wednesday? Check out his other breaks in the archives.