Cheap Wax Wednesday Box Breaks: 1992 Topps Series 1 Football
Remember how iconic the 1992 Topps Baseball set was with its amazing photography? In addition to the photography the design includes team color matched borders. The same design was used for the 1992 Topps Football release.
1992 Topps Football is split into three different series. Series 1, the product that I'm breaking today, includes cards 1-330. Series 2 features base cards 331-660. Lastly, a High Number series has cards 661-759.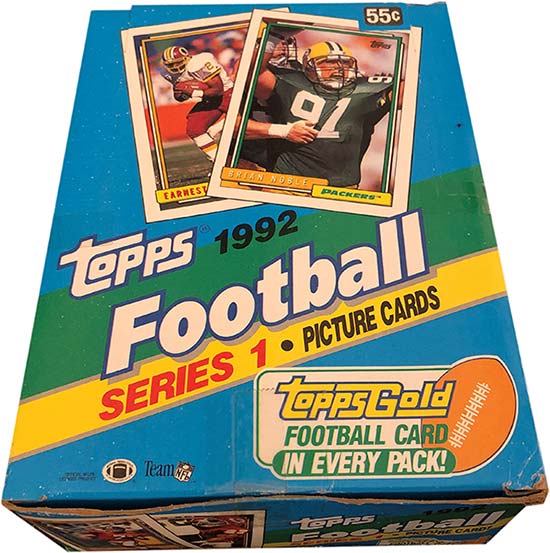 A new addition in 1992, Topps unveiled Gold parallels. These are found once in every pack. That is it, though, with no inserts included in standard packs.
To say 1992 Topps didn't have inserts would be incorrect, however. There were a few, but they are found elsewhere. 1000 Yard Club inserts are exclusive to jumbo packs, with their Gold parallels issued in factory sets. Lastly, a four-card No. 1 Draft Picks of the 90's is included in High Number factory sets.
1992 Topps Series 1 Football Box Break
Cards per pack: 15
Packs per box: 36
Price paid: $20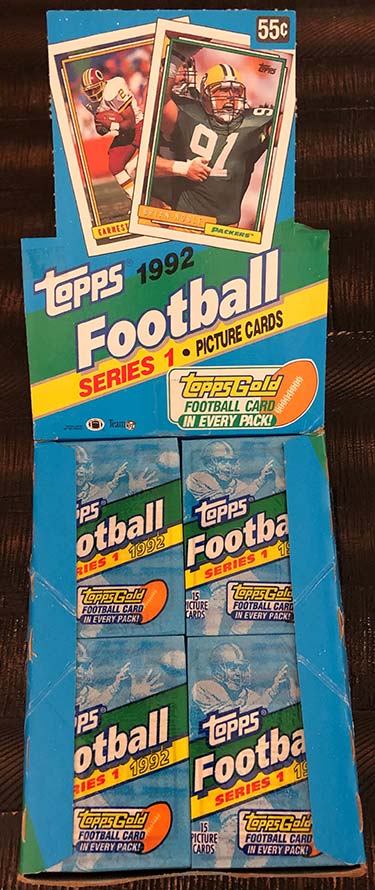 Pack 1 highlights:
Terrell Buckley RC, Rodney Hampton & Scott Case Gold (one per pack)
Buckley was selected fifth overall in the 1992 draft and would record 50 interceptions during a 13-year NFL career.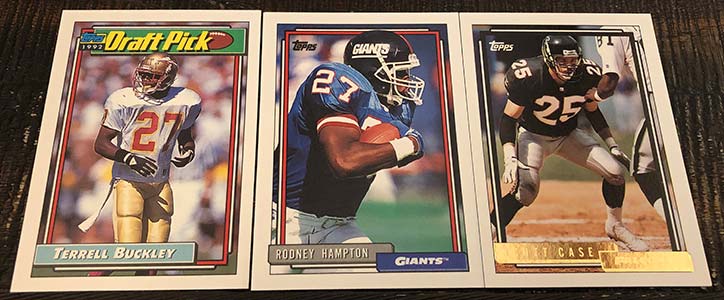 Pack 2:
Jessie Tuggle & Eddie Anderson Gold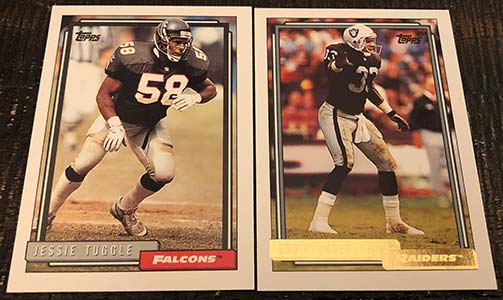 Pack 3:
Another Terrell Buckley RC & Bill Romanowski Gold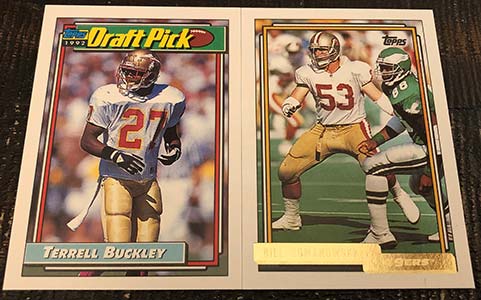 Pack 4:
Thurman Thomas & Mike Cofer Gold
Cofer attempted 27 field goals in 1992, making just 18. Only one of those came from over 50 yards. Oh, how the kicking game in the NFL has changed!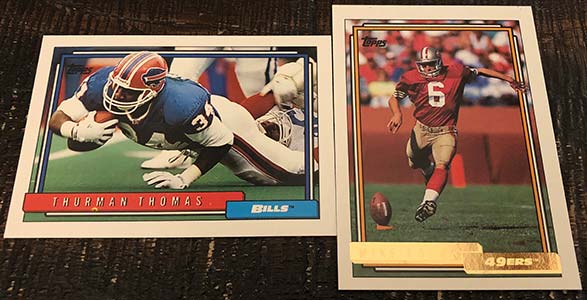 Pack 5:
Edgar Bennett RC, Rodney Hampton & Vinson Smith RC Gold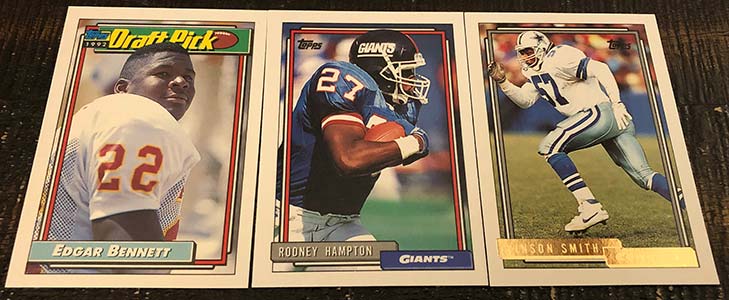 Pack 6:
Jim Harbaugh, Herschel Walker & Wymon Henderson Gold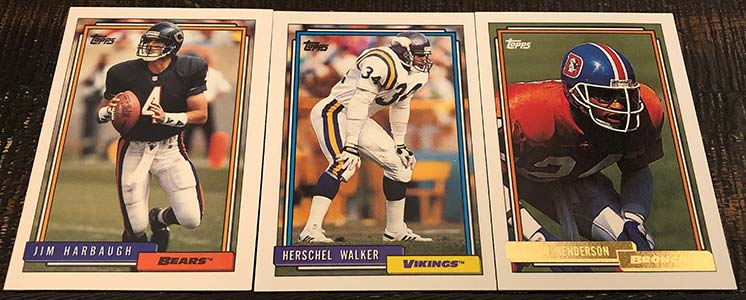 Pack 7:
Current Chiefs Offensive Coordinator Eric Bieniemy & Mark Carrier Gold
Carrier intercepted 10 passes during his rookie season in 1990, winning Defensive Rookie of the Year honors. He would not pick off more than five passes in any of his other 10 NFL seasons.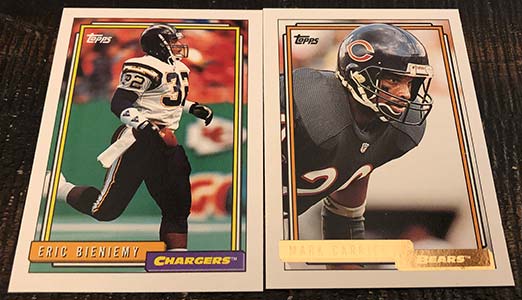 Pack 8:
Chris Spielman, Irving Fryar & Jumbo Elliott Gold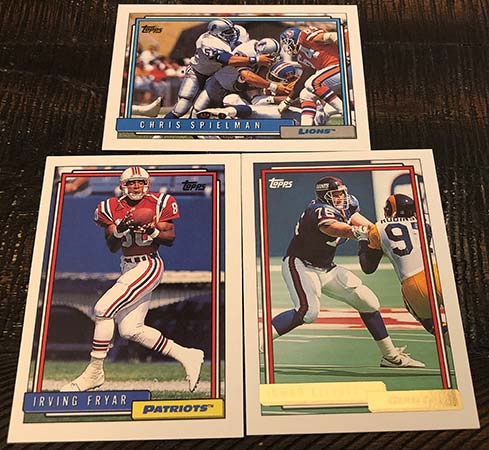 Pack 9:
Marcus Allen, Neal Anderson & Johnny Meads Gold

Pack 10:
John Elway, Jeff Hostetler & Nate Newton Gold
Nate "The Kitchen" Newton made the Pro Bowl roster six out of seven seasons between 1992 and 1998.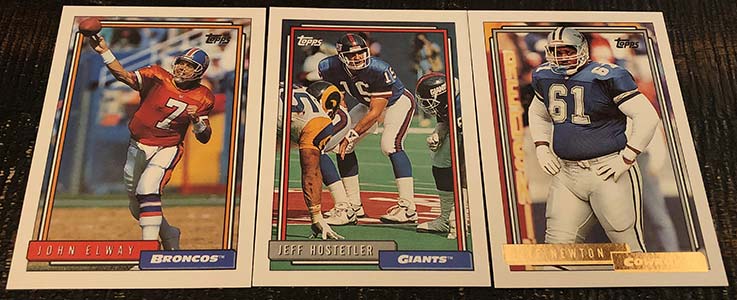 Pack 11:
Thurman Thomas, Jim Harbaugh, Herschel Walker & Dwayne White RC Gold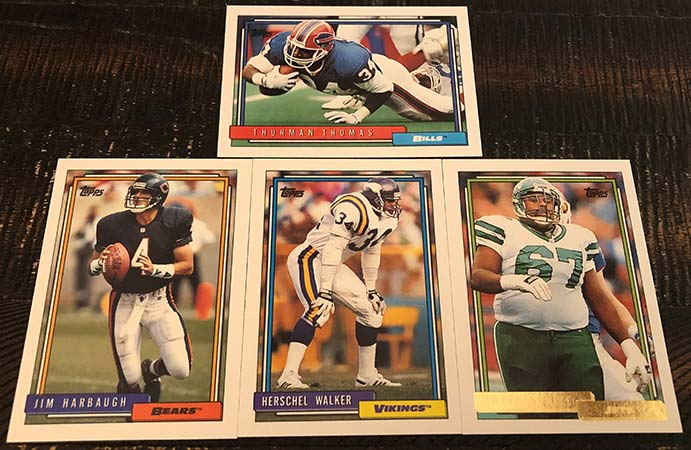 Pack 12:
Seth Joyner, Hardy Nickerson & Jerome Henderson Gold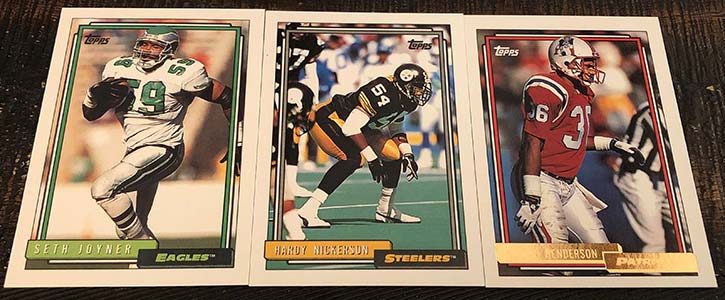 Pack 13:
Pepper Johnson & Neal Anderson Gold
Anderson had three straight double-digit touchdown seasons for the Bears from 1988-1990. He was selected to the Pro Bowl each of those seasons, as well as 1991.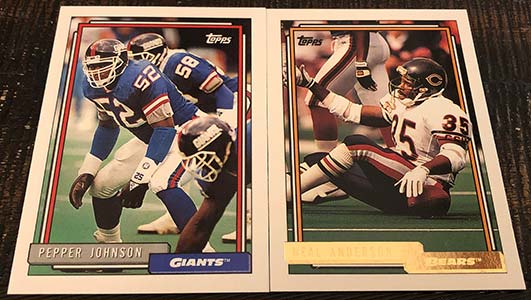 Pack 14:
Kevin Greene, Rod Woodson, Aeneas Williams & Ricky Sanders Gold

Pack 15:
Alvin Harper, John Elway & Mike Munchak Gold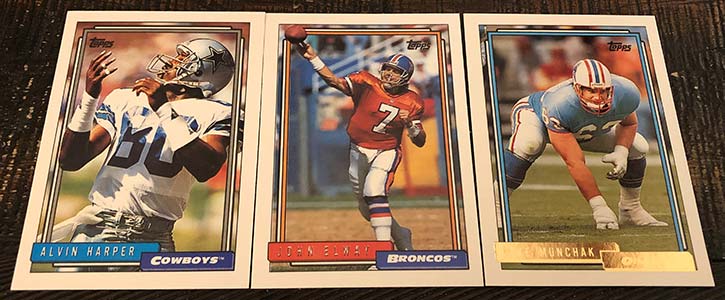 Pack 16:
Steve Young & Charles McRae Gold
Steve Young is seen here getting sandwiched by two Rams defenders. Will Joe Burrow suffer the same fate on Sunday?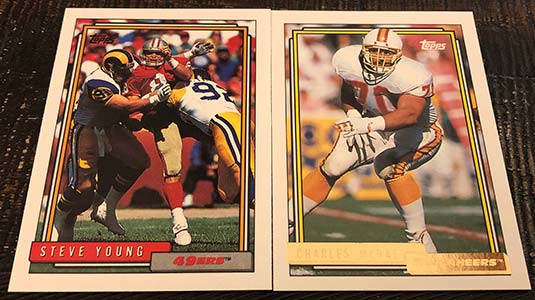 Pack 17:
Amp Lee RC & Michael Brooks Gold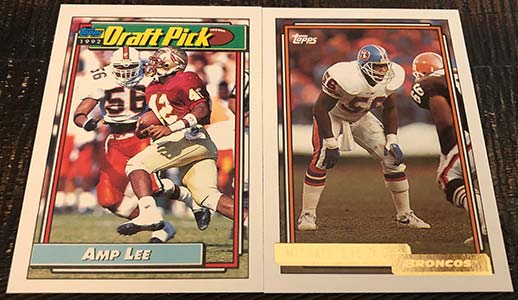 Pack 18:
Don Beebe & Vincent Brown Gold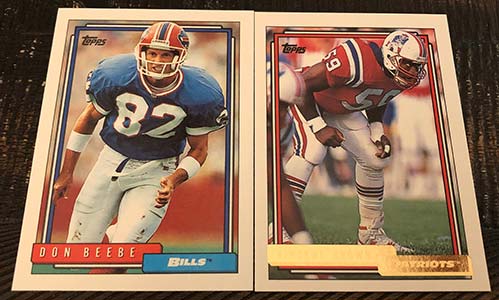 Pack 19:
Andre Waters Gold
Waters amassed over 100 tackles in six straight seasons for the Eagles from 1986-1991.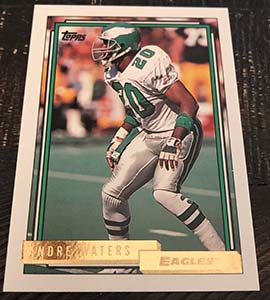 Pack 20:
Gary Anderson, Steve McMichael, Rod Woodson, Aeneas Williams & Nate Odomes Gold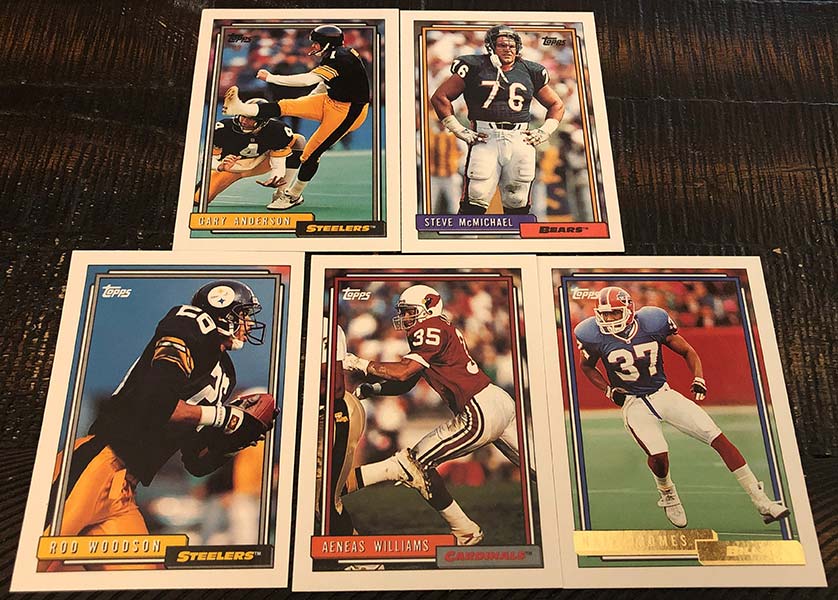 Pack 21:
Kevin Greene, Rich Gannon & Cortez Kennedy Gold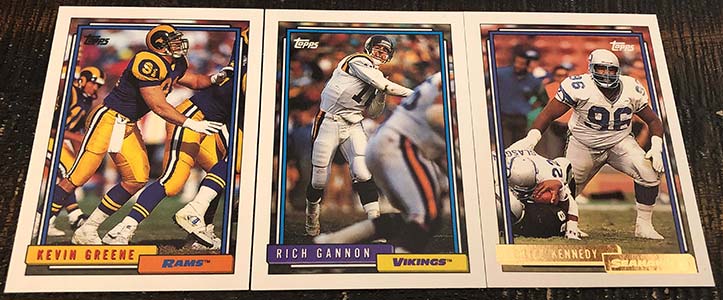 Pack 22:
Steve Jordan Gold
Steve's son Cameron Jordan is a star defensive lineman for the New Orleans Saints.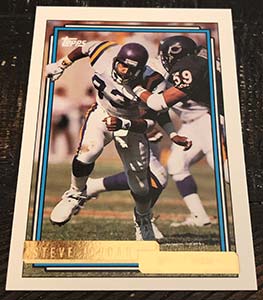 Pack 23:
Alvin Harper & Robert Brown Gold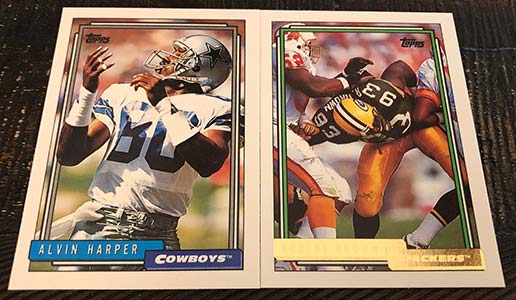 Pack 24:
Steve Young & Brian Noble Gold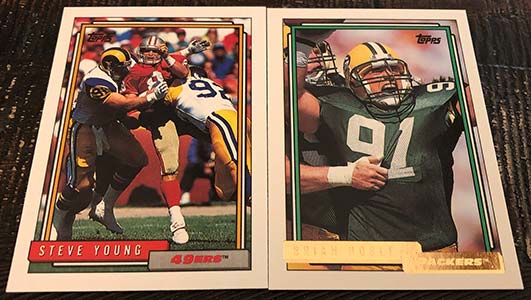 Pack 25:
Chris Miller & Scott Radecic Gold
Chris Miller was coming off a Pro Bowl appearance following the 1991 season. He threw 26 touchdown passes that season, compared to 18 interceptions (yikes).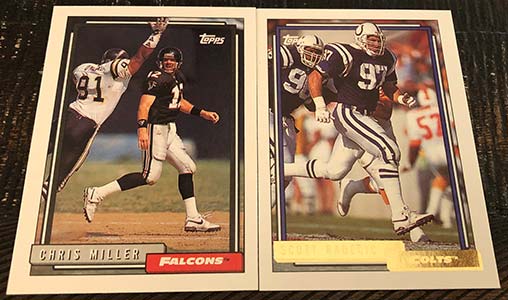 Pack 26:
Barry Sanders, Bill Romanowski & Jay Schroeder Gold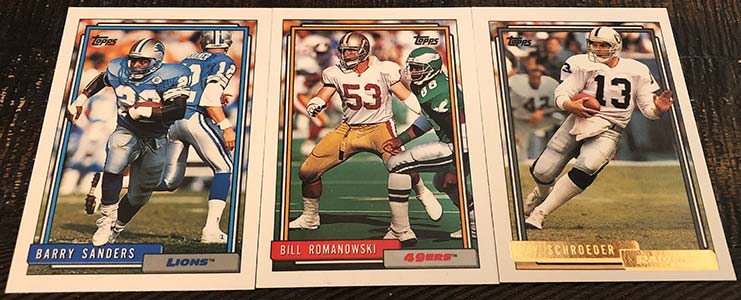 Pack 27:
Nate Newton, Ken Norton, Mark Clayton, Howie Long, Eric Metcalf & Danny Copeland Gold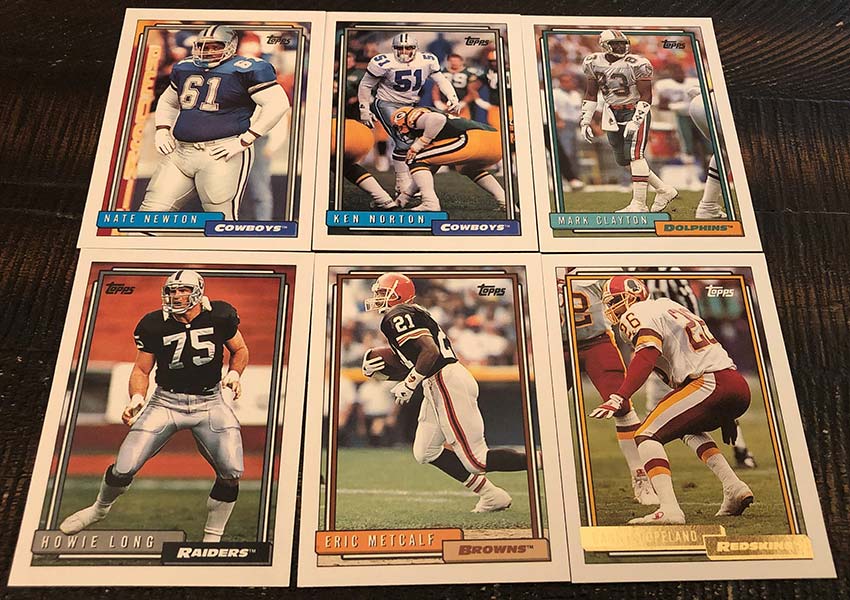 Pack 28:
Thurman Thomas, our third Terrell Buckley RC & Terry Wooden Gold
Linebacker Terry Wooden was a second round draft pick in 1990 out of Syracuse. He would play nine seasons in the NFL.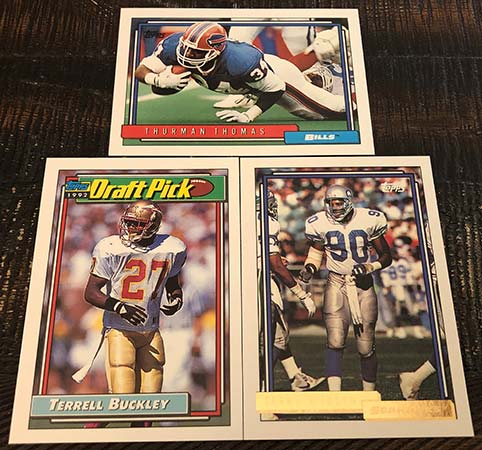 Pack 29:
Edgar Bennett RC & Martin Mayhew Gold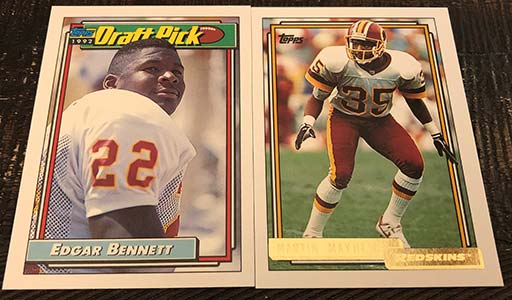 Pack 30:
Rob Moore & Carwell Gardner Gold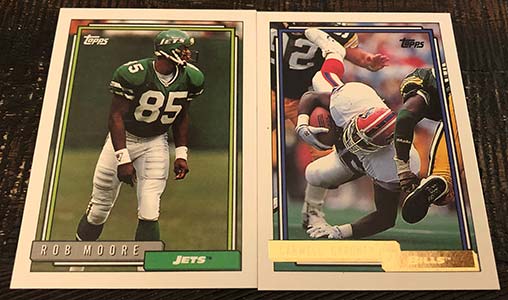 Pack 31:
Barry Sanders Gold
Finally! A big name Gold parallel card! It doesn't get much better than Barry Sanders in this set.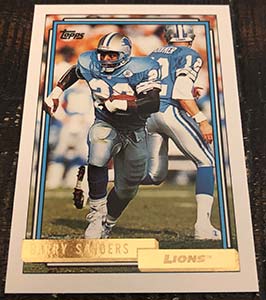 Pack 32:
Warren Moon, Rodney Hampton & Matt Bahr Gold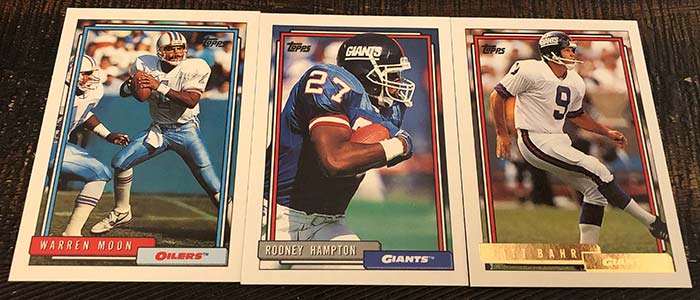 Pack 33:
Jim Harbaugh, Herschel Walker & Kent Hull Gold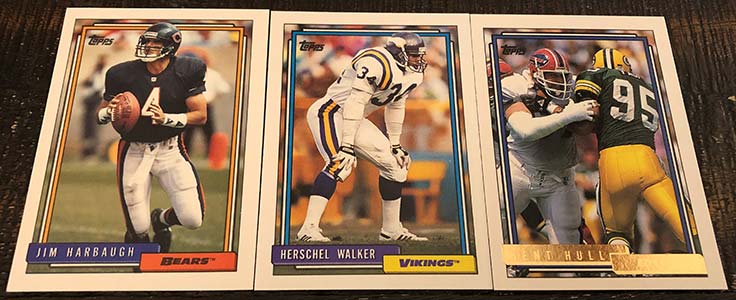 Pack 34:
Mo Lewis & Brad Muster Gold
Muster was not a familiar name for me. He did, however, play seven NFL seasons, scoring 31 total touchdowns.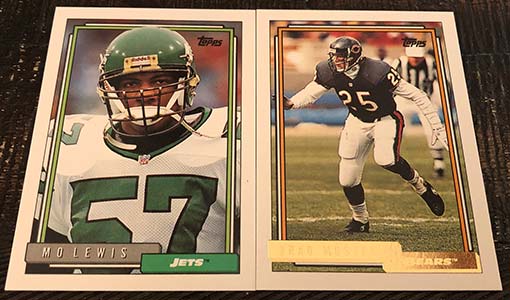 Pack 35:
Irving Fryar & Alfred Anderson Gold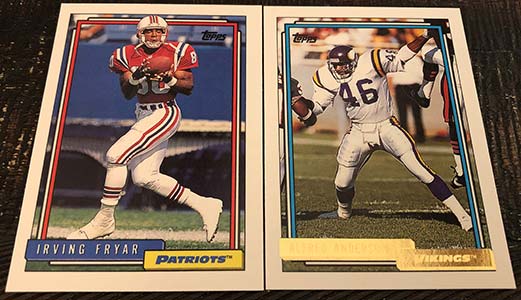 Pack 36:
Chris Mims RC, Ricky Sanders & Darren Comeaux Gold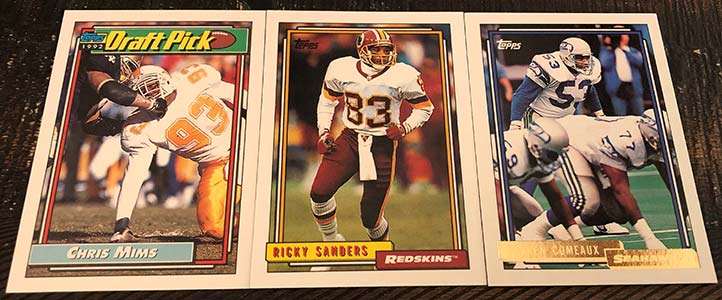 Lastly, the Barry Sanders card back. As you can see, Sanders was a dominant force in the NFL as soon as he arrived on the scene.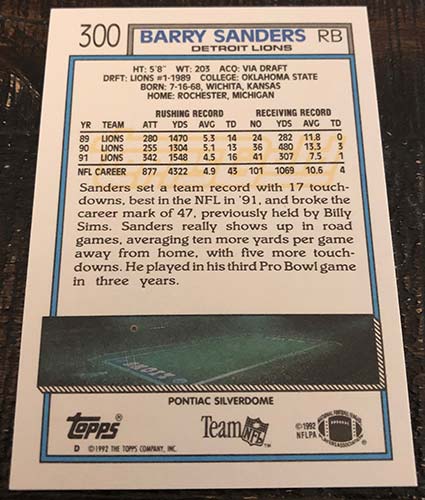 Not much going on with this one. I feel like I missed some of the big names, which seems strange in a 36-pack box. Despite 540 cards in this one, I was unable to pull an Emmitt Smith or Reggie White base card. Luckily, I did make up some for that by pulling the Barry Sanders Gold parallel.
Being a collector of mostly baseball, this design brings me back to the 1992 baseball release. That one has more fun photography than its football counterpart. The team color borders still make this a solid design in my eyes.
With the football season drawing to a close on Sunday, I will feature just one more football product before switching back to baseball to celebrate the (hopefully) fast-approaching spring season.
Shop for 1992 Topps Football cards on: