Cheap Wax Wednesday Box Breaks: 2020 Panini Stars and Stripes USA Baseball
As most of you know, Panini does not hold a license to produce Major League Baseball cards. That won't change in the next five years, either, as Topps holds the exclusive license through at least 2025. What Panini does have, though, is a license to produce cards featuring USA Baseball players. Panini struck their original deal with USA Baseball back in 2012, then in 2017 signed a long-term extension.
After releasing some USA Baseball box sets during their first few years under license, Panini debuted Stars and Stripes in 2015. That original Stars and Stripes set was released in larger hobby boxes, containing 24 packs. In 2017 Panini changed the format a bit to the current model, which features just five packs per box. With the July the 4th happening this week, can there be a more appropriate time to bust some Stars and Stripes.
2020 Panini Stars and Stripes USA Baseball features a 100-card base set highlighting the Collegiate, 18U, and 15U National Teams. Also included are autographs and relic cards from USA Baseball national teams all the way from the college ranks, down to their 14 and under development teams. As printed on the box, an average hobby box has five autograph or memorabilia cards.
Fun Facts are provided by Bleacher Report National MLB Columnist Joel Reuter. You can follow Joel on Twitter (@JoelReuterBR) and check out his work at Bleacher Report.
2020 Panini Stars and Stripes USA Baseball Box Break
Cards per pack: 8
Packs per box: 5
Price paid: $47

Pack 1 highlights:
Patrick Bailey, Austin Martin, Max Meyer, Alejandro Rosario Longevity parallel & Robert Hassell 18U National Team Signatures (280/499)
Pack 1 fun fact: The No. 3 overall pick in the 2020 draft, Max Meyer used a triple-digit fastball and a wipeout slider to strike out 46 of the 110 batters he faced this spring. He also allowed just 15 hits for a .155 opponents' batting average.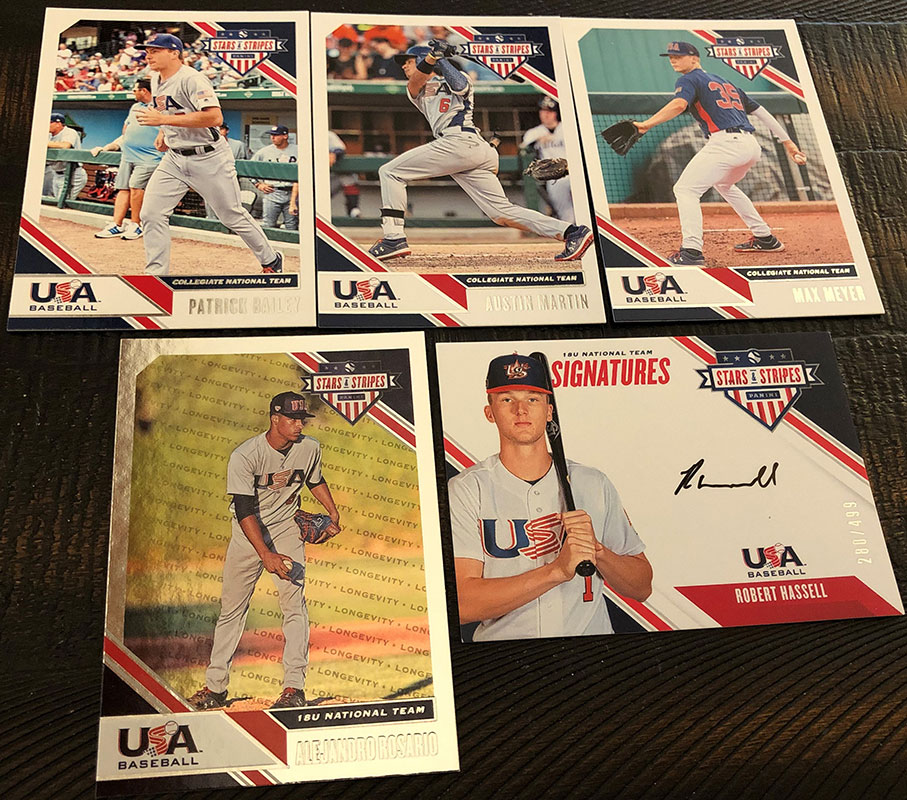 Pack 2:
Heston Kjerstad, Spencer Torkelson, Tanner Allen Longevity Holo Foil #ed 09/99 & Gavin Ochoa 16U Silhouettes Autograph Relic (027/199)
Pack 2 fun fact: Spencer Torkelson shattered the Arizona State school record with 25 home runs as a freshman, eclipsing the previous mark of 11 set by Barry Bonds in 1983. He hit another 23 as a sophomore and had six in 17 games this spring.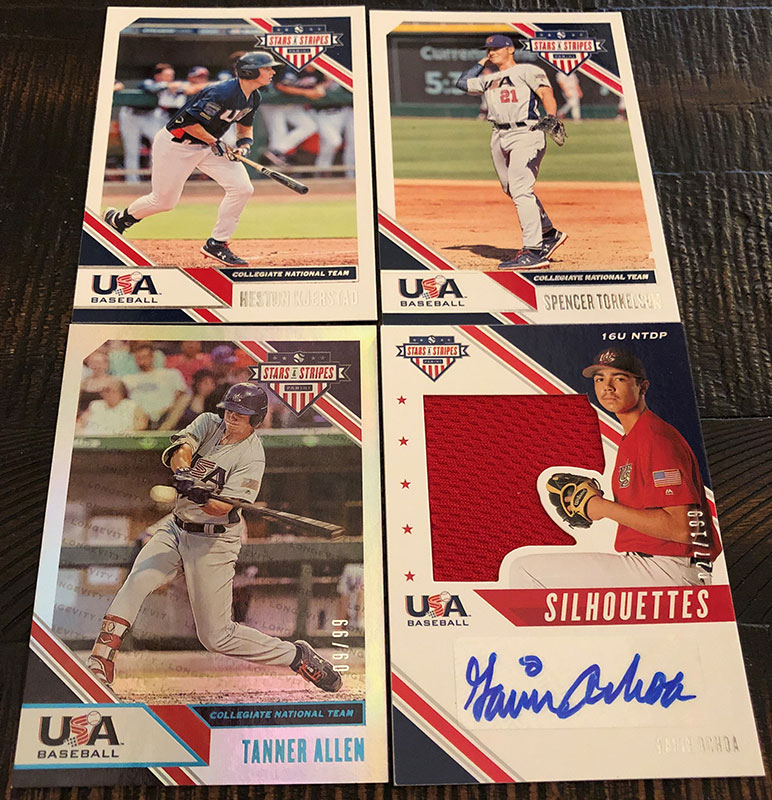 Pack 3:
Braden Shewmake, Cole Wilcox, Shea Langeliers Longevity & Kyle Harrison 18U Silhouettes Autograph Relic (270/299)
Pack 3 fun fact: The Atlanta Braves selected Shea Langeliers (No. 9 overall) and Braden Shewmake (No. 21 overall) both in the first round of the 2019 MLB draft.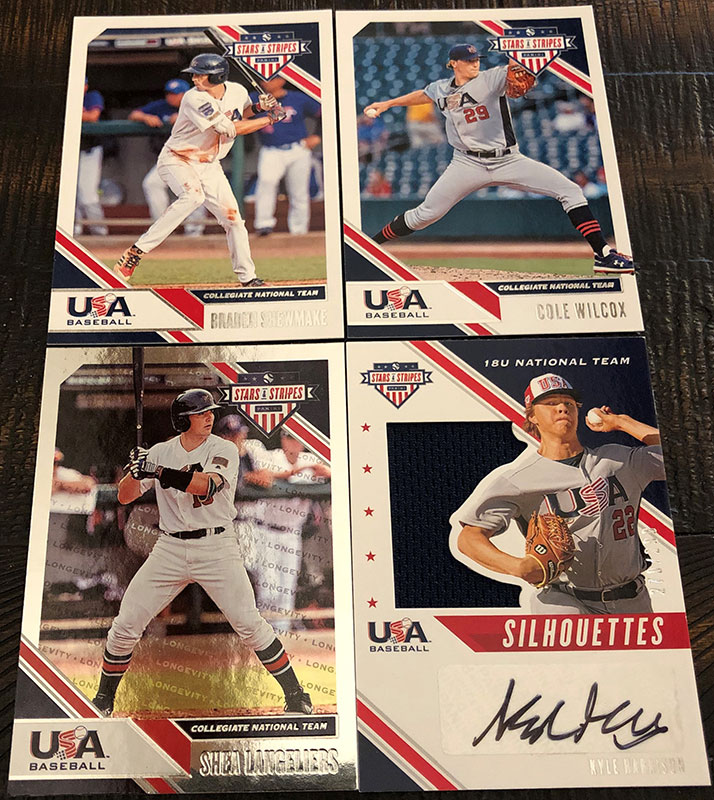 Pack 4:
Andrew Abbott, Josh Jung, Asa Lacy, Bobby Witt, Jr., Mick Abel, Tyler Brown Longevity & Brock Selvidge 17U Autograph (152/170)
Pack 4 fun fact: Asa Lacy allowed just nine hits and eight walks while striking out 46 of the 93 batters he faced this spring. The 6'4" left-hander joined Bobby Witt Jr. in a Kansas City Royals farm system on the rise when he was taken No. 4 overall in June.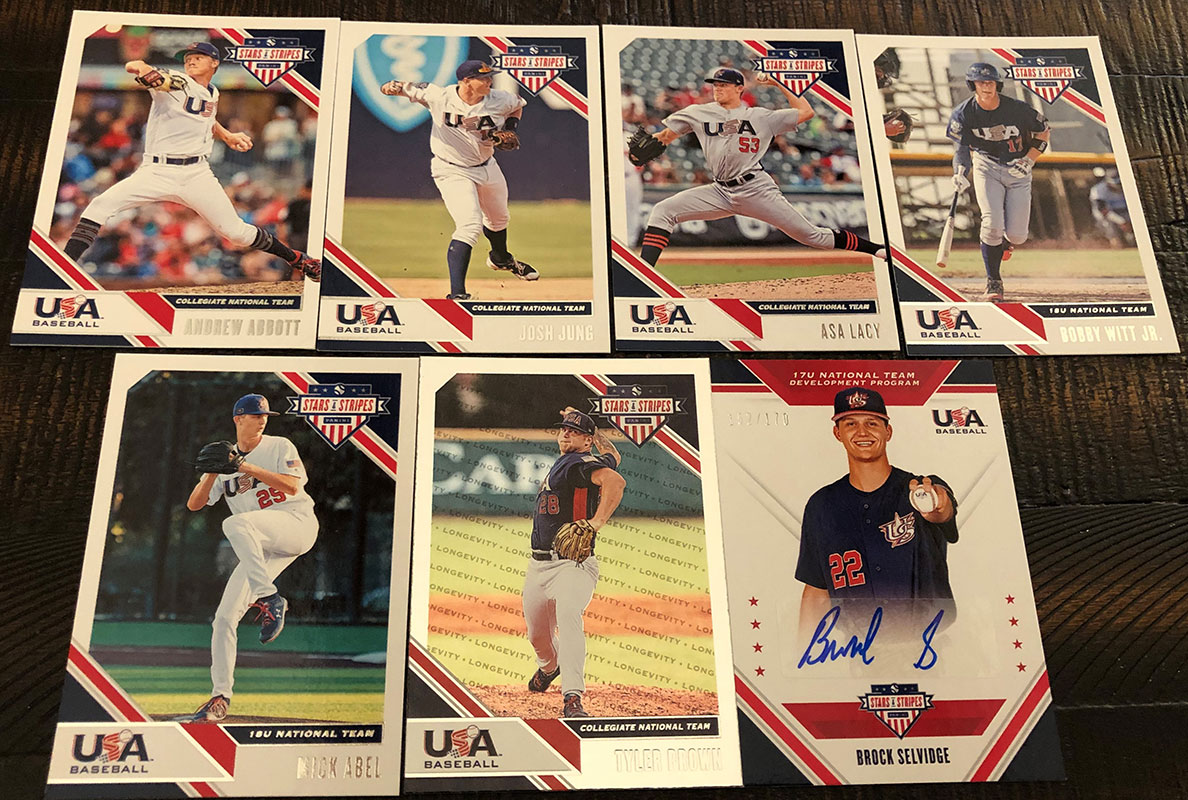 Pack 5:
Robert Hassell, Garrett Mitchell, Nick Frasso, Austin Hendrick, Drew Romo, Max Meyer Longevity & Cole Cowser Collegiate National Team Signature (096/499)
Pack 5 fun fact: Austin Hendrick was widely regarded as having the best raw power among this year's crop of high school hitters. He nabbed a $4 million bonus as the No. 12 overall pick by the Cincinnati Reds.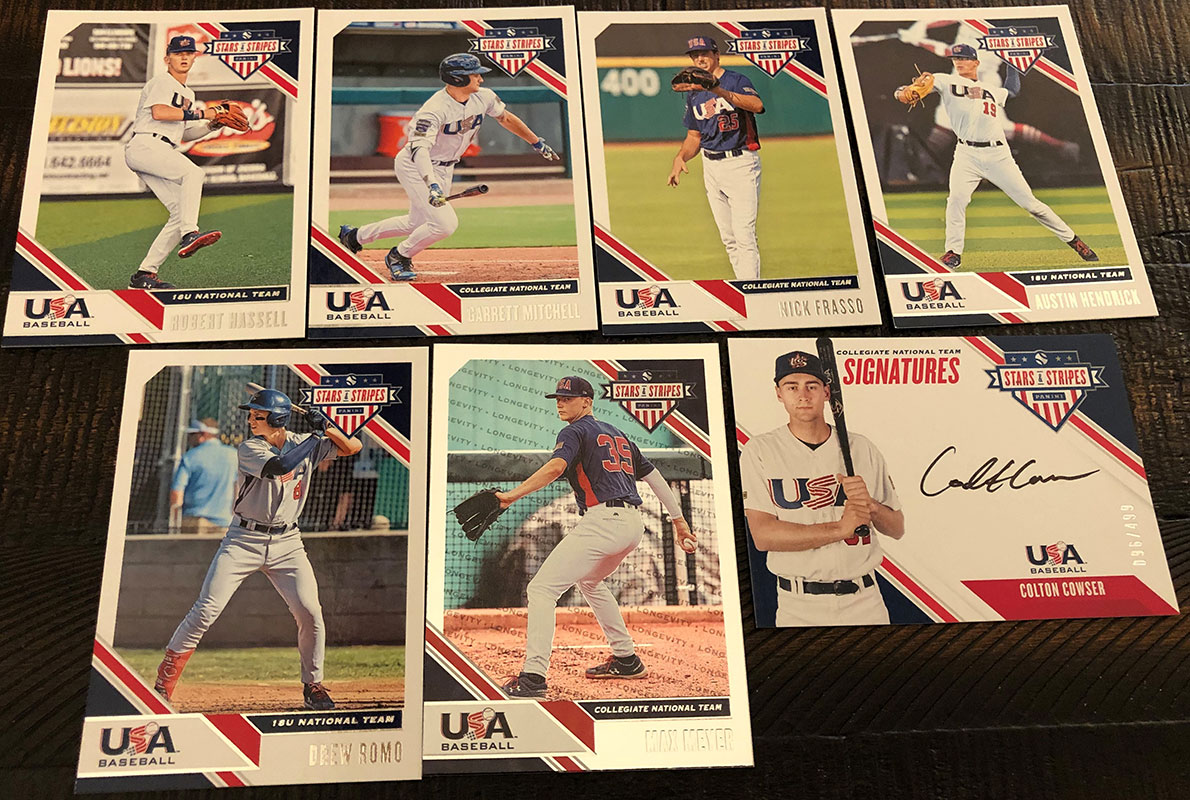 Lastly, the Garrett Mitchell card back. Mitchell was just drafted by the Brewers with the 20th pick in the first round of the 2020 MLB Draft.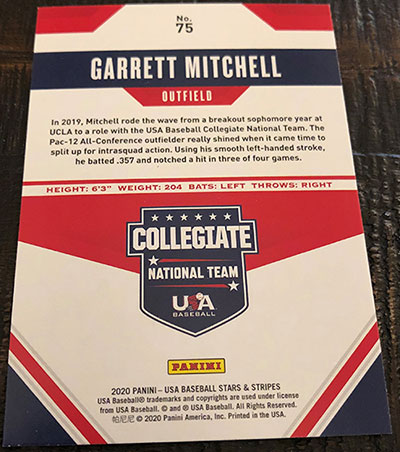 The knock you most often see on this product is in regards to the inclusion of players that are barely into high school. While I do understand that, and had certainly never heard of my 16U autograph of Gavin Ochoa, the potential is there. USA Baseball has a long history of alumni continuing on to major league success. For instance, I did a quick check of the 2010 16U National Team roster and a few names certainly stick out. Alex Bregman, Albert Almora, Matt Olson and Corey Seager all played on that team when they were 16-year olds. This product gives you the opportunity to pull early autographs of potential future stars. To me, that is worth the price. It also made this year's MLB Draft a lot more interesting.
Shop for 2020 Panini Stars and Stripes Baseball cards on:
Want more installments of Shane Salmonson's Cheap Wax Wednesday? Check out his other breaks in the archives.