A Nation Divided: 1962 Topps Civil War News
"Blood and guts and artwork will win every time."
That's how Len Brown described the best way to create a collectible set of non-sport cards. And he should know. Brown wrote himself a legendary career at Topps that began when he was just 18-years old and lasted for more than four decades. He was in the product development department and his specialty was writing the background information describing what the card front image is all about.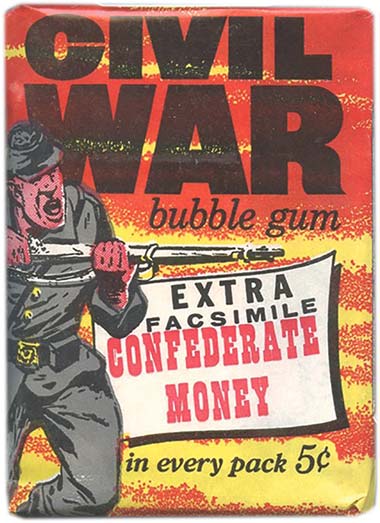 Brown learned the value of the "blood and guts" approach as a young fan of the Horrors of War set produced in 1938 by Gum Inc. With the Horror's lesson learned, he was with Topps when the company produced Civil War News in 1962, which then led him to help create Mars Attacks the same year and Battle three years later.
Blood Count
Common to all three card sets is the bloody and gut-spilling artwork dominating the fronts of the cards, plus the often shocking and occasionally tasteless descriptions on the card backs. Death or dying are mentioned so often on the checklist and the 87 other cards that the total qualifies as a morgue.
Common, too, is the widespread criticism leveled at the cards and companies that made them because blood and guts were so prevalent. Also common to all three sets is their long-lasting popularity.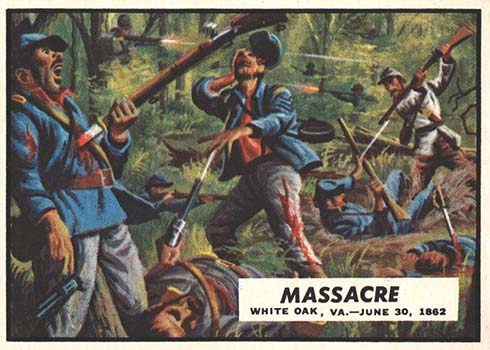 The commonality even extended to the devotion collectors felt for the card sets, best illustrated by 1962 Topps Civil War News. Topps had named the set simply Civil War, but it was collectors who added News to the name, a step toward clarity in recognition of the newspaper design dominating the backs of the cards. It turned out to be good news. The new name stuck.
Fake News
The 88-card set was created in 1961 and distributed in 1962 (which became its catalogue year). It was timed to coincide with the Civil War Centennial. The 87 artwork fronts have a horizontal design with all backs, including the checklist, vertical. Card fronts have narrow white borders and the title/headlines are in horizontal white boxes. The original artwork was not in oil or watercolor but in tempera, which results in a unique effect.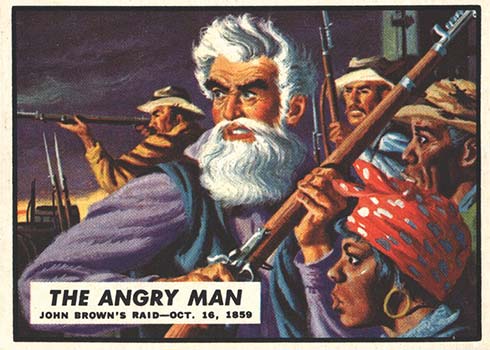 Card back descriptions are very detailed, although from 80 to 85 percent of the details are pure fiction, according to Len Brown.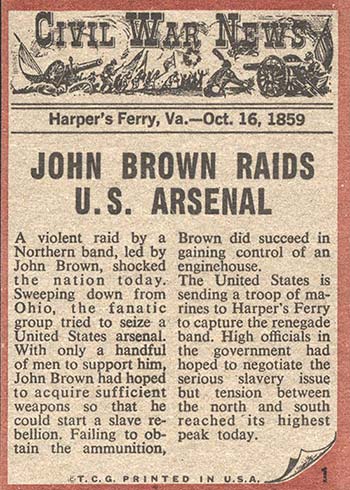 The cards are battle-oriented rather than focused on people, although Abraham Lincoln, Jefferson Davis, Robert E. Lee, Stonewall Jackson, and a few others do get some attention. These are among the most coveted cards in the set. Five cards focus on individuals and eight battles are on more than a single card, so the full set covers 73 different encounters.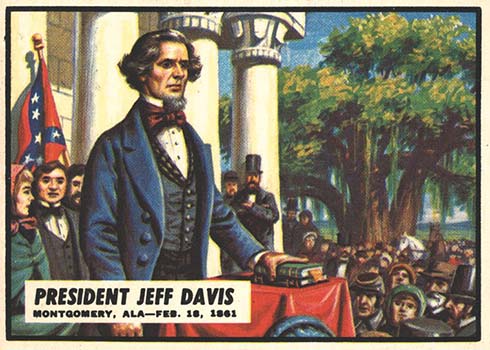 In a past interview, Topps' Brown estimated around 110,000 complete sets were produced. There are no short prints to complicate things, although the checklist is scarce now, and cards are often off-centered.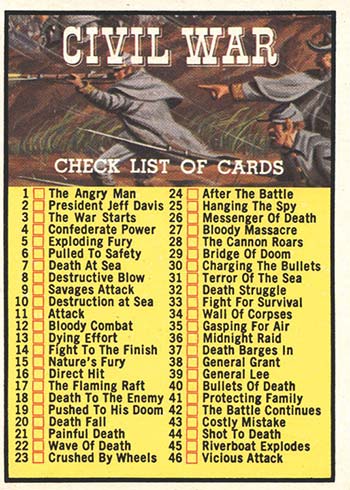 Cards came in 1¢ and 5¢ packs and 36-card rack packs.
Funny Money
With popularity quite naturally comes increased value and, for collectors, higher prices. Price guides list the value of a full set in top condition in the $850 range, but other sources (auctions, grading pros, etc.) range up to $3,120 for what was in 2020 the number one gem mint set on the PSA log, and $1,673 for the second best. Individual cards are at about $8 each, with the relatively scarce checklist (#88) cards around $60.
The accompanying insert series of 17 replica Confederate currency and bank notes, in dominations ranging from $5 to $1,000, was folded to fit into packs as an insert, so that doesn't affect their value.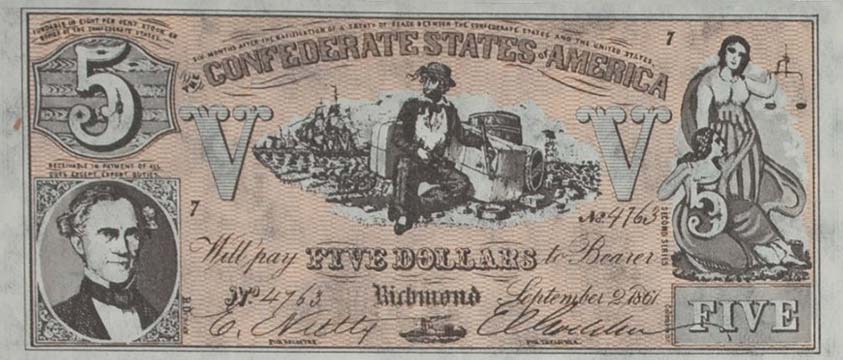 More War
Civil War News may be the most popular, but it's certainly not the only Civil War card set. Also popular are two sets, both produced in 1996, featuring the art of Mort Kunstler, the father of pulp fiction illustrations. They were produced by Keepsake Collection and Comic Images. A different kind of artwork was used by Freedom Press in 1994 in a 16-card set of Currier & Ives. A much larger set featuring 280 cards and 20 foldouts was produced in 2000 by Time Traders.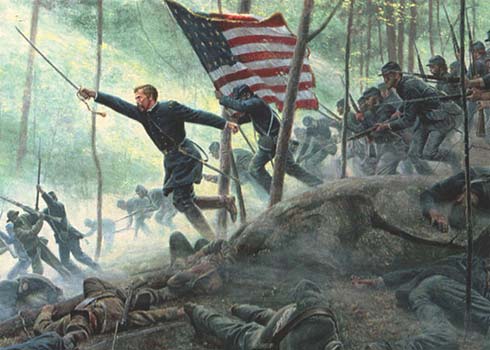 Cult-Stuff made up two Civil War Chronicles series in 2013 and 2015 featuring mostly sketches. Perhaps the most limited set was produced in 1991 called Civil War Collector's Cards and limited to 25 sets in plastic cases. Bon Air produced boxed and factory sets called Civil War Heritagein 1991 and '92. The Civil War is also included in many more general card sets like Topps' 1954 Scoop. One of the stars of that show is Abraham Lincoln, and this Civil War era president is perhaps on more cards than any other national leader. Even the National Parks Service has produced a series of Civil War cards.