There's plenty out there to collect when it comes to the Apollo 11 lunar mission. And for good reason. It's not like man steps on the moon for the first time very often. 1969 Topps Man on the Moon trading cards look at the lead-up to July 20, 1969 and Neil Armstrong's small step that has left a mark on history forever.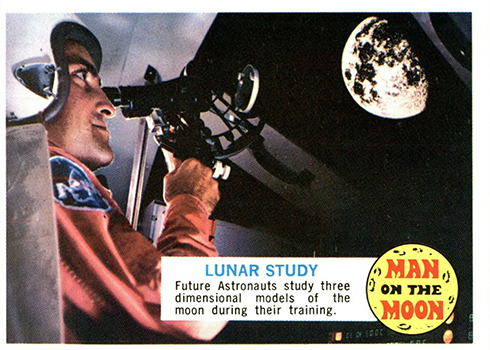 Over the course of 55 cards, the set offers a brief but intimate look at the planning and work that went into getting Armstong, Buzz Aldrin and Michael Collins into space. Despite the small checklist, plenty of ground is covered. The planning for Apollo 11 started before Apollo 11. Previous missions show the ships, sights from space and the science that went into it all.
Card backs form one of two different puzzles. The 35 'A' cards make one of the Apollo 11 crew: Armstrong, Aldrin and Collins. The remaining 20 'B' cards go together to form the Apollo 10 command module.
Card fronts have both the image and a small caption explaining what's going on. The result is an abbreviated lesson in the mission. Decades later, the context is a look back at history as it was still unfolding. Not many trading card sets can make a similar claim.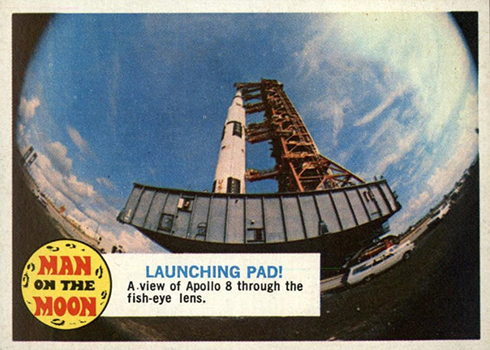 1970 Re-Issue
The original 1969 Topps Man on the Moon set focuses on the lead-up. In 1970 Topps re-issued the set, this time expanding the checklist to include the actual mission and landing.
An additional 44 cards were added to the checklist, some of which feature iconic images still engrained in the collective consciousness.
The first 55 cards are virtually the same. Images and captions don't change. But there is an easy way to identify them from the original 1969 cards. The number of the back of the re-issue cards all say "of 99." 1969 Topps Man on the Moon cards have either an "A" or "B" with the number.
So, "19A Launching Pad!" is an original 1969 card. "9 of 99 Launching Pad!" comes from the 1970 reissue.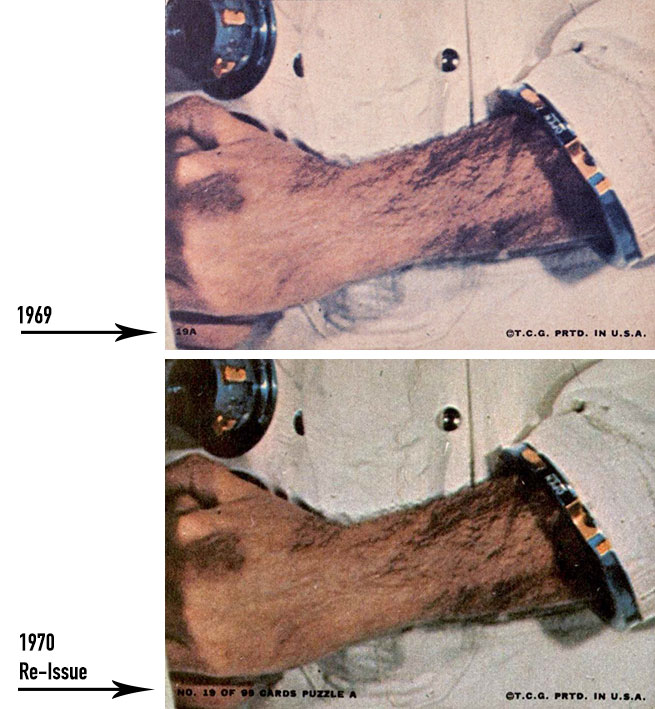 Down-to-Earth Prices
1969 Topps Man on the Moon ranks as one of the more recognized non-sport sets of its era. However, that hasn't necessarily translated into high values. Prices on raw singles vary based on condition, which is to be expected. Usually, though, individual cards are no more than a few dollars each.
Other than normal wear of things like corners and sides that come with handling, centering is a significant issue.
Even professionally graded NM-MT copies shouldn't break the bank on their own. MINT copies creep up somewhat, but not to the same extent of some other sets from the era. Simply put, 1969 Topps Man on the Moon remains a largely affordable set for the average collector.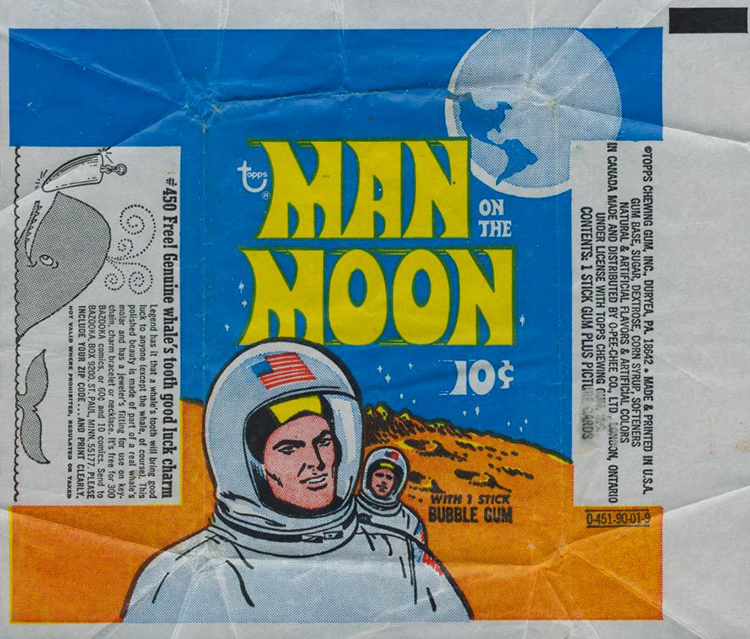 Shop for 1969 Topps Man on the Moon trading cards on:
1969 Topps Man on the Moon Checklist
55 cards.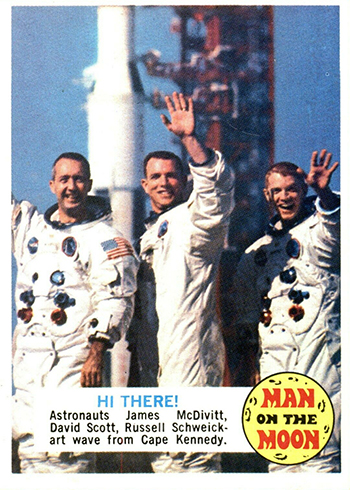 1A Apollo 10 Emblem
2A Apollo/NASA Insignia
3A Happy Landing
4A Space Photography
5A Astronaut Lovell
6A Lunar Test Run
7A Apollo 8 Success
8A Re-Entry
9A Homeward Bound
10A All Hands on Deck
11A Armstrong's Moon Shoes
12A Command Pilot!
13A Rehearsal!
14A Preparation for Flight!
15A Apollo 8 Insignia
16A Dress Rehearsal
17A Spacebound
18A Tiros 1
19A Launching Pad!
20A Earthbound!
21A The Apollo Camera!
22A Lunar Study
23A Earthlight!
24A Training Program
25A Blast-Off
26A Zero Gravity!
27A Preparation for Flight!
28A Bound for Glory!
29A Capsule Exit
30A Moon Surface
31A Testing a Lunar Module
32A Walk in Space
33A Apollo 10!
34A Dark of the Moon!
35A Launch Control Center!
36B Welcome Home
37B Spider
38B First Manned Mission!
39B The Saturn V!
40B Official Ceremony!
41B There She Goes!
42B The Apollo Orbit!
43B Helicopter Recovery
44B Briefing Session!
45B Lift Off!
46B Monitor Countdown!
47B Lunar Base!
48B Space Food!
49B Splashdown!
50B Change Course!
51B Hi There!
52B Astronaut Aldrin!
53B Moon Pilot!
54B Moon Commander!
55B First Men on the Moon!