2021 Upper Deck Marvel Unbound Checklist and Details
2021 Upper Deck Marvel Unbound is a slow-burn marathon of a set. Centered on the characters of the Marvel Universe, the checklist expands at the rate of one card per week. Exclusive to the Upper Deck e-Pack platform, every Monday a new card drops.
Art for the set is by French artist, Fred Ian.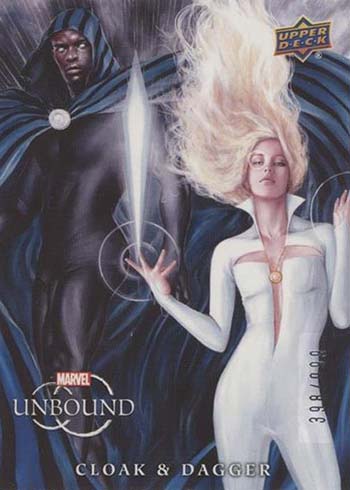 Base cards come numbered to 999 copies. They're sold via digital packs with the week's card guaranteed. The cards themselves do have physical copies, though, that can be requested for shipping.
The painted look and premium approach of Unbound gives it a similar feel as the Marvel Masterpieces line.
Every card has 50 Gold Autographs signed by Ian. These are a bonus second card in packs.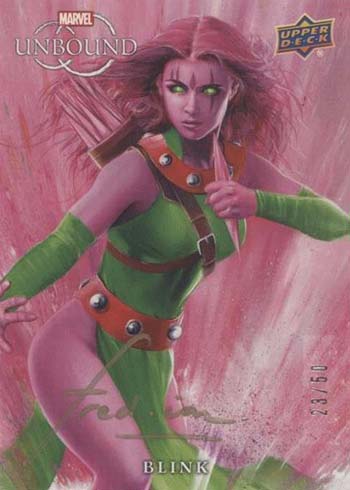 Achievements
Additional achievements act as rewards to those building card runs and sets through e-Pack. These include sketch cards and lithographs.
Upper Deck Marvel Unbound at a glance:
Release date: May 17, 2021
Cards per pack: 1
Set size: 100 cards (when complete)
2021 Upper Deck Marvel Unbound Checklist
New cards will be added as they're released.
Parallels:
Fred Ian Gold Autographs – /50
1 Ant-Man /999
2 Black Knight /999
3 Black Widow /999
4 Blink /999
5 Bullseye /999
6 Cloak & Dagger /999
7 Doctor Strange /999
8 Ego the Living Planet /999
9 Elektra /999
10 Fin Fang Foom /999
11 Gambit /999
12 Groot /999
13 Hulk /999
14 Iron Man /999
15 Jean Grey /999
16 Kraven the Hunter /999
17 Loki /999
18 Luke Cage /999
19 Medusa /999
20 Ms. Marvel /999
21 Mysterio /999
22 Namor /999
23 Nico Minoru /999
24 Scarlet Witch /999