2021-22 Panini Obsidian Soccer Checklist and Details
2021-22 Panini Obsidian Soccer is a product for collectors who like chrome but are looking for a different take on it. Customary for the brand, there are a couple of notable differences when you compare it to other lines like Prizm and Select. From a configuration standpoint, Obsidian is high-end with more than half of the cards in each box being an autograph or memorabilia card. There's also the look that swaps out the traditional silver look for something dark.
2021-22 Panini Obsidian Soccer Checklist Details
With 200 cards, the base set is a big one. It's also challenging with just one standard card per box. Base cards are serial numbered to 105.
As for player selection, the scope is broad. Some players are shown representing their national teams. All 20 Premier League squads are also in the set.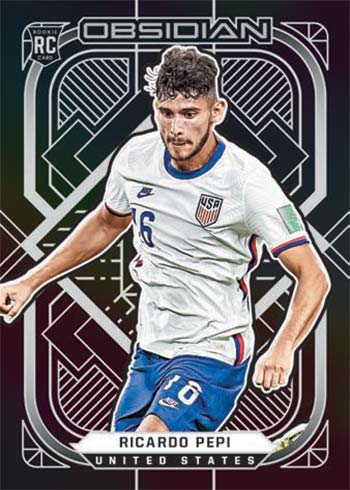 While colors are the theme for the Electric Etch parallels, most take a different approach with the background lines getting the rainbow treatment. Electric Etch colors include:
Purple – /30
Orange – /25
Blue – /20
Neon Yellow – /10
Green – /5
Blue Finite – 1/1
Additional Neon Blue Flood (/12), Contra (/9) and Neon Green Flood (/3) versions change out the background color, creating some contrast versus the other cards.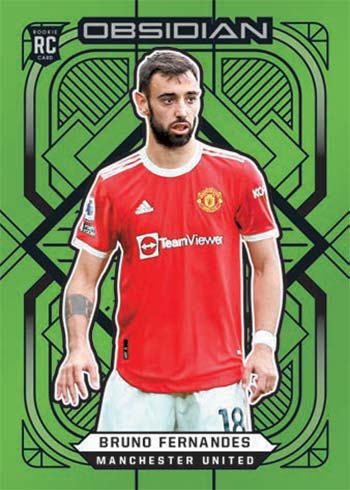 Parallels combine to land one per hobby box.
Autographs, Memorabilia Cards and Other Inserts
Four of the seven cards in every box are hits. Aurora Autographs are one of three places to find signatures.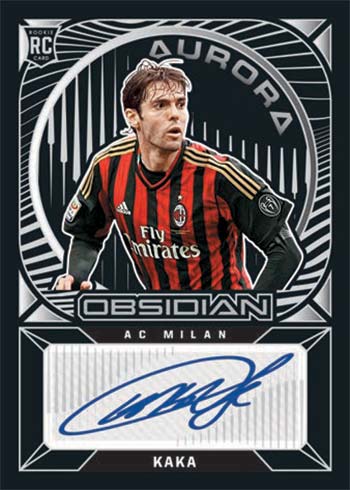 The checklist has five memorabilia themes including triple-swatch Trifecta Materials.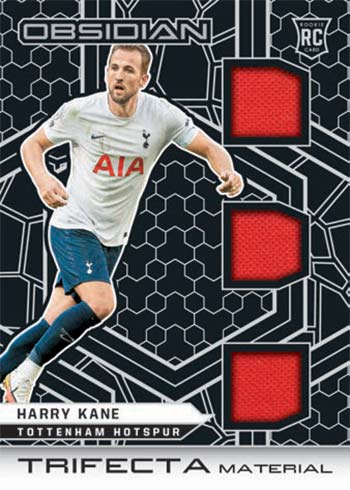 Four additional autograph relic sets are also on the checklist. Matrix Materials Autographs is one of them. Base versions are numbered to 149 with additional Electric Etch parallels available in Purple (/75), Orange (/50), Red (/25), Yellow (/10), Green (/5) and Blue Finite (1/1).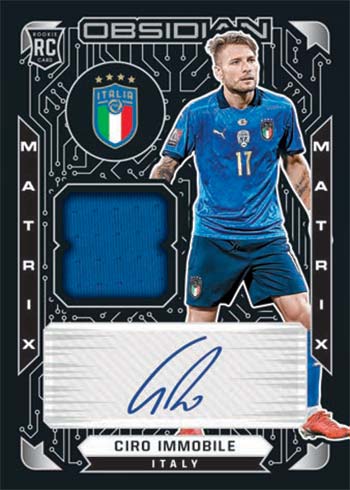 Rounding out 2021-22 Obsidian Soccer are a few regular insert sets, which are a combined one per hobby box.
Tunnel Vision and Equinox (/99) both use die-cut designs. Equinox parallels include Electric Etch Purple (/60), Electric Etch Orange (/30), Electric Etch Red (/20), Electric Etch Yellow (/10), Electric Etch Contra (/9), Electric Etch Green (/5), and Electric Etch Blue Finite (1/1).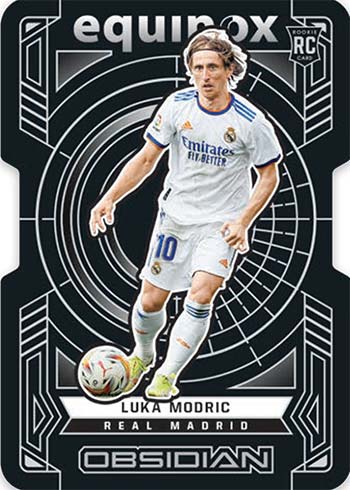 Black Color Blast are a case hit. These take after the regular Color Blast cards often found in Panini Prizm releases. However, instead of a white backdrop, these stick with Obsidian's darker look.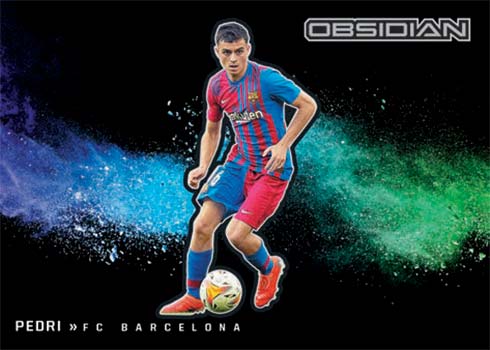 2021-22 Panini Obsidian Soccer cards at a glance:
Cards per pack: Hobby – 7
Packs per box: Hobby – 1
Boxes per case: Hobby – 12
Set size: 200 cards
Release date: June 15, 2022
Shop for 2021-22 Panini Obsidian Soccer boxes on eBay:
What to expect in a hobby box:
Autographs or Memorabilia Cards – 4 Total
Inserts – 1
Parallels – 1
Base Cards – 1
2021-22 Panini Obsidian Soccer Checklist
You can also download a customizable spreadsheet copy of the checklist including a section with full team breakdowns:
Please note that print runs for cards without serial numbers have not been announced.
Recent Panini Obsidian Soccer releases: