2020 Panini Obsidian Football Is Back with Black
With 2020 Panini Obsidian Football, it's more dark days. The distinct black designs return alongside the colorful etching. This year, it's also putting a noir spin on one of the hobby's most popular inserts.
Hobby boxes have seven cards, four of which are hits.
2020 Panini Obsidian Football Checklist Overview
2020 Obsidian Football has a 200-card base set. Half are current vets and retired stars. Rookies make up the other 100 cards. This may not sound like a massive amount, but when there's just one regular base card per box, finding individual copies may be tough.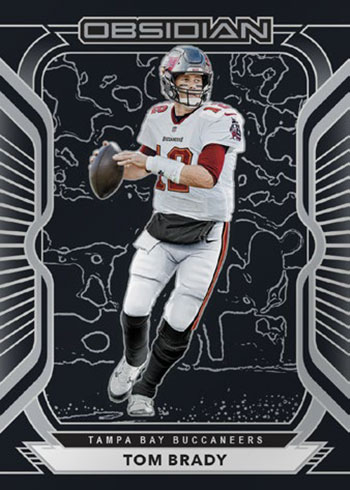 Like all of the cards in the product, base cards use Opti-chrome stock as its foundation. This puts it in a similar category as Prizm, Spectra, Optic and others. But Obsidian is unique in that it uses black as the dominant color.
Etching adds flair around players and in the background. This is also where parallels come in. Electric Etch parallels come in six levels that are based on the colors of the  lines:
Contra – one per case
Purple – /100
Orange – /75
Green – /50
Yellow – /25
Red – /10
Blue Finite – 1/1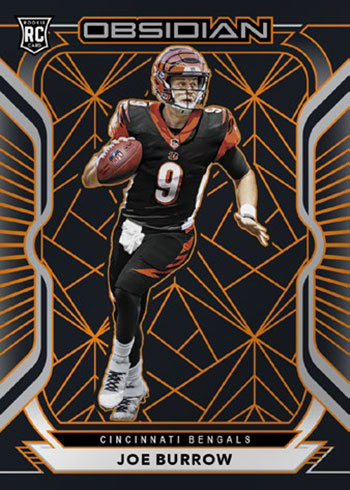 Parallels combine with inserts to fall two total per box.
Autographs, Memorabilia Cards and Other Inserts
Rookie Jersey Autographs, which uses over-sized pieces, and the dual-swatch Rookie Jersey Ink both bring signatures from prominent first-year players. Electric Etch versions for these come in Orange (/99 or less), Green (/50 or less), Yellow (/25 or less), Red (/10 or less) and Blue Finite (1/1).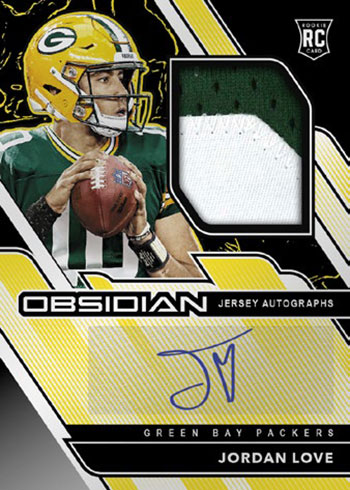 Other signature themes include Aurora Autos, Lightning Strike and Matrix Material Autos. These all feature veterans and players from the past.
On the memorabilia side, Volcanic Materials and Rookie Eruption both have jumbo swatches, albeit with different approaches to design. Both have additional Electric Etch Orange (/75 or less), Green (/50 or less), Yellow (/25 or less), Red (/10 or less) and Blue Finite (1/1) versions.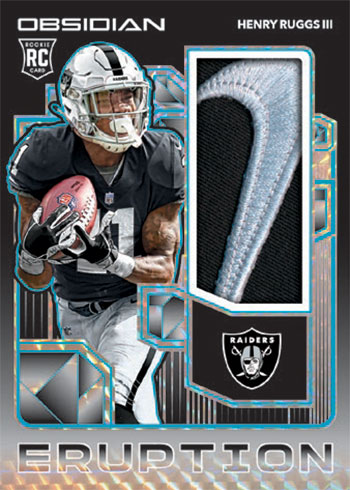 Galaxy Gear has memorabilia from veteran players.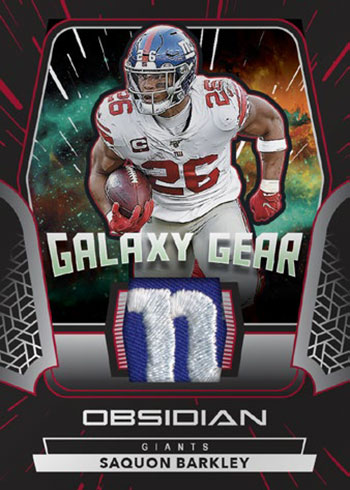 Supernova is among the returning insert sets in 2020 Panini Obsidian Football. A die-cut design and colorful background highlight these.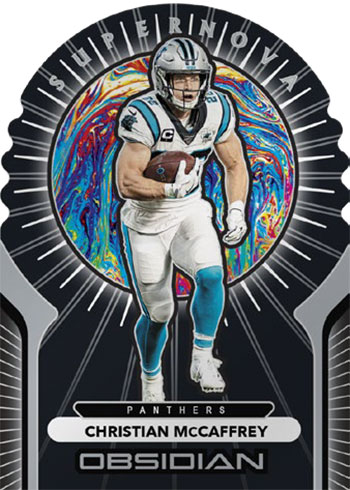 Tunnel Vision and Vitreous are also back for another year.
Color Blast Black inserts make their debut. These offer a new take on the regular Color Blast inserts that traditionally have a white background. The change here isn't a big one, making it black instead, but the result is striking in a new way.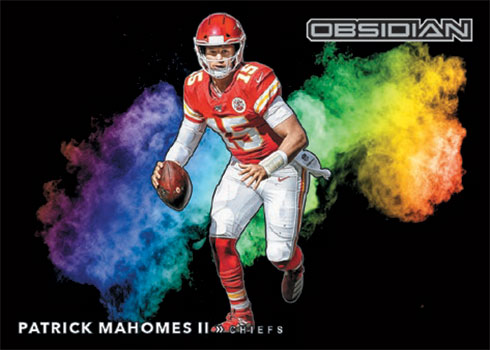 2020 Panini Obsidian Football cards at a glance:
Cards per pack: 7
Packs per box: 1
Boxes per case: 12
Set size: 200 cards
Release date: December 11, 2020
What to expect in a hobby box:
Autographs or Memorabilia Cards – 4 Total
Inserts or Parallels – 2 Total
Base Cards – 1
The full 2020 Panini Obsidian Football checklist and team set lists will be posted as soon as they're available, likely shortly before the set comes out.