2020 Parkside NWSL Challenge Cup Soccer Checklist and Details
2020 Parkside NWSL Challenge Cup Soccer packs several layers into a small box set. For starters, it commemorates the Challenge Cup, a return-to-play tournament that marked a return of pro sports amid the COVID-19 pandemic. There's also the fact that it showcases some of the best female soccer players in the game today. While some have appeared on sports cards before, there aren't a lot. Not only are there cards, but autographs add to the chase.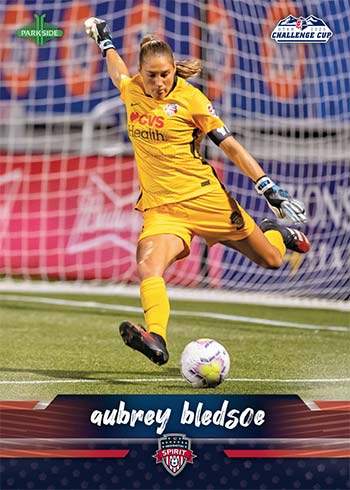 Each box set, which costs $15.99 on the Parkside website, comes with 16 total cards. A 15-card base set makes up most of that.
The final card is an insert that can fall under one of two categories.
Every fourth set has an autograph. The checklist features eight players including Lindsay Horan and Christine Sinclair. Base versions of every autograph, which are signed in purple ink, have 100 copies. There are also Player's Choice Red parallels that are much more scarce. At each signing, Parkside gave players ten cards for them to keep and had them sign these in red ink. Some of these have made their way into sets, though.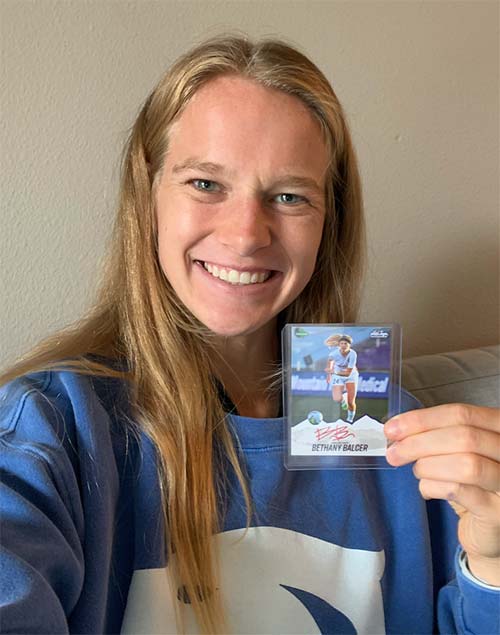 Sets that don't have an autograph come with a Promising Prospects insert instead. These use foil.
The 2020 Parkside NWSL Challenge Cup Soccer set has a print run of 3,000 copies.
2020 Parkside NWSL Challenge Cup Soccer at a glance:
Cards per factory set: 16
Set size: 15 cards
Release date: October 15, 2020
What to expect in a box set:
15-Card Base Set
Inserts or Autographs – 1
2020 Parkside NWSL Challenge Cup Soccer Checklist
Base Set
15 cards.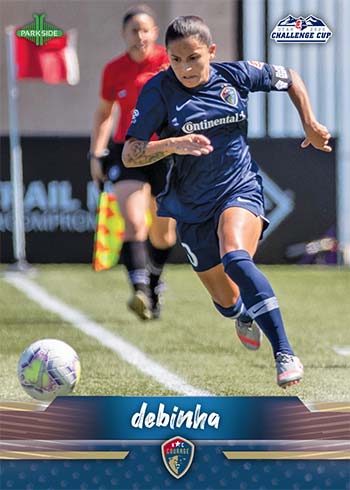 1 Sarah Gorden, Chicago Red Stars
2 Kealia Watt, Chicago Red Stars
3 Rachel Daly, Houston Dash
4 Shea Groom, Houston Dash
5 Debinha, NC Courage
6 Bethany Balcer, OL Reign
7 Simone Charley, Portland Thorns
8 Christine Sinclair, Portland Thorns
9 Toni Pressley, Orlando Pride
10 Paige Monaghan, Sky Blue FC
11 Kailen Sheridan, Sky Blue FC
12 Kate Del Fava, Utah Royals
13 Diana Matheson, Utah Royals
14 Ashley Hatch, Washington Spirit
15 Aubrey Bledsoe, Washington Spirit
Promising Prospects Checklist
10 cards.
3:4 sets.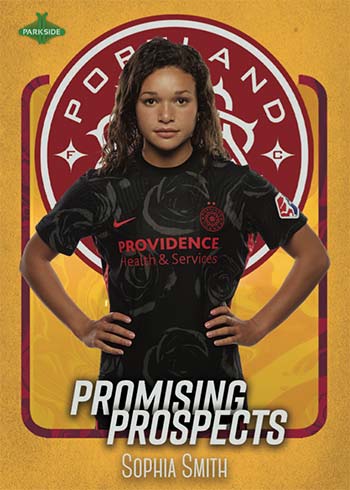 1 Sophia Smith, Portland Thorns
2 Evelyne Viens, Sky Blue FC
3 Ashley Sanchez, Washington Spirit
4 Taylor Kornieck, Orlando Pride
5 Morgan Weaver, Portland Thorns
6 Ally Watt, NC Courage
7 Courtney Petersen, Orlando Pride
8 Tziarra King, Utah Royals
9 Madison Hammond, OL Reign
10 Sarah Luebbert, Chicago Red Stars
Signature Series Checklist
8 cards.
1:4 sets.
Each card has 100 copies.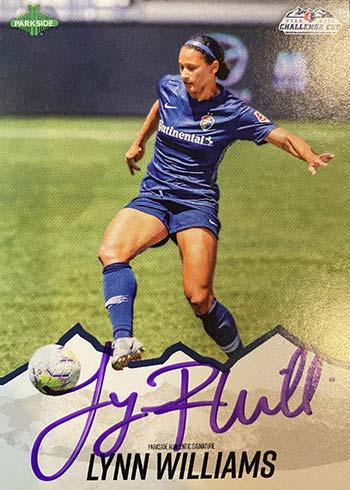 Parallels:
1 Ashley Sanchez, Washington Spirit
2 Bethany Balcer, OL Reign
3 Christine Sinclair, Portland Thorns
4 Lindsey Horan, Portland Thorns
5 Lynn Williams, NC Courage
6 Jane Campbell, Houston Dash
7 Morgan Weaver, Portland Thorns
8 Tziarra King, Utah Royals