2019-20 Upper Deck Credentials Hockey takes collectors out to the rink, at least in a metaphorical sense, for its debut. The idea behind the line is to make the hockey card equivalent of the sights, sounds and science of the game. That translates into several styles of cards and materials. Hobby boxes, which have eight packs, include at least one autograph and either a metal or acetate-style insert.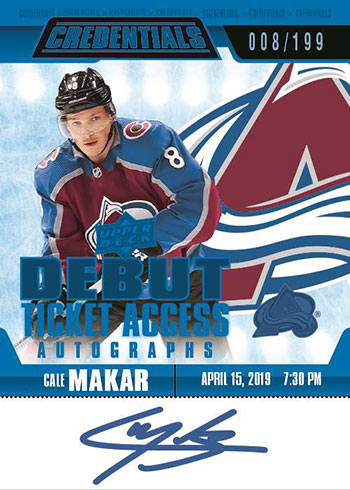 2019-20 Upper Deck Credentials Hockey Base Set Basics
Credentials keeps its main base set on the small side with just 50 cards.
Each of these has four parallels that follow a color route: Red (/225), Green (/125), Purple (/49) and Black (/10).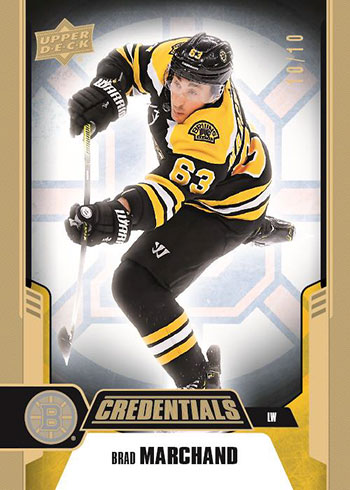 Debut Ticket Access cards take a look at the season's rookie crop with 100 high number short prints. As the name suggests, the design is rooted in the look of a game ticket — from the days we all used them to get through the gate. It's a similar concept to what Panini does with their Contenders line.
Base Debut Ticket Access versions have four levels of rarity, all numbered: Tier 1 (/999), Tier 2 (/699), Tier 3 (/499) and Tier 4 (/299).
Regular parallels are similar to the base set with Red (/99), Green (/25), Purple (/10) and Black (1/1) versions. In addition to these, the top two tiers have Acetate versions (Tier 3 /299, Tier 4/99) as well as Acetate Autographs (/99 or /25).
The rookie ticket theme spills over into signatures. Debut Ticket Access Autographs (/299 or /199) include on-card signatures. Parallesl for these are Red (/65), Green (/25) and Gold (1/1). And like the Rookie Ticket Autographs in Contenders, there are Photo Variation versions are well. Base versions are numbered to 49 with parallels having 25 copies or less.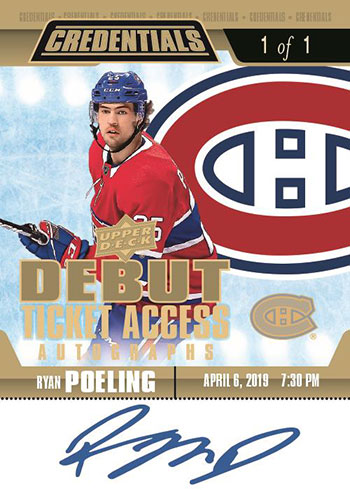 Additional Autographs and Inserts
It's not just rookies that get the ticket treatment. Ticket Access Autographs bring the concept to veterans. Base versions have different print runs. Tough parallel versions include Red (/10), Green (/5) and Gold (1/1).  Ticket Access inserts also have acetate versions, with and without autographs. The ones without signatures have 199 copies each.
Dual Ticket Access Autographs add a second signature. Like the veteran autographs, these have Red (/5), Green (/3) and Gold (1/1) parallels.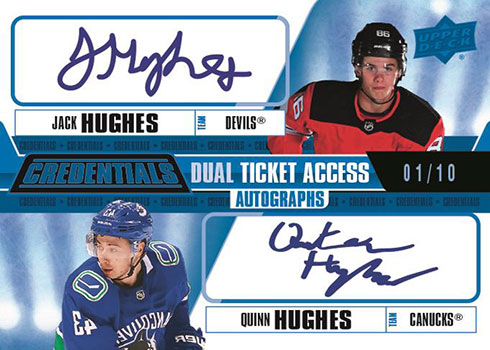 Rookie Science inserts are among the easiest chase cards in 2019-20 Credentials, falling 1:2 hobby packs. The theme and look of these touch on the physics of hockey. Autograph versions are 1:32 packs.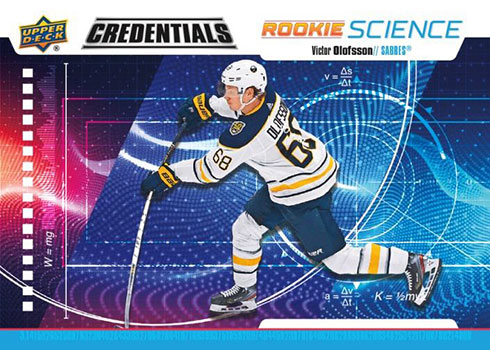 At the conclusion of every game, the Three Stars are named. That's the inspiration for Star of the Night, which has separate 1st Star, 2nd Star and 3rd Star checklists for veterans (1:15) and rookies (1:20). Select cards also have autographs with vets maxing out at 199 copies each and rookies at 99.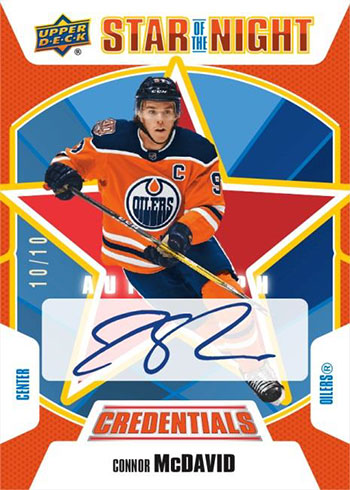 Through the Boards (1:54) and Through the Boards Young Bloods (1:54) both use acetate stock to offer a collectors a glimpse through the glass at ice level.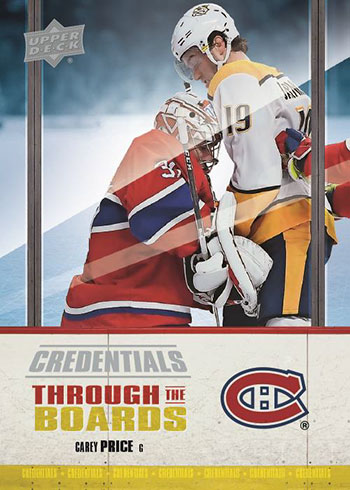 Steel Wheels (1:16) have metal stock, reflective of skate blades. Gold parallels have 99 copies each.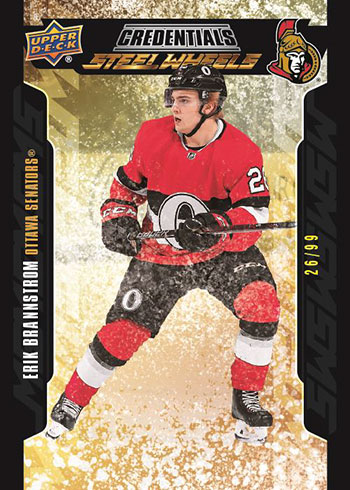 2019-20 Upper Deck Credentials Hockey cards at a glance:
Cards per pack: 6
Packs per box: 8
Boxes per case: 20 (two 10-box inner cases)
Set size: 150 cards
Release date: March 4, 2020
What to expect in a hobby box:
Autographs – 1-2
Metal or Acetate Cards – 1
Debut Ticket Access or Parallels – 5 Total
Additional Inserts – 4
The full 2019-20 Upper Deck Credentials Hockey checklist and team set lists will be added when they're available, likely shortly before the set's release.