Die-cut designs, regal rarities and the synonymous Silhouettes all return in 2019-20 Panini Crown Royale Basketball. Like last year, hobby boxes have both an autograph and a memorabilia card. Joining them are two total inserts and parallels.

2019-20 Panini Crown Royale Basketball Overview
Silhouettes still rank among the most recognizable autograph patch cards in the collecting world. On-card signatures are on top. There's a shield cut-out in the middle along with a die-cut player shot. These make up the memorabilia window, one that's on the large side.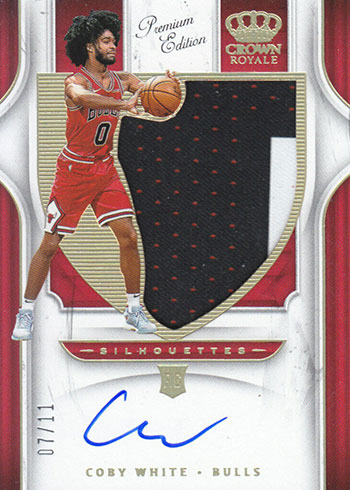 Silhouettes highlight NBA stars while Rookie Silhouettes showcase top first-year players. Both have Prime (/25 or less) and Super Prime parallels that come with premium swatches.
The die-cuts cover other autograph sets as well.
Lineage Scripts have hard signatures from rookies as well as different types of foil.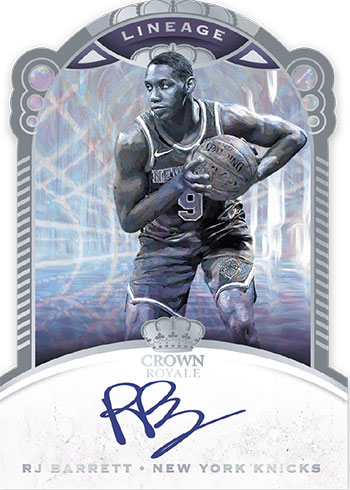 Vets and retired players can be found in Crown Jewel Signatures and Regal Achievement Signatures.
Crown Royale goes Kaboom! once again with a new crop of 25 tough inserts. These use player illustrations, bright colors and a patterned background that is instantly recognizable.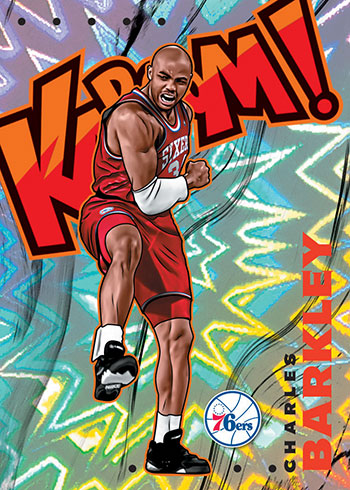 Die-cut foil designs are the backdrop for a couple of additional insert sets, Lords of the Court and Rookie Royalty. Both of these have additional parallel versions.
Other insert themes include The King's Court and Air to the Throne.
As for the base set, 2019-20 Crown Royale Basketball sticks with a die-cut look that the line is known for. Multiple Crystal parallels are available with some as rare as one-of-one.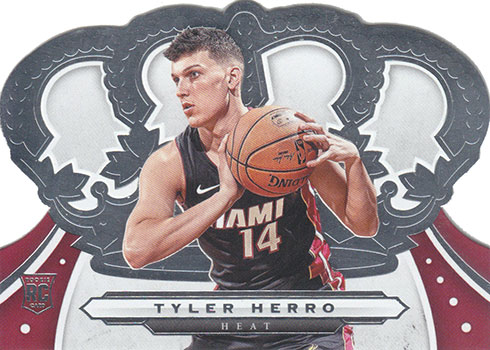 2019-20 Panini Crown Royale Basketball cards at a glance:
Cards per pack: 8
Packs per box: 1
Boxes per case: 16
Set size: 139 cards
Release date: January 31, 2020
Shop for 2019-20 Panini Crown Royale Basketball boxes on eBay:
What to expect in a hobby box:
Autographs – 1
Memorabilia Cards – 1
Inserts or Parallels – 2 Total
2019-20 Panini Crown Royale Basketball Checklist
Base
Autographs
Memorabilia
Inserts
Team Sets