2017 Panini Flawless Collegiate Basketball Brings a Briefcase to Class — Checklist Posted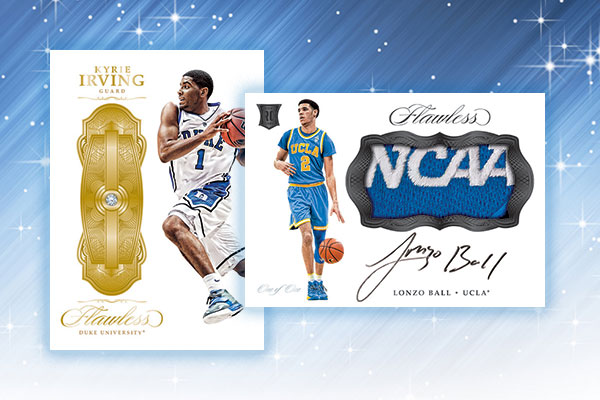 Let's be honest. When you went to school and one of your classmates walked in carrying a briefcase, you probably thought it was a little odd. Backpacks were both perfectly practical and had a certain sense of fashion. 2017 Panini Flawless Collegiate Basketball brings the ultra-premium line–and its briefcase packaging–to NCAA hoops for the first time as a standalone set. For once, the school-bound briefcase may be better than that backpack.
As with everything Flawless, virtually all of the product is dedicated to premium autographs and memorabilia. Those cards that don't? They have gems embedded in them.
Base Set
Regular base cards in 2017 Panini Flawless Collegiate Basketball feature past college stars in their school uniforms. Numbered to just 20 copies each, they have a diamond. Parallels fold in other gems like Ruby (/15), Sapphire (/10), Emerald (/5) and over-sized Diamonds (1/1).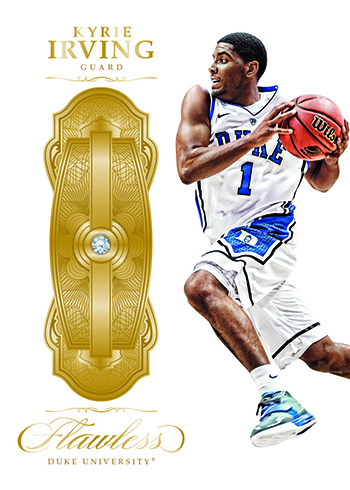 The base set itself is on the small side with just eight cards for 2017-18. However, there are also 20 similar cards done covering 2016-17.
Autographs and Memorabilia Cards
Unless it's a cut signature, autographs in 2017 Panini Flawless Collegiate Basketball are on-card and have no more than 25 copies each.
Rookie Patch Autographs highlight members of the 2017 rookie class. That means signatures and premium swatches from the likes of Lonzo Ball, Jayson Tatum, Markelle Fultz and more. Parallels include a variety of logos including the NCAA, teams and other brand marks.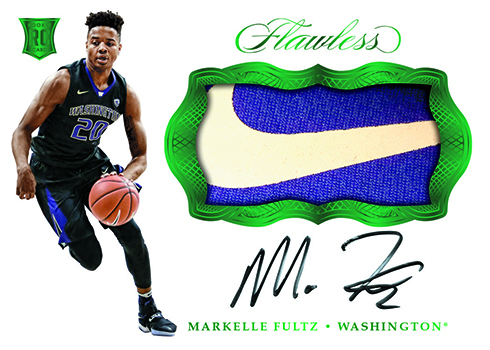 Patch Autographs take on a similar design as their rookie counterparts. However, the checklist highlights veterans instead.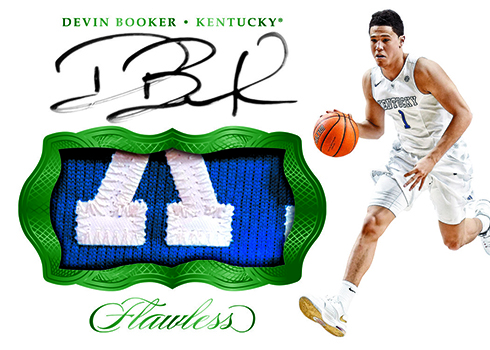 Dual Patch Autographs switch the design up a little bit to make room for a second over-sized premium swatch.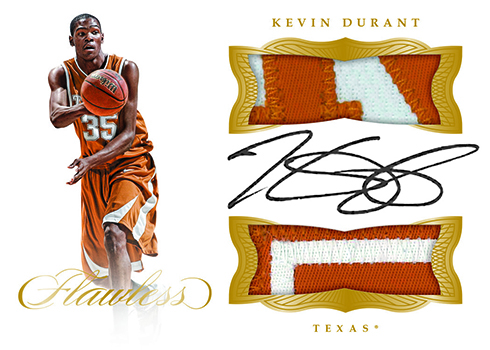 2017 Panini Flawless Collegiate Basketball has other autographed inserts as well. Premium Ink takes a somewhat straightforward approach, albeit, according to Panini, with a checklist of only top talent.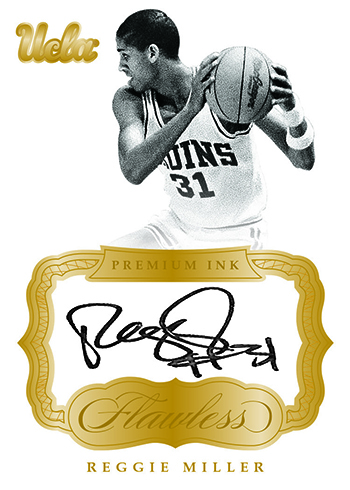 Team Slogan Signatures offer a bit of a different take on inscriptions. These have a note synonymous with the player's school attached to it.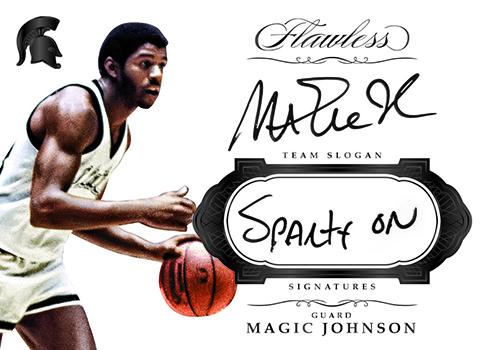 Other themes include Flawless Dual Signatures, Rookie Autographs, Team Logo Signatures and Dual Diamond Memorabilia Autographs.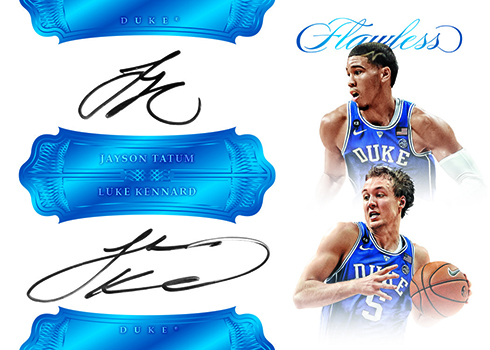 One insert set doesn't have signatures or swatches. In fact, it doesn't even have players. One-of-one Flawless Team Gems take a school's logo and bling it out with a variety of gems.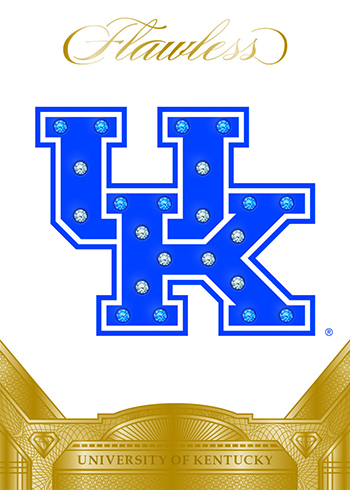 Some 2017 Panini Flawless Collegiate Basketball boxes feature only cards from either the University of Kentucky or UCLA.
2017 Panini Flawless Collegiate Basketball at a glance:
Packs per box: 1
Cards per pack: 10
Boxes per case: 2
Release date: November 15, 2017
What to expect in a hobby box:
• Autographs – 6
• Additional Autographs or Memorabilia Cards – 2 Total
• Gem Base or Parallel Cards – 2 Total
2017-18 Panini Flawless Collegiate Basketball Checklist
Base
Autographs
Memorabilia
Inserts
Updates
Comments? Questions? Contact Ryan Cracknell on Twitter @tradercracks or by email.