2017 Donruss Optic Football Box Busters
Join Eric Norton and Paul Wirth as they open some 2017 Donruss Optic Football.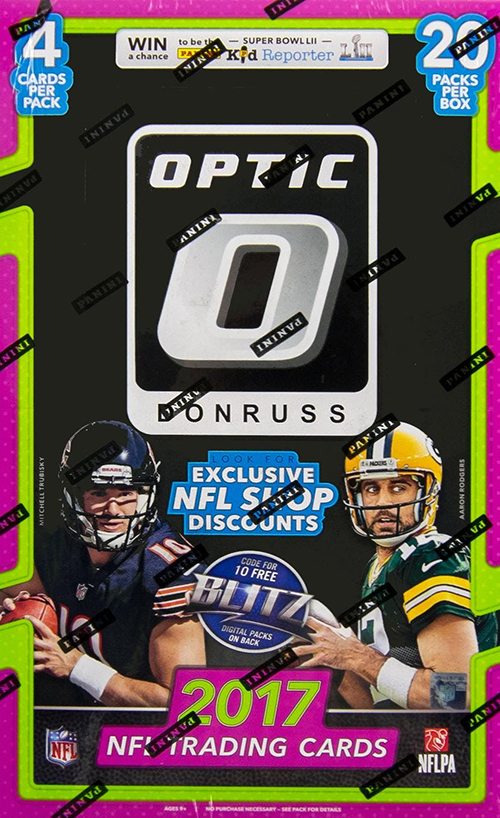 What will they find? Watch and find out.
2017 Donruss Optic Football Box Breakdown
Here's a look at the box and what we pulled.
Packs per box: 20
Cards per pack: 4
Cards per box: 80
Base Set Completion (57/100): 29%
Duplicates: 6
Parallels: 9
Aqua: 2
Chris Wormley/299
DeMarco Murray/299
Holo: 5
Julio Jones
Ben Roethlisbeger
Jake Butt
Elijah Hood
James Conner
Orange: 1
Melvin Gordon/199
Red: 1
Kelvin Benjamin/75
Autographs: 4
This was a hot box. Hobby boxes normally have one autograph.
Rate Rookie Autographs Holo: 1
Josh Reynolds /99
Rookie Autographs Purple: 2
Jeremy Sprinkle /35
Tre'Davious White /35
Rookie Autographs Red: 1
Trent Taylor /50
Memorabilia Cards: 0
Inserts: 6
Gridiron Kings: 1
Eli Manning
Gridiron Kings Blue: 1
Aaron Rodgers /149
Illusions: 1
Joe Mixon/Adrian Peterson
Inducted: 1
Terrell Davis
The Rookies: 1
Dede Westbrook
The Rookies Gold: 1
Mike Williams /10
See Also: 2017 Donruss Optic Football Checklist and Price Guide Access