2016 Topps UFC Knockout packs a high-end punch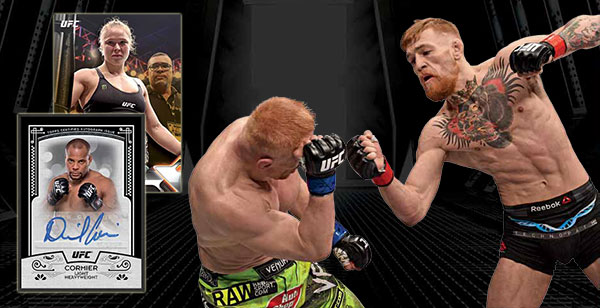 By Ryan Cracknell | Hobby Editor
2016 Topps UFC Knockout sticks with its focus on delivering autographs and memorabilia cards in quantity. The high-end product is shifting away from mini boxes and moving towards a more traditional pack structure. However, with two numbered hits per pack, each delivers a similar amount of autographs and memorabilia cards as a lot of sports card hobby boxes.
2016 Topps UFC Knockout has a mix of autographs and relics, all of which are serial numbered. At least one of the hits in each pack is an autograph.
Autographs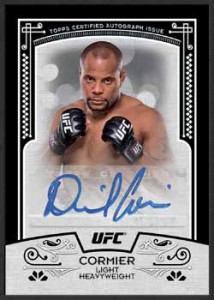 Seeing as how hits are the focus, it shouldn't be surprising that there are a lot of different types of signed cards in 2016 Topps UFC Knockout. Knockout Autographs comprise the bulk of them. More than 40 fighters and UFC personalities are on the checklist with first-time signers getting the usual "First Autograph" designation. Parallels come in Red (/8) and Mat (1/1).
Museum Collection Autographs return with their trademark frames. Cards come with Silver (/15), Gold (/10) and Black (/5) versions.
Scarlet Signatures (/50) have red autographs.
Multiple autographs can be found on a few different rarities. Dominant Duos (/10) have signatures from two fighters featured on the same card. Triumphant Trios (/10) take a similar approach with three winning fighters from the same night. Thoughts from the Boss (/50) return with autographs from UFC head Dana White along with a fighter. SixSigs Autographs (/5) are also back, showcasing the penmanship of six fighters sharing a trait.
Relics
Knockout Relics and Fight Mat Relics are both numbered to 188 and are the most common memorabilia cards in the product. These have Gold (/88), Ruby (/8) and Mat (1/1) parallels.
Dominant Duos Dual Relics are also numbered to 188. These come with two pieces of memorabilia.
Momentous Material Jumbo Relics (/25) have a jumbo swatch of fight-used canvas. Parallels come in Ruby (/8) and Emerald (1/1).
Momentous Material Glove Patch Relics (1/1) have the wrist strap patch from a fighter-worn glove.
Championship Belt Plate Mat Relics (/50) combine a piece of event-used mat with a replica belt plate, which is also embedded into the card.
Autographed Relics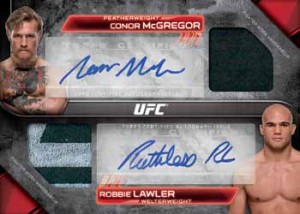 Signed memorabilia cards can be found in 2016 Topps UFC Knockout, just not very easily. Most are essentially parallel versions of other relic and autograph themes.
Knockout Autograph Relics have a checklist of more than 30 fighters along with Red (/8) and Mat (1/1) parallels.
Some of the familiar names include Scarlet Signatures Autograph Relics (/10), Championship Belt Plate Autograph Relics (/8) and Dominant Duos Dual Autograph Relics (/5).
Multiple signatures can also be found on Dual Autographed Fight Mat Relics (/10).
Museum Memorabilia (1/1) have a signed over-sized piece from a fighter-worn UFC glove.
Redemptions are randomly inserted for autographed UFC gloves.
Sketch Cards
Canvas Collection Originals bring back rare sketch cards. These have original artwork done directly on the card. Because of their unique nature, each is considered a one-of-one.
Base Set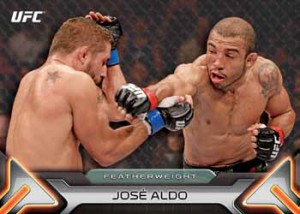 While much of the attention is going to be on the autographs and memorabilia, 2016 Topps UFC Knockout still has a base set.
It comes with a modest 100-card checklist featuring current and retired fighters and UFC officials.
Numbered parallels come in Silver, Gold (/99), Red (/8) and Mat (1/1).
2016 Topps UFC Knockout at a glance:
Packs per box: 4
Cards per pack: 10
Boxes per case: 12
Set size: 100 cards
Release date: March 30, 2016
What to expect in a hobby box:
Autographs – 4
Additional Autographs and Memorabilia Cards – 4