2016 Panini Super Bowl Highlights cards available exclusively to NFL Experience attendees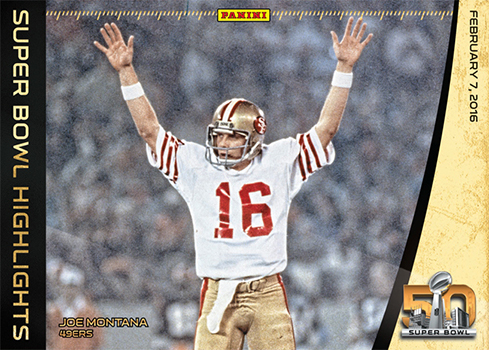 By Ryan Cracknell | Hobby Editor
Those headed to the NFL Experience in San Francisco ahead of Super Bowl 50 will likely have plenty of collectibles and items to chase. On the football card front, it's the only place to find the 2016 Panini Super Bowl Highlights promo set.
The main part of the set features standout stars from past Super Bowls. While there's a lot of history on the checklist, a lot of the players gravitate more towards the modern era of the game. Among them are Tom Brady, Aaron Rodgers, Drew Brees and Russell Wilson. Joe Namath, Emmitt Smith, John Elway and Roger Staubach are some of the legends from previous generations.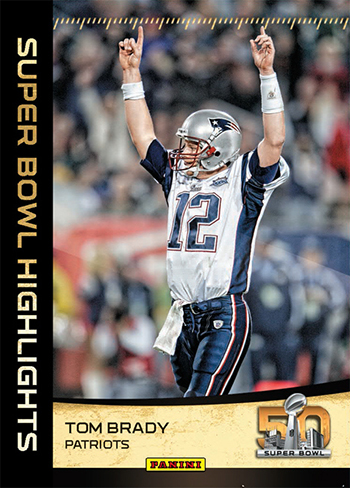 In all, there are 20 cards on the 2016 Panini Super Bowl Highlights checklist.
To get cards, people must visit the Panini booth at the NFL Experience and participate in interactive activities.
Joe Montana is featured on an over-sized card that's available separately. It brings the total number of cards in the promo set up to 21.
The 2016 NFL Experience runs from January 30 through February 7, Super Bowl Sunday, at San Francisco's Moscone Center.
A full gallery of all of the 2016 Panini Super Bowl Highlights cards is posted on the company's blog.
2016 Panini Super Bowl Highlights Checklist
Aaron Rodgers, Green Bay Packers
Ben Roethlisberger, Pittsburgh Steelers
Drew Brees, New Orleans Saints
Eli Manning, New York Giants
Emmitt Smith, Dallas Cowboys
Jerry Rice, San Francisco 49ers
Joe Flacco, Baltimore Ravens
Joe Namath, New York Jets
John Elway, Denver Broncos
John Riggins, Washington Redskins
Kurt Warner, St. Louis Rams
Marcus Allen, Los Angeles Raiders
Peyton Manning, Indianapolis Colts
Randy White, Dallas Cowboys
Roger Staubach, Dallas Cowboys
Russell Wilson, Seattle Seahawks
Steve Young, San Francisco 49ers
Terrell Davis, Denver Broncos
Tom Brady, New England Patriots
Troy Aikman, Dallas Cowboys
Over-Sized Card
Joe Montana, San Francisco 49ers
Comments? Questions? Contact Ryan Cracknell on Twitter @tradercracks.