15 of the Most Memorable Airbrushed Baseball Cards
Let's dive into 15 of the most memorably spectacular airbrushed baseball cards released in the 1970s.
1. 1976 Topps Traded Oscar Gamble
Oscar Gamble's cards are cult favorites among 1970s fans and none more so than his Traded card in which he displays an airbrushed Yankees hat propped precariously on his extensive Afro and pinstripes painted haphazardly onto a jersey that looks like it's been placed on him like a barbershop cape.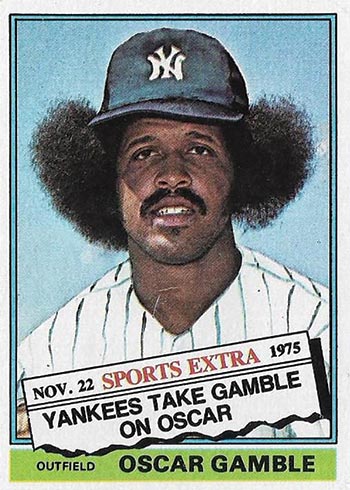 2. 1975 Hostess Rusty Staub
Rusty Staub's Hostess card is baffling given that Topps provided the photos for Hostess cards and that Topps produced a photo of Staub in a Mets uniform in its 1974 set. Yet, on the '75 Hostess card, Staub appears with a painted Mets helmet and some partial Mets pinstripes atop an Expos jersey logo!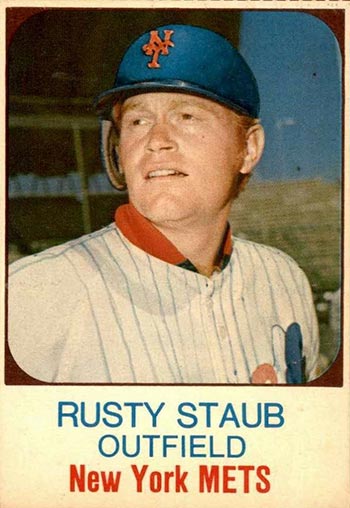 3. 1977 Topps Rick Jones
The '78 Minton and Paxton cards look positively life-like next to Jones' only Topps card. Jones' image is either a colorized black-and-white photo or a court room sketch artist's rendition of what Jones looks like.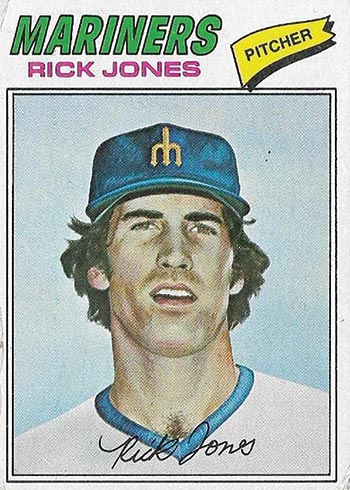 4. 1973 Topps Frank Robinson
Robinson's move from the Dodgers to the Angels came in the same Nov. 28, 1972 trade that sent Bobby Valentine to Anaheim. But instead of drastically overhauling Robinson's action shot in Dodger Stadium, Topps merely used white-out on the Dodgers' script on the front of Robinson's jersey. The rest of Robinson is leftunscathed.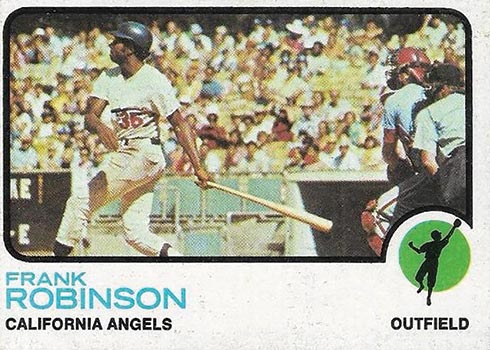 5. 1973 Topps Tommie Agee
Tommie Agee is fielding a pop fly on his '73 card next to his teammates, Bud Harrelson and Rusty Staub. It's a photo from a Mets game, but one problem: Agee has been traded to the Astros. "No problem!" says the Topps airbrusher. "Let's make his teammates Astros, too!" Bud Harrelson never played for the Astros except on this card.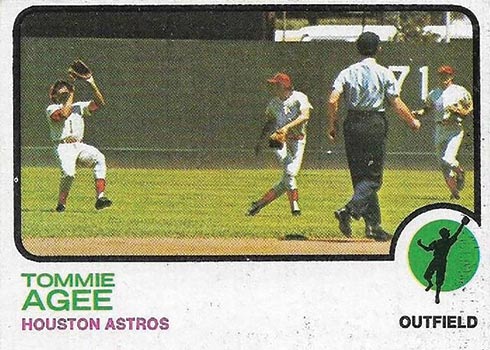 6. 1975 Topps Hank Aaron
Big news in November, 1974 when the all-time home run king was dealt from the Braves to the Brewers not even eight months after he set the record. It all moved too fast for Topps which shows Aaron on two different cards with two different teams in its '75 set. His card at #660 shows a profile shot of Aaron, possibly so Topps could avoid painting a Brewers logo on his hat.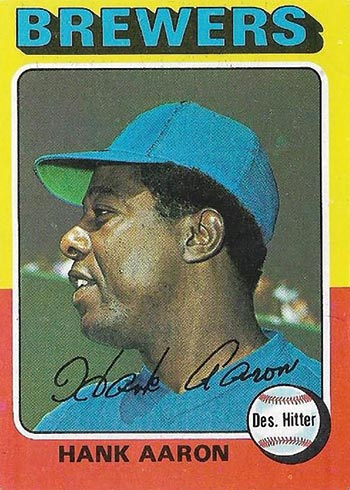 7. 1978 Topps Rich Gossage
Gossage's '78 card isn't the first example of a player being painted into his new jersey from head to toe. Topps offered full-body uniform paintings of Doyle Alexander and Eric Soderholm the year prior. But Gossage's paint job stands out because he is pitching in San Francisco's Candlestick Park, a place the Yankees never visited during the '70s.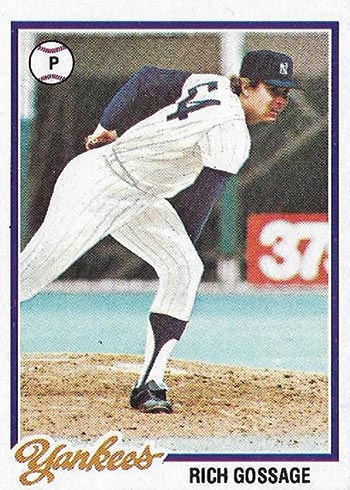 8. 1977 Topps Tommy Helms
Ever wonder what it would look like if a player wore a hollowed-out half of a melon on his head complete with a monstrous "A" painted on it? Helms' card is as close as you will ever see.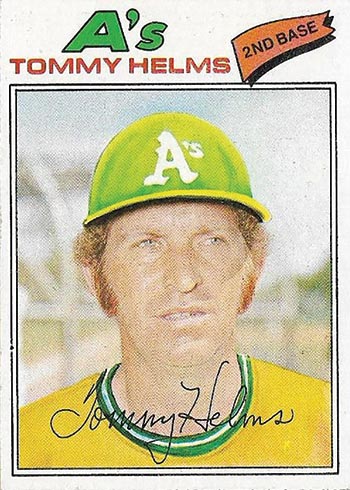 9. 1974 Topps Ralph Houk
Ralph Houk's entire managing career through 1973 had consisted of leading the Yankees, but then the Tigers hired him as bench boss. Topps' solution for his '74 card was to take a Yankees photo of Houk, leave the pinstripes intact, erase the Yankees cap logo and replace it with a very large English "D".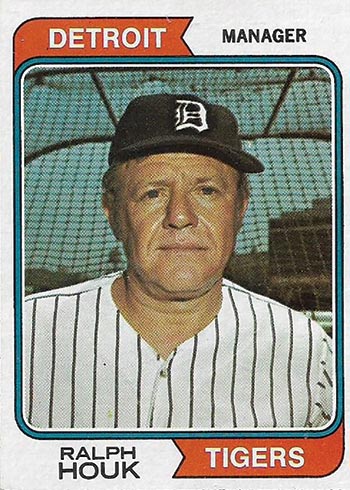 10. 1971 Topps Dick Williams
Was the inspiration for "Who Framed Roger Rabbit?" the '71 Topps Dick Williams card? Because that glowing green magic hat on his card resembles something from Toontown.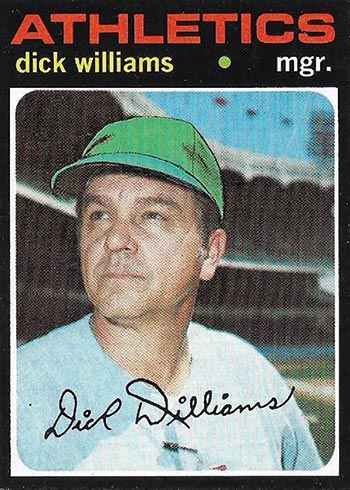 11. 1983 Topps John Denny
John Denny's 1983 season with the Phillies was epic: he won a Cy Young Award for the National League champions in his first full year with the team. His '83 Topps card is almost as epic. The scene is so thoroughly airbrushed that even the clouds behind him appear artificial.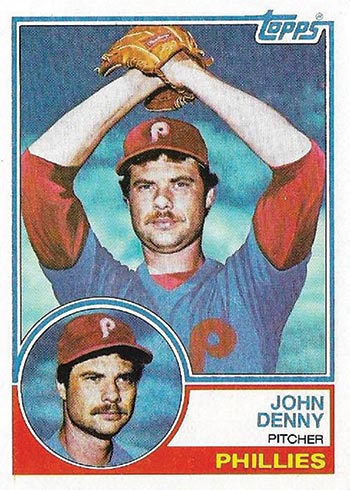 12. 1973 Topps John Ellis
Ellis is visibly angry on this card, arguing with an umpire. Perhaps he thinks the umpire stole the team name off the front of his jersey?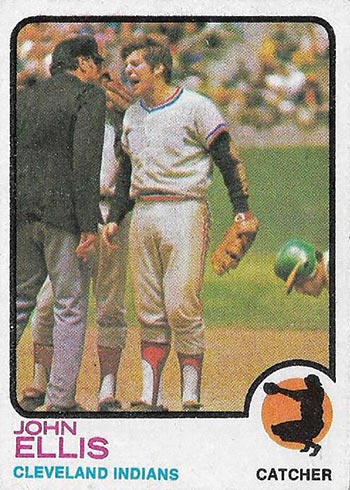 13. 1978 Topps Dave Kingman
Kingman's painted image makes it appear as if he's placed his head inside one of those carnival cutouts and had his picture snapped as a Chicago Cub.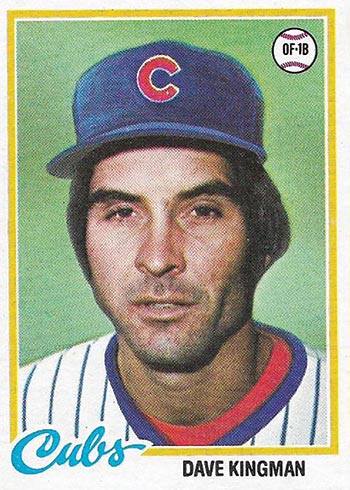 14. 1977 Topps Reggie Jackson
Topps trumpeted Jackson's arrival in the Big Apple with a super smooth airbrushing of Jackson's Orioles helmet.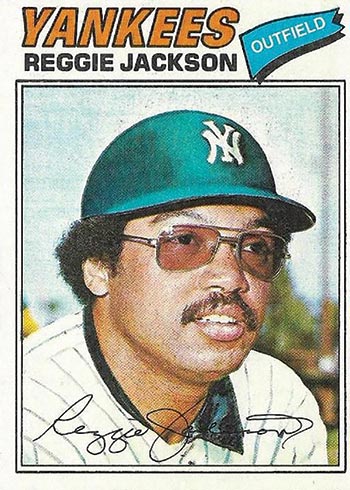 15. 1975 Topps Rudy May
Possibly the best example of what graffiti letters would look like on a baseball cap.