Arthur Ashe estate items up for auction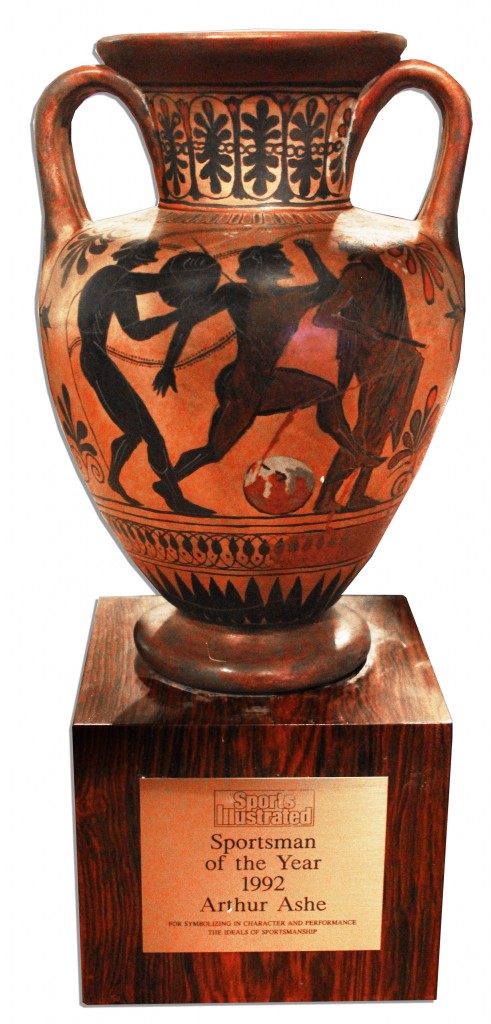 By Dan Good | Contributing Writer
Arthur Ashe's 1992 Sports Illustrated Sportsman of the Year trophy could be yours, in a current auction featuring the tennis great's memorabilia and writings.
The Arthur Ashe Estate Auction, run by Nate D. Sanders Fine Autographs and Memorabilia, runs until Wednesday, Feb. 6.
The Sportsman of the Year trophy – emblazoned with silhouettes of ancient athletes – was awarded to Ashe "For Symbolizing in Character and Performance, The Ideals of Sportsmanship" as he faced his public battle with AIDS. He had contracted HIV during a blood transfusion, and spent the final years of his life advocating on behalf of AIDS-related causes.
Those advocacy efforts are reflected in the auction, which includes Ashe's day planner and writings from the final year of his life.
Numerous tennis items are also featured, including Ashe's jacket from the 1962 U.S. Junior Davis Cup; various Wimbledon honors; and a trophy from the 1968 U.S. Open, the year he became the first black man to win a Grand Slam event.
Two of his wisdom teeth are also available, left in a velvet pouch with early 1900s coins.
The Richmond, Va. native reached number two in the world rankings and won five Grand Slam events – three for singles, two in doubles play.
His advocacy efforts transcended athletics. Following his death at age 49, he was awarded the Presidential Medal of Freedom, the nation's highest civilian honor.
The auction is expected to net hundreds of thousands of dollars, with some of the proceeds benefiting the Arthur Ashe Learning Center, a non-profit that promotes the icon's legacy and good works.