2022 Leaf Decadence Checklist Set to Frame Superstar Autographs
2022 Leaf Decadence is a premium multi-sport debut. The product has a couple of distinct features that apply to every cards on the all-autograph checklist. For starters, individual cards have small print runs. Everything in the release is numbered to 10 or less. Every cards also has a metal frame.
There's also the promise that at least one card in each hobby box has multiple signatures.
2022 Leaf Decadence Checklist Overview
While everything in the product has signatures, the overall checklist is broken down into several themes.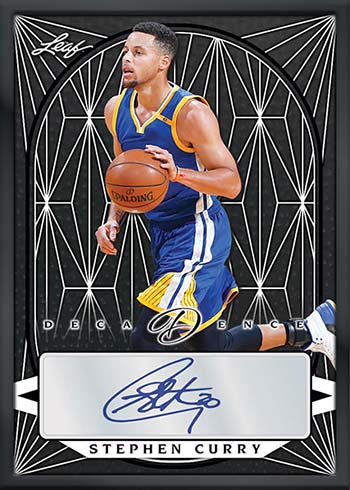 For starters, there are Base Autographs. These take an all-encompassing approach to deliver ink from stars in several sports across multiple generations.
Among the other single-signed autographs are 1949 Leaf, which look to the iconic vintage set for its design inspiration.
Halligraphy includes only Hall of Famers across various sports while Poetry In Motion combines autographs with a distinct design that evokes movement. Eclat translates from French to mean "glow."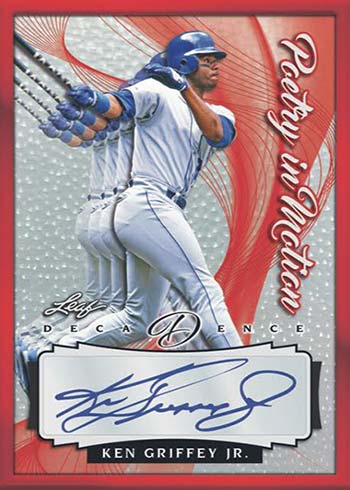 Moving to two signatures per card are Dual Autographs and Decades, which cross sports to showcase star players from the same timeframe.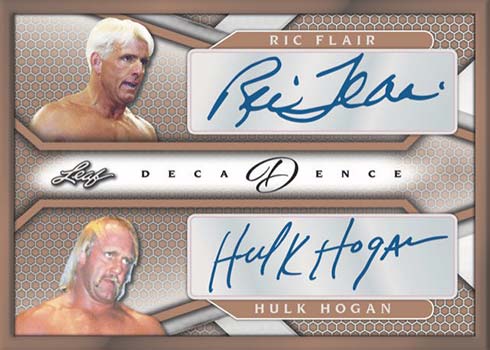 The Epic 3 spotlights three athletes that share a common bond while The Core Four builds a quartet of big names who played for the same franchise. The Four Legends refers to the number of signatures from all-time greats that collectors will find.
Octet uses both sides of the card to showcase autographs from eight total stars.
According to Leaf, some of the signatures that collectors will find in 2022 Leaf Decadence include Stephen Curry, Erling Haaland, Pele, Lionel Messi, Mike Tyson, Sandy Koufax, Lloyd Mayweather, Ken Griffey Jr., Hulk Hogan, Chuck Norris, Naomi Osaka, Juan Soto, Maria Sharapova and more.
2022 Leaf Decadence at a glance:
Cards per pack: 3
Packs per box: 1
Boxes per case: 3
Release date (subject to change): Fall, 2022
What to expect in a hobby box:
Multi-Signed Cards – 1
Additional Autographs – 2
The full 2022 Leaf Decadence checklist will be up once it's available, likely shortly before the set comes out.