2020 Topps 582 Montgomery Club Renewals Open Up with Membership Tweaks
2020 Topps 582 Montgomery Club renewals are now open for founding members. While the price hasn't changed, there have been some tweaks to what collectors get for their $199.99 membership fees.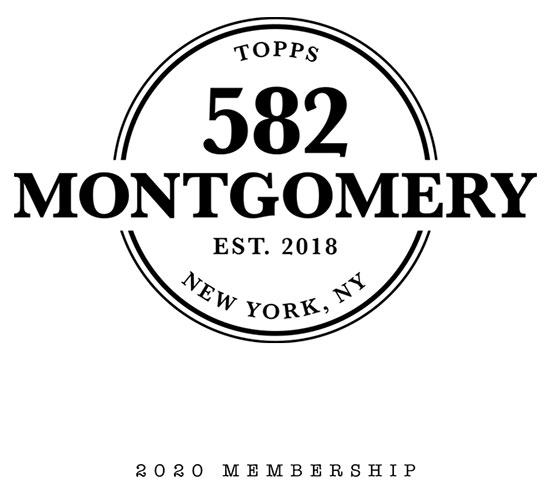 It's a club for baseball card collectors so much of the content revolves around just that. Here's a list of what's planned for 2020 Topps 582 Montgomery exclusives:
Initial 20-card members set that also comes with an autograph
A 20-card set where members vote on the contents that has another autograph
Two different 20-card sets
A set of 20 stickers
A 582 Montgomery Club version of the 2020 Topps Baseball factory set where all cards have a special stamp
A special pin, something that wasn't offered last year, is also included.
Card exclusives are spread throughout the year.
Topps 582 Montgomery Club members will be the only people offered boxes of 2019 Topps Brooklyn Collection Baseball, although no details are available.
2018 Topps Brooklyn Collection boxes, also a club-exclusive, originally cost $1,000 and came with five autographs. But it appears that they didn't sell out. At the time of 2020 renewals, members could order one 2018 Brooklyn Collection box as a  $700 add-on or two boxes for $1,300.
Perhaps the biggest tweak to the 2020 Topps 582 Montgomery Club membership is the first crack at upcoming online exclusives. Members receive a pre-order window ahead of the general public for 2020 Topps Allen & Ginter X, 2020 Topps Archives Snapshot and 2020 Topps Sapphire Collection. The 2019 editions of each set sold out almost instantly.
Renewals are available for one day. Remaining 582 Montgomery Club memberships will be made available to the public through Topps' website after that window closes.